For the fourth year in a row, the WebAward competition has honored the Ida Institute, Copenhagen, Denmark, with a Standard of Excellence Award in the Non-Profit Category. This year marks the 17th annual worldwide award competition for web developers and marketers. The multimedia website, idainstitute.com serves as an international knowledge-sharing and networking hub for professionals in hearing care, healthcare and related disciplines who are seeking to better understand the human dynamics of hearing loss.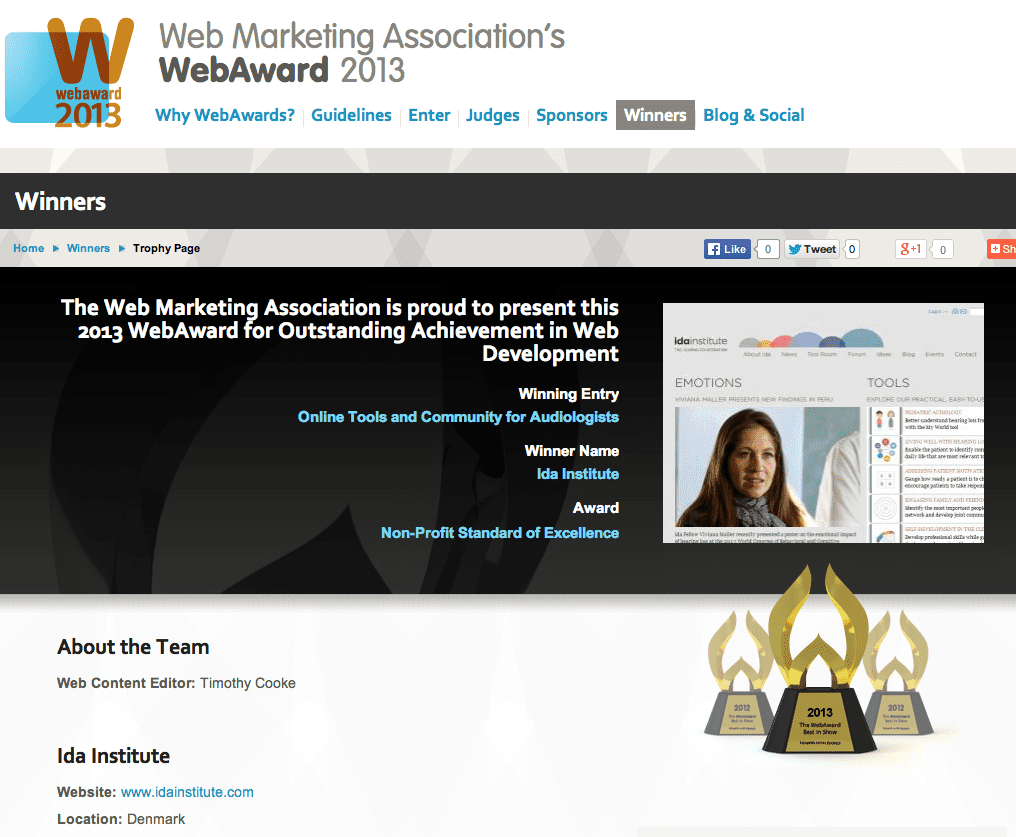 Produced by the Web Marketing Association, WebAward entrants from 96 unique industries are judged by a team of independent Internet professionals and members of the media. Each entry is evaluated on design, interactivity, technology, content, innovation, copywriting and ease of use. Judges praised idainstitute.com for its "great simple design" and content that was "to the point and easy to digest."
"We are very pleased that the WebAwards have again recognized idainstitute.com," says Ida Institute managing director, Lise Lotte Bundesen. "In the four years that we have been honored with a WebAward, our website has grown significantly with the addition of a variety of new tools, videos, networking forums and more. Our goal is to continually update and expand the information we freely share through our website so that idainstitute.com remains valuable and relevant to clinicians, educators, students and others who support a paradigm shift to more patient-centered care."
Idainstitute.com has added some new tools to the site in recent months. The "Change Guide" is designed to assist clinicians in fostering the changes required to successfully apply the Ida tools in clinical practice. It employs a combination of step-by-step change activities, videos, case histories and reflective exercises to support the change to more patient-centered care.
The new "Time & Talk" tool is a method for teaching both students and practicing hearing care professionals to encourage them to reflect on their own communication with patients and learn valuable skills that can be applied in clinical practice. The tool's experiential learning approach uses scenarios and role-plays of mock consultation sessions that allow role-players as well as observers to share in the insights gained.
In response to requests from practicing audiologists, educators and students, Ida Institute has also introduced a research library that features a collection of resource articles, scholarly reports and commentary on Ida tools and patient-centered care.
Membership to the My Ida online community is free as are all of the tools in the Ida Tool Room.
Source: Ida Institute