Established in 1999, GN ReSound's dedication to technological research and development have secured the company's marketing presence in 90 countries.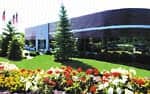 GN ReSound president Carsten Trads (left); vice president Henrik Nielsen (center), and audiologist Melisa Carmin (seated with headset), enjoy the company's new North American headquarters in Minneapolis.
Digital technology has given GN ReSound a distinct advantage over its competition. The company has committed to a software-based digital development technology that enables its engineers, designers, and audiologists to quickly and cheaply determine if an improvement is worth pursuing. "The beauty of having such a system is that it doesn't take a lot of time, and we don't have to change the mechanics of the hardware," says Laurel Olson, MA, CCCA, of the GN North America Research Audiology Group in Chicago. "All we need to do is have the [digital signal processing] engineers code it. Being able to test a lot of different methods with the simulation system, you can throw out what you don't like, keep what works, and improve on that.
Fiercely Competitive Market
In a market full of fierce competition, remaining technologically advanced has allowed GN ReSound to establish a market presence in 90 countries. "We have a long history of being a little bit ahead of the rest," says Carsten Trads, president of GN Resound North America. "Whatever we do, a lot of people try to do the same thing, which…indicates we're on the right track. We always focus on the hearing impaired and make sure that we develop and utilize the newest technology, and at the same time use it for something that's really beneficial."
On the surface, GN ReSound's products look like those of its competitors, but that is where the difference ends, says Henrik Nielsen, vice president of marketing of the North America division. "There should be no doubt that, when it comes to the Canta product line, it has the most powerful hearing aid chip that exists in the market today, and that allows us to load all these features into one hearing aid," he says. "You might see digital products in the market that might have feedback suppression, some might have noise reduction, some might have dual microphone technology, some might have spectral enhancement, but there is only one product that has all those features combined and can perform them all at the same time, and that's what sets us apart. It's all about how fast and how powerful you can make the chip. The more powerful you make it, the more you can make it do."
And the key component to this advantage is something that cannot be seen, only heard—the signal processing algorithm. "The algorithm group is probably the heart of the company in getting the kind of algorithms we can use for our hearing-impaired patients and providing the kind of benefit we want them to get through a hearing instrument," says Olson. "Any algorithm we come up with is a way to process a signal in some fashion in order to reap some benefit for the hearing-impaired person."
Improving the Product's Physical Side
The focus on the algorithm and software does not mean that the hardware—housing, microphone, and receiver—is secondary. Part of Olson's group is also responsible for improving the physical side of the product.
The ability to make unlimited changes and be technologically advanced, however, has to be balanced with the needs of the patient. "[How this will benefit the end user] is always the end question or the beginning question, depending on where you're coming from," says Olson. "If you're coming from the audiologist point of view, we basically start there and move backwards. We want to help the patient with this problem, what can we do about it? Some of the algorithm engineers who think far, far into the future come up with ideas and say, 'Wow, what if we could do this?' They present it to us and we say either 'Will this really benefit the hearing-impaired person in the end or is this just a cool way to deal with signals?' So [this interaction] really is great because it's coming from two different viewpoints where a lot of times the engineers may come up with these incredible ideas, but ideas we know as audiologists wouldn't benefit the patient. It seems to me you have to have a really good mix of backgrounds in the research and core technology [group]." Olson adds that the mix of engineers and audiologists keeps ideas coming and both sides focus on finding innovative and practical solutions. Ideas for an improvement can come from anyone in the development group.
All of GN ReSound's research and development is done internally at three locations in Copenhagen; Eindhoven, Holland; and Chicago. Each site has a full complement of engineers and audiologists who stay in constant touch with each other via email and videoconferencing. The engineering process is ongoing, with the research facilities in each location constantly making improvements and conducting tests using hearing-aid users from the surrounding area.
Meeting Distribution Demands
If an innovation is successful in the laboratory, then it moves to a 3-month alpha testing phase with test subjects wearing prototype devices out of the laboratory and subjecting the instrument to day-to-day wear and tear. Following alpha testing, the instruments are then distributed to audiologists throughout the world for beta testing phase, which will take another 2 to 3 months. This worldwide distribution is important in meeting market demand. "We find it's very important to do these studies worldwide because the marketplace is different here than in Europe," says Olson.
The ability to meet the individual needs of the patient drives the company's market position. "The way we position [the Canta 7 and Canta 4] is based not so much on the type of hearing loss, but more on the patient's lifestyle," says Nielsen. "If you're very active, are challenged in a lot of different sound environments—you go to restaurants, you may be a professional going to meetings, you go to church, you get on and off the phone a lot—then you need an instrument like the Canta 7 that has the ability to automatically adapt to various sound environments and to optimize listening. [However,] if you are home most of the day—watching TV, not going out much—then you may be able to get the best benefit out of the Canta 4." The two models also have different price points with the Canta 7 set at what Nielsen terms a "premium" price and the Canta 4 at a more "medium" level. The company also offers a variety of other instruments across the price spectrum.
The Canta series, the company's flagship product, features a 6.5 mm2 microprocessor with a full-custom ASIC-circuit, and uses 717,000 transistors to create a fully software-programmable digital signal processor. The chip can perform up to 626 million operations per second and process up to 8.6 million instructions. Sounds can be sampled at 2 million times per second.
The Birth of GN ReSound
GN ReSound was formed in 1999 when GN Danavox—the hearing aid division of GN Great Nordic, a 130-year-old telecommunications company—merged with the Silicon Valley-based ReSound. Internationally, the company produces and markets hearing instruments under a number of brands including Beltone, Philips, and Viennatone. The Beltone line is a direct competitor of the GN ReSound North America division. The acquisition of the various lines was done to a specific end. "We saw this new technology come and we saw this huge demand for putting research and development resources into it," says Nielsen. "To be able to do this, you need a critical mass. So we went out and looked around and saw where we could pool resources. Not only pool resources, but pool the best resources. And there is no doubt that ReSound was a fantastically interesting acquisition because they not [only had] the size, but they had a lot of talent, and a legacy in being the first one to introduce a totally different technology to this industry. So when we acquired ReSound, we not only got sales and volume, but we got a lot of technology that is the base of what we do in the United States."
The company has subsidiaries in 19 countries with 3,200 employees. The North America division is headquartered in Bloomington, Minn. Its manufacturing and research facilities are in Redwood City, Calif, and its Canadian sales and manufacturing arm is in Downsview, Ontario. The United States is one of GN ReSound's toughest markets because Americans tend to be resistant to wearing hearing aids, says Trads.
Offering the Best Technology
GN ReSound has a presence in both Third World and First World countries. This variety of markets means that GN ReSound cannot take a cookie-cutter approach in offering products and services, and must adjust to the local conditions, says Trads.
In the United States this adjustment means anticipating new applications for the company's products. "We're all waiting for the market to expand because all statistics show that despite the fact that the United States is a high tech-oriented country, the penetration of hearing aids is extremely low compared to Europe," says Trads. "So we anticipate the market to go up. We have the Canta that we launched last year and we will definitely launch new applications…that have already shown to be a strong platform, a strong technology, we're going to further develop for sure. The name of the game is training…making sure we work together with the hearing health care professionals, because a good product on its own is not doing anything if you don't have a good partnership with those people who are going to fit it. One thing is technology and the other is the way you work together with the audiologists and dispensers."
N. L. Shepherd is a contributing writer for Hearing Products Report.