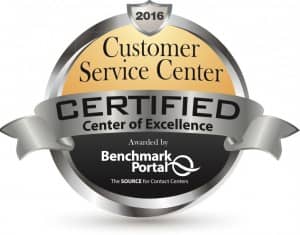 Widex USA recently received top marks in customer care by BenchmarkPortal, which named the Customer Care and Audiology Departments as a certified Center of Excellence.
"This certification verifies that we are providing our customers with top care when it comes to customer services," says VP of Manufacturing and Operations Corrinne Masto. "We realize that the customer's journey to better hearing doesn't stop when they buy our hearing aids, and we strive to provide them the best support and care possible."
BenchmarkPortal is a global leader in call center benchmarking, certification, training and consulting. Receiving certification involves a year-long audit of company statistics, procedures, and training programs. Employees and customers also complete satisfaction surveys, and call center operations are closely monitored for a week.
With this honor, Widex USA joins the ranks of other top Centers of Excellence across the country, including Panasonic, MetLife, Canon, and New York Life.
Customer Care Manager Christopher Allan Jimmink says that this certification shows that Widex USA is a reputable business partner. "Becoming a BenchmarkPortal Center of Excellence proves that at Widex USA, we put the customers first," said Jimmink.
Widex is a global hearing aid technology company and has been developing advanced hearing aids for 60 years. Widex products are sold in more than 100 countries around the world, and the company employs over 3,800 people worldwide.
According to the BenchmarkPortal website, the company is an industry leader in Contact Center Benchmarking, Certification, Training, Assessments, Industry Reports and Custom Consulting. Since its beginnings in 1995 at Purdue University, BenchmarkPortal has grown with the industry and has gained global recognition for its experience and innovative approaches to customer contact best practices.
Source: Widex USA