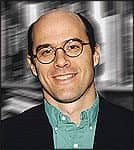 I never quite understood what my parents meant when they said that time moves faster as you get older. However, they were certainly correct: my calendar pages appear to be flipping faster than the one in Frank Capra's It's a Wonderful Life. I'm left to think, "It's the holiday season already? Really?"
With December comes the annual Noisy Toys list from the Sight and Hearing Association, St Paul, Minn, whose mission is to enable lifetime learning by identifying preventable loss of vision and hearing in children. I always find this list interesting, not only because some toys are outrageously loud, but also—as the parent of two young boys and thus the de facto owner of an array of noise-making gadgets—because it allows me to avoid the most obnoxious toys, or at least wince knowingly the moment an ear-splitting gift is opened. Here are the top-5 loudest toys from the Sight and Hearing Association's Noisy Toys Study. The study methods, as well as the full list of 24 toys, can be viewed at www.sightandhearing.org

As a point of reference, a lawn mower is about 105 dB, and a rock concert can hit 100 to 115 dB, as can construction sites with jackhammers or sandblasters. It's possible for kids to scream at 110 to 120 dB. For most people, physical pain begins at around 125 dB. So, it might be conceded that most of these toys won't actually damage a kid's hearing during the short bursts for which they are intended. However, giving children incredibly loud toys can send the wrong message relative to hearing preservation and general health care. In fact, from a parent's perspective, giving a kid a really noisy toy should come with an automatic reciprocal gift of large, loud wind chimes for the offender's front porch—and possibly a sarcastic "thank you" note from our industry.
Yet more kudos for Dr Jerger. Giving compliments to James Jerger, PhD, a key figure in the pantheon of modern audiology, is certainly one of those "sending coals to Newcastle" endeavors. However, I would be remiss not to point out an important landmark. On December 31, he will end his tenure as editor-in-chief of the Journal of the American Academy of Audiology after 22 years of fantastic work. In 1988, Dr Jerger and Brad Stach, PhD, appealed to the board of AAA (the organization they'd helped found) for a scholarly journal. JAAA is now one of the field's most prestigious and best-respected peer-reviewed publications. For at least the past 15 years (ie, from the time I didn't know any better), I have read almost every one of Dr Jerger's eloquently written editorials. They are matchless, and I know that I am just one of many who will miss them.
Dr Jerger is being succeeded by two incredibly talented audiologists: Gary P. Jacobson, PhD, the new editor-in-chief, and Devin McCaslin, PhD, the deputy editor-in-chief. They begin their 3-year terms on January 1.
Season's Greetings! As 2011 comes to a close, the staff of The Hearing Review would like to thank our readers, advertisers, and authors for another wonderful year of support and feedback. We wish you the very best in the holiday season and new year.
Karl Strom,
Editor-In-Chief