Hearing Review got a preview of Turtle Beach Corporation's new HyperSound audio technology at the Elite Hearing Network's 2015 Business Summit event in late January. To learn more, HR reconnected with Turtle Beach's HyperSound Hearing Solutions team this month to get more details.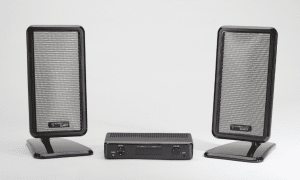 According to the company, for listeners who have hearing loss, the HyperSound audio system offers a new way to enjoy television, thanks to thin panels that generate ultrasound beams and carry directed audio from the TV through the air. According to its website, HyperSound's audio travels in a focused direction along a narrow beam, "unlike typical point source loudspeakers that emit sound waves in all directions." When sound is directional, it travels along a specific path with minimal dispersion or ambient noise.
The company reports that the HyperSound audio system was created to meet the needs of the roughly 80% of people with hearing loss who rank hearing the TV as one of their top 3 reasons to seek help from a hearing care professional. When it comes to television watching, most people with hearing loss prefer not to wear something over their ears, because doing this isolates them from the rest of the family. Further, many report they prefer not to wear listening devices around their neck.
"The HyperSound hearing solution we've developed offers a fundamentally new way to deliver sound, and has the potential to revolutionize the home listening experience for individuals with hearing loss and their families," said Rodney Schutt, SVP and general manager of HyperSound. "We are proud to introduce this innovative new hearing solution to the hearing health market."
Listening to HyperSound's 3D audio is said to be similar to wearing a surround sound headset, with improved clarity of audio and speech comprehension. The HyperSound Clarity 500P is targeted specifically to the hearing healthcare market and was approved by the FDA in February 2014. The company has designed HyperSound Clarity 500P for maximum compatibility with TV and AV systems. The system works with the most popular input connections available: RCA, optical (Toslink), and a 3.5 mm jack, making the system compatible with most phones, notepads, tablets, MP3 players, computers, and other devices. The system is anticipated to be available for shipment later this year.
Turtle Beach Corporation will be showcasing the HyperSound Clarity 500P at the AudiologyNOW! 2015 AAA Convention, March 25-28, in Booth 328. Since HyperSound Hearing Systems functions as a brand under Turtle Beach Corporation, which also sells consumer electronics, the HyperSound audio system will also be showcased at conventions like CES, the Consumer Electronics Show.
In an effort to gather information about the benefits of its audio system to people with hearing loss, HyperSound reports that it currently has a study underway that utilizes the programmable aspects of the amplifier to individuals hearing loss.
Source: HyperSound Hearing Systems, Turtle Beach Corporation