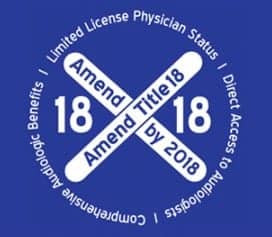 The American Academy of Audiology (AAA) has endorsed the Academy of Dispensing Audiologists' (ADA) 18×18 initiative launched at the 2013 ADA Convention, as well as ADA's introduction of the Audiology Patient Choice Act of 2014 (HR 5304).
AAA President Erin Miller, AuD, in a letter to ADA President Brian Urban, AuD, and the ADA Board dated October 27, stated that, while the AAA Board remains committed to its own legislation for direct access to Medicare, AAA has "continued to evaluate the legislative and regulatory climate for changes that support complete autonomous practice for audiologists"—coming to the conclusion that endorsement of 18×18 is warranted.
Dr Miller's letter concludes: "The Academy board contends the reciprocal endorsement of our respective legislative initiatives sends a strong message to our memberships, the audiology community at large and members of Congress that the profession of audiology will only accept autonomous practice for audiologists. While the Audiology groups' legislative discussion on August 14th did not result in a specific collaborative effort by the Academy, ADA and the American Speech Language-Hearing Association (ASHA), our board remains open to further discussion with ADA regarding such a legislative strategy in the future."
The ADA's 18×18 initiative has the goal of providing Medicare patients with direct access to audiologists without requiring a referral from medical doctors, providing a full range of audiological services to seniors, and defining audiologists as limited-license physicians under the Medicare program.  Many in the field have viewed it as too far-reaching in terms achievable legislation by 2018. When 18×18 was originally introduced, AAA issued a statement suggesting that—although it supported the ideas promulgated in the bill—the political landscape required a more pragmatic approach, and that the organization would pursue its own singularly-focused Access to Hearing Health Care Act (HR 4035/S 2046) legislation.
ASHA had proposed The Medicare Audiology Services Enhancement Act of 2013 (HR 2330), which would not give Medicare beneficiaries direct access to audiologic care, but would provide Medicare beneficiaries greater access to audiology services and allow audiologists to provide diagnostic and treatment services across their full scope of practice.  The legislation is said to recognize that Congress and CMS have indicated that medical/health home and general physician oversight will be required for all specialty care, and that being recognized by CMS as a diagnostic and treatment profession is in audiologists' best future interests. Importantly, the bill also had the support of the influential American Academy of Otolaryngology-Head and Neck Surgery (AAO-HNS), which seeks to preserve ENT physicians' gatekeeper status for Medicare patients. However, the bill was seen as a compromise that neither AAA or ADA could support on numerous grounds.
Thus, all three of the major US audiology organizations had clashing legislative strategies. Although AAA says it will continue to focus on its own direct access bill, its endorsement of the Audiology Patient Choice Act of 2014 might be seen as AAA and ADA's consensus on the "ultimate vision" for the future of audiology legislation.