Thieme Publishers announced that it is introducing 10 new titles at the American Academy of Otolaryngology-Head and Neck Surgery (AAO-HNSF) Annual Meeting & OTO EXPO taking place in Dallas, Texas on September 27-30, 2015.
Featured among the new titles are Otolaryngology—Head and Neck Surgery by Matthew L. Carlson, Kathryn M. Van Abel, David J. Archibald, and Daniel L. Price, and Geriatric Otolaryngology by Robert T. Sataloff, Michael M. Johns III, and Karen M. Kost.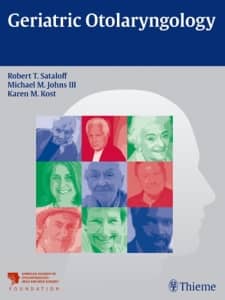 According to the publishers, Otolaryngology—Head and Neck Surgery is designed for rapid clinical and board review, and contains high-yield facts using a question and answer format that covers all subspecialty topics in otolaryngology. It is said to combine clinically relevant facts with details, presenting them in an easy-to-follow layout that allows clinicians to quickly review large amounts of information.
Geriatric Otolaryngology, published collaboratively by the AAO-HNSF and Thieme, focuses on the challenges facing otolaryngologists and primary care physicians in managing ear, nose, and throat disorders in the elderly population. The publishers say it provides readers with the essential information they need to successfully treat this rapidly growing patient population.
The complete list of new titles that will be at Thieme's booth #1216 at the AAO-HNSF meeting are:
Atlas of the Facial Nerve and Related Structures by Yoshioka/Rhoton
Endonasal Endoscopic Surgery of Skull Base Tumors by Draf et al.
Functional Reconstructive Nasal Surgery, Second Edition by Huizing/deGroot
Geriatric Otolaryngology by Sataloff et al.
Oral Cancer Surgery: A Visual Guide by Kesting
Otolaryngology—Head and Neck Surgery by Carlson et al.
Reconstructive Facial Plastic Surgery, Second Edition by Weerda
Surgery for Cochlear and Other Auditory Implants by Sanna et al.
The Nose –Revision and Reconstruction by Behrbohm
Transoral Laser Microsurgery of Benign and Malignant Lesions by Bernal-Sprekelsen/Vilaseca
Thieme Publishing Group is a medical and scientific publishing house employing more than 900 staff and maintaining offices in seven cities, including New York, Delhi, Rio and Stuttgart, Germany. Thieme publishes 150 peer-reviewed journals and more than 450 new books annually. The company has a rapidly growing array of web-based products in medicine and science, which include eNeurosurgery, eOtolaryngology, eSpine, Medlantis, Thieme eJournals, Thieme Electronic Book Library, and the medical student website WinkingSkull.com and Thieme Teaching Assistant, an innovative web-based platform for faculty.
Source: Thieme Publishing Group