Oticon Inc announced that the company celebrated the success of its 2015 Hear in Pink campaign with the presentation of a check for $10,000 to the National Breast Cancer Coalition (NBCC).  NBCC Board Member Joy Simha accepted the donation at a special Breast Cancer & Hearing Health Awareness Day at Oticon Headquarters in Somerset, NJ.
This is the eighth annual pink-themed campaign Oticon has launched to help raise awareness and funds to support breast cancer research. According to Oticon, during September and October, the company donated a portion of all sales of its special edition pink Alta2 hearing aid and the entire Alta2 hearing aid line to the NBCC to help find a cure for breast cancer–a disease that represents one of every three cancers diagnosed in women.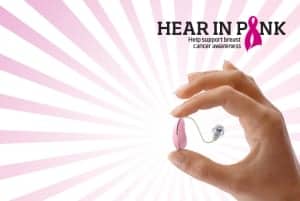 Oticon reported that key to the success of the Hear in Pink campaign is the support of hearing care professionals across the country who join in sharing messages about hearing health and breast cancer awareness with patients and their communities.  "Through their support of the Hear in Pink campaign, hearing care professionals made valuable contributions to the health and wellness of their communities and at the same time, built practice visibility and loyalty," says Oticon Vice President of Marketing Sheena Oliver.
Oticon employees also put their passion for pink into action in October, traveling to New York City to join the more than 17,000 people who participated in the country's largest breast cancer walk. Carrying "Hear in Pink" banners, employees and their families walked 5 miles through Central Park to raise awareness and funds to fight the disease.
For more information about the special edition pink Alta2 and the entire Alta2 hearing aid family, visit the Oticon website.
Source: Oticon Inc