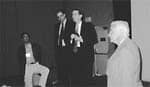 More than 70 students from 30 different universities—with some coming from as far away as Puerto Rico—attended last summer's Audiology Summer Camp in Keystone, Colorado. Sponsored by Oticon, Inc., the summer camp is designed for graduate students in audiology programs, and emphasizes the aspects of "real world" audiology— with a people-oriented approach to fitting hearing instruments for the satisfaction of patients.

Audiology Summer Camp faculty included (top row, l to r) Steven Myhre, Randi Pogash, David Fabry, Jim Kothe, Donald Schum, Curt Williams, Henning Falster, Karl Strom; (bottom row) Marija Mihelich, Sheena Phelps-Burks, Tami Barth, Michele Gerrish, Lydia Khalifa, Jack Adams and Lisa Olson (not pictured: Creig Dunckel).
Guest faculty-member David Fabry, PhD, of the Mayo Clinic and president of the American Academy of Audiology (AAA), presented information on preserving signal-to-noise ratios in hearing instrument fittings, physiology-based fitting strategies, as well as offered tips and general advice on topics like loudness growth, real ear measurements and the use of directional microphones. Donald Schum, PhD, offered seminars on "real life" audiology, core benefits of advanced technology and pediatric fittings. Additionally, the Summer Camp included its "Career Decision Making" seminar in which the Oticon staff offer assessments of what it's like to work in a variety of professional settings (e.g., private practice, hospitals, school districts, industry, etc.)

Henning Falster (l), who along with Donald Schum organizes the camp each year, pauses a moment with guest faculty member David Fabry of the Mayo Clinic.
The 2002 Fifth Annual Audiology Summer Camp will be held August 3-8 in Keystone. The theme will be "Moving from Prescriptive to Individualization", with seminars and workshops focusing on advancements in digital technology, the fitting of non-linear hearing instruments, addressing special fitting populations like reverse-slope and ski-slope losses and changing demographics in hearing care. Dr. Fabry will be returning as a guest faculty member.

Donald Schum strategizes with team members during a particularly competitive game of frisbee golf at one of the "Summer Olypics" events.
Graduate students may obtain more information on the event by visiting the Oticon website at oticonus.com and clicking on "audiology summer camp" and/or downloading the camp's application form at www.oticonus.com/uscamp. The application deadline is April 10.