ACCESSORIES
Ear Gear Goes on Safari
Ear Gear, Lake Country, British Columbia, Canada, has announced that its Mini Curved Corded model of hearing instrument protection has been chosen by Oticon Pediatrics to be included in all of their pediatric kits from birth to 18 years of age. Specifically created for Oticon, it includes a unique Safari graphic imprinted on the Ear Gear sleeve and features a lightweight plastic clip. The Ear Gear/Oticon Safari Mini Curved includes full color instructions specifically created for installation and use of this model by Oticon's clients.
(888) 766-1838
www.gearforears.com
---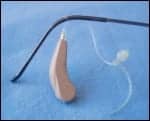 Loopum or Lose 'em
Loopum connectors from Loopum LLC, Palm Desert, Calif, were designed and developed to help prevent wearers from losing their hearing aids. The Loopum connector is a clear piece of plastic that attaches to both the hearing aid and eyeglasses or sunglasses making the hearing aid almost impossible to lose. Loopum connectors come six per package in three sizes to accommodate variations in hearing aids and the stem thicknesses of eyeglasses.
(760) 636-1434
www.loopum.com
ASSISTIVE DEVICES
iPhone Video Relay Service Available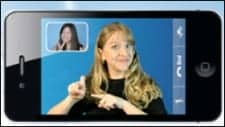 Apple and AT&T have partnered with Clearwater, Fla-based The Z, makers of ZVRS to bring video relay calling to deaf and hard-of-hearing users via the iPhone 4 and its FaceTime video chat functionality. ZVRS allows deaf, hard-of-hearing, and speech-impaired people to communicate with hearing people in real time, via a sign language interpreter. Using an iPhone 4 with a real-time video connection, an interpreter "relays" the conversation between the two parties: voicing what the deaf person is signing to the hearing caller and translating the spoken words into American Sign Language for the deaf/hard of hearing caller to see. In addition to hardware, ZVRS makes video relay software for both Macs and PCs. And with the help of Apple and AT&T, it has brought its latest software—dubbed iZ—to the iPhone 4.
(800) 296-3808
www.zvrs.com
---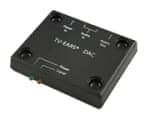 TV Ears Responds to a Need
TV Ears, San Diego, has announced the debut of its digital-to-analog converter (DAC) for consumers. The product's introduction is in direct response to the increasing trend by many electronic manufacturers to reduce the number of analog audio ports on many television models. The DAC stacks neatly underneath any TV Ears transmitter, and converts the digital audio signal from a TV, cable/satellite box, or DVD player to an analog audio signal.
(888) 883-3277
www.tvears.com
---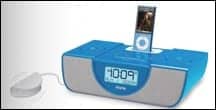 Speaker Systems Shake Things Up
iHome, Rahway, NJ, makers of plug-and-play speaker systems for the family of iPod and iPhone devices from Apple, has introduced two new models with features designed to improve the lives of hearing-impaired individuals. Models iP43 and iP44 feature all of the standard functionality of a clock radio, with iPod and iPhone charging and snooze button, but now also feature a pillow shaker. Hearing-impaired individuals can wake to the pillow shaking and hit the built-in snooze button for extra shut-eye. The products are offered in several colors and in two sizes: traditional and space-saving.
(800) 288-2792
www.iHomeAudio.com
---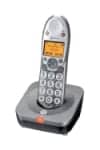 Amplicom Ramps Up the Amps
Amplicom USA, Wantagh, NY, has entered the North American market with the introduction of its PowerTel 500 amplified phone, suitable for consumers with varying degrees of hearing loss. The PowerTel series of corded and cordless amplified phones and related products offer noise and interference reduction for clear communication. They are compatible with hearing aids and cochlear implants and meet the TIA-1083 standard for compatibility. The phones feature multiple hearing profiles, allowing settings to be adjusted, remembered, and switched with the touch of a button for different members of a household; and state-of-the-art DECT (Digital Enhanced Cordless Telecommunications) 6.0 technology.
(866) 267-5426
www.amplicomusa.com
---
There's No Place like Home

The UniVox DLS-50 from Oaktree Products Inc, St Louis, is a compact yet powerful home loop amplifier enabling wireless listening for t-coil equipped hearing instrument wearers. The amplifier can be connected to any stereo, TV, MP3, microphone, or audio device the user wishes to hear more clearly. The loop wire is installed around the perimeter of the room and will magnetically transmit sound directly to the t-coil of hearing instruments without the need for additional receivers or headsets. The UniVox amplifier system is also available with loop pad for placement on a chair or sofa.
(800) 347-1960
www.oaktreeproducts.com
COMPONENTS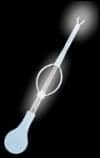 Let There Be Light
Warner Tech-care Products, Roseville, Minn, now offers the Lighted Ear Forceps from Bionix, makers of the Lighted Ear Curettes. The brilliant white light is projected to the tip for better visualization, improving accuracy. The forceps opens to accommodate objects as large as 5 mm with gripper teeth providing a secure hold. A simple spring grip design allows for easy, single-handed operation. The disposable kit includes 10 forceps, one lighted source, and one magnification lens.
(800) 328-4757
www.warnertechcare.com
EARMOLDS, EARPLUGS
A Great Impression Made Better
Years of research and testing went into the reformulation of Colorado Springs, Colo-based Westone's Silicone Singles and Pink Silicast impression materials. During the development process, the company evaluated mix time, flow rate, cure time, and the release agent. The end result is a user-friendly, dimensionally accurate, and stable impression material. It is available in Silicone Singles packaging or Pink Silicast tubs.
(800) 525-5071
www.westone.com
HEARING INSTRUMENTS
FDA-Approved MED-EL Processor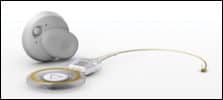 MED-EL Corporation, Durham, NC, received FDA approval for the Amade audio processor for use with the Vibrant Soundbridge Middle Ear Implant System. Designed to treat people with moderate to severe sensorineural hearing loss, the system is one of the most successful middle ear hearing implants on the market. The Amade can be used by both new and existing Soundbridge users, and distinguishes between speech and background noise to let the user enjoy communicating in a wide range of situations. Features include: multiple programs, wind noise reduction, sound smoothing, speech and noise management, and new housing design and color options.
(888) 633-3524
www.medel.com
---

New RIC from Prairie Labs
Prairie Labs Inc, Hopkins, Minn, announces the release of its Revolution (RIC) to its growing product line. The Revolution uses a four-channel 12-band programmable DSP circuit with adaptive feedback cancellation, layered noise reduction, four programmable memories, and much more. Additional features and options are available to fit a wide variety of hearing loss.
(800) 322-8238
www.prairielabs.com
---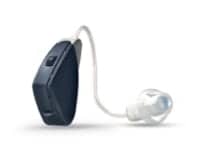 No Strings Attached
Available as of August 2, Bloomington, Minn-based ReSound's Alera and the accompanying Unite series of accessories introduce a new approach to the way a hearing aid receives sound from devices such as TVs, stereos, cell phones, and computers. Featuring 2.4gHz technology, the devices deliver wireless technology that doesn't require a body-worn streamer, allowing users to tune directly into their TV and connect their mobile phone to their hearing aid via Bluetooth technology. Users can participate in conversations while tuned into devices because environmental noise is not blocked out.
(800) 248-4327
www.gnresound.com
MARKETING RESOURCES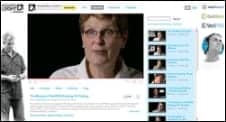 Howard Leight Adds Blog, YouTube Channel
Howard Leight/Sperian Hearing Protection, San Diego, has recently expanded its social media outreach to include a new blog and a YouTube channel that cover a variety of topics about hearing conservation, protection, and safety. The company's expanded online platform includes the new HLHearForever Channel on YouTube (http://youtube.com/hlhearforever) and HearForever Blog (http://hearforever.org/blogs).
(800) 430-5490
www.howardleight.com
TESTING, FITTING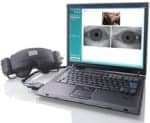 The Eyes Have It
Assens, Denmark-based Interacoustics' VF405 FireWire Video Frenzel offers video enhanced eye movement observations with clear, contrast rich eye images; PC-connectivity allowing clinicians to view eye images on the PC screen; advanced video playback function with variable speeds down to one frame at a time; and a completely light-tight goggle with IR cameras ensuring fixation-free examinations for valid test results. The VF405 Extended version includes an external video camera to record sound and video images of the examination procedures fully synchronized with the eye image video.
(800) 947-6334
www.interacoustics.com