GN Otometrics has launched the MADSEN Capella2 in the United States market. Designed for otoacoustic emission (OAE) testing, the Capella2 is a result of a technology partnership between Intelligent Hearing Systems and Otometrics.
Capella2 allows clinicians to conduct an objective and accurate analysis of cochlear function for all age groups. The user interface of the Capella2 is integrated into the OTOsuite™ software for improved clinician workflow efficiency.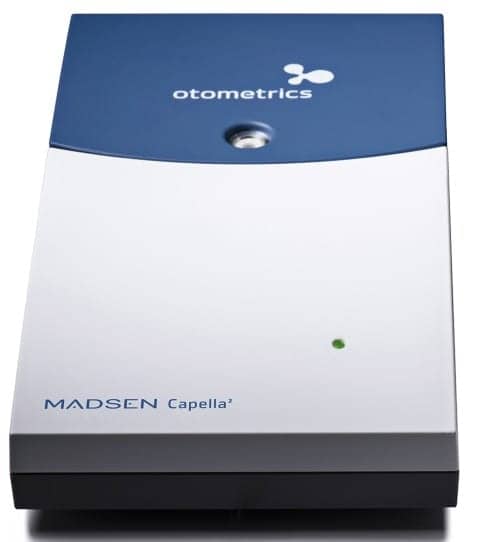 Jill Craig, product manager at Otometrics, said, "We wanted to create a modern, clinical OAE solution boasting accuracy, efficiency, and simplicity. By offering new innovative features to improve confidence in results, the new MADSEN Capella2 provides additional assurance in the diagnosis. Our solution supports the needs of novice users of clinical OAE, as well as those clinicians with the most comprehensive demands."
Capella2 offers new features in a modernized workflow. Simple features, like checking the probe fit at the beginning and end of a measurement, predefined user tests, programmable sequences, as well as the ability to swap ear data and easily compare results with normative values, are designed to improve ease-of-use and confidence in test results.
Another new feature, PrecisePoints, was designed with researchers in mind, but is a simple tool. Optimized In-Situ Calibration is designed to strike a balance between accuracy and efficiency.
MADSEN Capella2 is available for immediate delivery and will be featured in the Otometrics booth at upcoming conferences and meetings
SOURCE: GN Otometrics