HR Archive | January 1999 Hearing Review
This article (available in PDF) was published in the January 1999 Hearing Review by Brian Csermak and Steve Armstrong, prior to the creation of HR's website. To view a PDF of the article, CLICK HERE.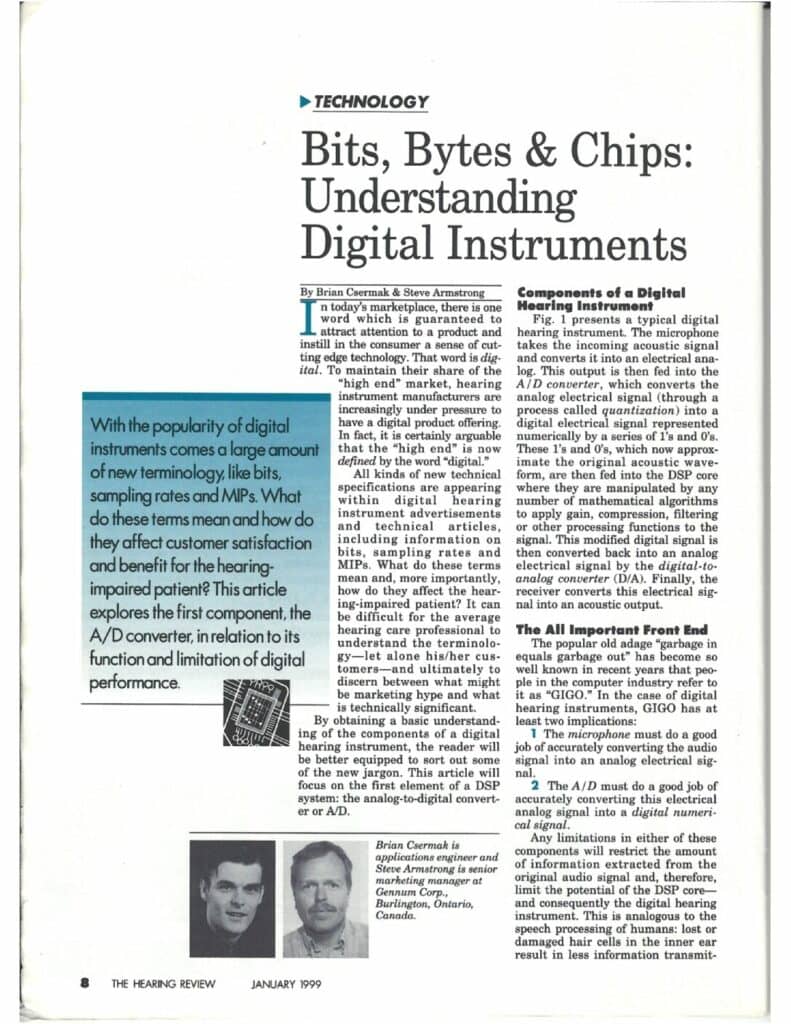 Quick Take: "Bits, Bytes and Chips" by Armstrong & Csermak looks at hearing aid digital signal processing (DSP) as the first DSP hearing aids were coming available in 1999. The authors explain sampling rates, MIPs, and detail how the A/D converter (analog-to-digital) can limit the performance of hearing aids. They also discuss the concepts of the noise floor, dynamic range, sampling resolution, over-sampling, and noise shaping as they pertain to hearing aid performance.
Author biographies in January 1999: Brian Csermak is applications engineer and Steve Armstrong is senior marketing manager at Gennum Corp, Burlington, Ontario, Canada.
Citation for this article: Csermak B, Armstrong S. Bits, bytes and chips: Understanding digital hearing instruments. Hearing Review. 1999;6(1):8-12. Available at: https://hearingreview.com/wp-content/uploads/2021/02/Armstrong_Csermak_BitsBytesChips_Jan1999HR.pdf