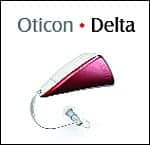 The look and performance of Delta are changing people's perception of what it means to wear a hearing device. The new Delta Presentation Case makes the experience of selecting a hearing device more like buying a piece of jewelry and totally changes the process the typical consumer has to go through when buying a hearing device.
How to Use the Delta Presentation Case
1. Select the color. The Delta Presentation Case displays all the possible Delta colors for your patients to choose from. This engages the patient in a process of seeing the exciting possibilities now available to them rather than focusing on selecting a prosthetic device. At this stage, they personalize their Delta and begin the process of loving it!
2. Select the correct speaker and dome sizes. The Delta Presentation Case comes with Delta replicas for each of the 3 available speaker lengths. This allows your patient to try on the Delta's and allows you to know exactly what speaker length and dome size will fit best, before ever putting an actual Delta on the patient.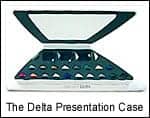 3. Construct the device. Once the color, speaker size, and dome size are determined, you can construct the patient's personalized Delta hearing device using Delta instruments and parts stocked in your office.
With the Presentation Case, you can create the Delta that exactly fits your patient's individual style right there in your office. Not only does this tool more effectively engage patients in the fitting process, it allows you to send a patient home wearing a fully personalized Delta right then and there when they want it most. For more information, contact Oticon or visit www.delta.oticon.com.
For information, contact:
Oticon Inc Somerset, NJ, (800) 526-3921 www.oticonus.com