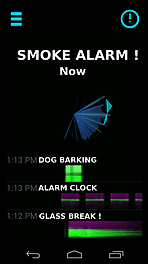 OtoSense Inc, Cambridge, Mass, a developer of sound recognition software, has launched what it describes as the first mobile app that identifies and distinguishes the source of incoming audio alerts, including alarms, sirens, timers, bells, and other sounds—turning smartphones and tablets into assistive alerting devices for the deaf and hard of hearing. The app, which shares the same name as the company, is available now for download on Android devices on the Google Play store.
According to OtoSense, the new app works immediately upon download, coming with a built-in library of standard fire and smoke alarm sounds found in the US and Europe.  Additionally, OtoSense can be personalized by users, recording and storing the most significant sounds of their environment. An Internet connection is not required for users to be notified of their sounds via flash and vibration.
"Hearing and being aware of sounds keeps people safe," says OtoSense Founder and CEO Sebastien Christian.  "When you think about it, you often hear things before you see anything. A knock at the door, a smoke alarm, and even the oven buzzer are just a few sounds with time-sensitive information. OtoSense is a convenient, affordable and effective way for people, no matter where they are, to be aware of and get notified of sounds they can't hear, improving their personal safety and helping them to live more autonomous lives."
Every time an individual uses OtoSense and teaches it new sounds, it improves the sound recognition software, and this improves everyone's experience using the app.  Also, when there is a network connection, any sound recorded by OtoSense on an individual's smartphone is automatically synced with their tablet and/or other smartphones via the cloud, effectively creating a "listening network" that is capable of notifying users via flash, vibration and third-party notification including SMS text and push notification, of their sounds anywhere they go in the world.
"OtoSense addresses an existing unmet need in a market largely dominated by devices with singular sound applications and/or limited sound awareness choices," says Erik Viirre, MD, PhD, of the Department of Neuroscience, University of California in San Diego, who serves as a scientific advisor to the company. "OtoSense is far more adaptive by offering deaf and hard of hearing people a subtle yet effective means of interacting and reacting to the sounds around them."
Founded in January 2014, OtoSense is a development-stage company, based in Cambridge, MA. For more information, visit www.OtoSense.com.
Source: OtoSense Inc