Assistive listening products company and US distributor of Ampetronic products, Listen Technologies Corporation, has introduced the TalkPerfect DX Speech Enhancement System. Ampetronic is a provider of audio induction loop systems for assisting individuals with hearing loss, and TalkPerfect is Listen Technologies' newest product from the ListenLoop line powered by Ampetronic. Listen Technologies reports that TalkPerfect was designed to improve communication at venues with fixed screen counters, such as train stations, movie theaters, banks, customer return kiosks, or other noisy environments.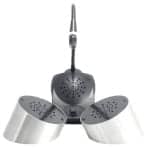 According to Listen Technologies, when customers are separated from staff members by a fixed screen for security or logistical reasons, it can be difficult for both parties to hear during transactions. The company reports that the full duplex TalkPerfect system amplifies speech for both customer and staff in these environments while minimizing background noise and actively reducing acoustic feedback. The TalkPerfect DX Speech Enhancement System improves communication and easily integrates with assistive listening counter hearing loops.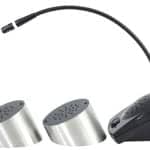 With a modular design and range of accessories, the TalkPerfect DX system is said to be easy to install or set up. The system's full duplex communication is intended to allow natural conversation, and the noise canceling microphones provide high rejection to background noise. Both channels feature independent volume controls for clear listening to both users. The TalkPerfect DX amplifier is typically installed below the counter in conjunction with a CLD1 induction loop, providing a fully integrated intercom and control module, with a host of features for integration and versatile use.
For more information about the TalkPerfect system, visit the Listen Technologies website.
Source: Listen Technologies