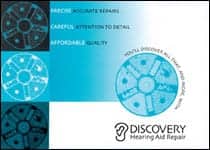 Discovery Hearing Aid Repair is an all-make repair service.
As the hearing aid repair manager for Discovery Hearing Aid Repair in Mobile, Ala, Bryon Wissmiller has seen it all—or at least heard about it. There was the time when one woman crushed her hearing instrument with her teeth after mistaking the device for a peanut. Then there was the time a bug crawled out of a speaker as he was examining the component under a microscope. There have also been the occasional tales of pets mistaking unattended hearing devices for chew toys.
To end users, hearing aids may look like small, simple devices from the outside; yet as any hearing health care professional knows, they are delicate devices that often house sophisticated microchips, amplifiers, shells, speakers, and other components that must be carefully handled before and especially when a problem occurs.
When a problem does occur—whether from technical issues or by accident or misuse—end users and hearing health professionals have several options for repairs.
For devices still under warranty, the first line of defense, of course, is returning the aid to the original manufacturer. But for devices that become damaged or encounter problems after the expiration of the manufacturer's warranty, dispensers and audiologists often turn to one of the many all-make repair services located throughout the United States. Aside from such services, there are two other repair trends developing in the industry: The first is the popularity of extended warranties offered by independent insurance companies, which may also be affiliated with all-make repair services; the other is for hearing health care professionals to purchase a range of repair tools in order to complete minor service and maintenance in their own offices.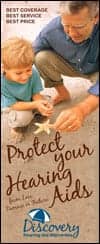 Discovery also offers extended warranties.
All-Make Repair Services
All-make repair services can fix almost any brand of hearing device. Most use off-the-shelf parts they keep in stock for replacing internal and external components, such as shells, plates, microphones, and wiring. About the only parts an all-make service cannot repair are a digital instrument's microchips, which are proprietary to the manufacturer and generally cannot be ordered or replaced except by the manufacturer or its authorized service center. Some all-make repair facilities forward damaged instruments to the original manufacturer for repair when there is a digital problem, while other facilities return the instruments to the end user or referring audiologist.
Dick Kaiser, president of Discovery Hearing Aid Co-Op, which operates Discovery Hearing Aid Repair, says there are few instances in which either Discovery's technicians or a manufacturer cannot repair an instrument. "We won't send a hearing aid back to a dispenser unrepaired unless the manufacturer has told us that it is not repairable by them," he says.
Discovery serves hearing dispensers throughout the United States. It began as a warranty service until it invited Wissmiller to join the company. Wissmiller, who has repaired hearing aids since 1978, owned an independent repair facility in Atlanta before joining Discovery.
Today, Wissmiller and two other technicians perform approximately 200 repairs a week for Discovery. The workload comes from extended warranty work and after-warranty repair work sent by the approximately 600 dispensers who offer the company's warranty services to their patients. Most instruments are repaired at the Mobile facility, except for those needing digital or software repairs, which are sent to the device's manufacturer to be fixed or replaced.
The types of problems Discovery's repair department receives daily can range from circuits shorted due to water damage, to crushed hearing aid shells, and to the ever-insidious damage caused by cerumen; in fact, earwax plays a major role in the need for repairs. In-the-ear (ITE) hearing aids, for instance, are more prone to receiver failure due to earwax accumulating in the sound outlet port; when the hearing aid is inserted into the ear, it acts like a plow, scooping wax deposits from the ear into the sound port. Wax guards and wax springs help to some degree, but the debris can still make its way around these devices and into the receiver area.
It only takes a small amount of wax deposits to work into the receiver diaphragm, causing distorted hearing. If the wax accumulates over time, the hearing aid can eventually be seriously damaged. "Earwax can infiltrate the hearing aid and cause some significant damage to the components that have to be repaired or replaced," Kaiser says. "As a result, microphone and receiver replacement is a common issue, as [is] wiring. There's a lot of wiring that goes into a hearing aid, and along with the miniature electronics, in many instances you will get frayed wiring [or] corroded wiring. So, rewiring is an important facet of the repair business."
Wissmiller says the components he most often replaces are microphones, receivers, and the hearing instrument's volume controls. The volume controls often become damaged because patients use them so often that they either wear out completely or only function intermittently.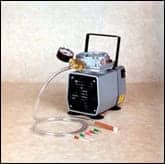 Lightning Enterprises' Vac-1 vacuum system
Water and moisture problems are also prevalent among hearing aid repairs. Water damage will typically short out the hearing aid so that it no longer operates. It is also a major reason for having to replace microphones, because water becomes corrosive if it lingers in the hearing aid for any length of time.
Wissmiller says many of the instruments he sees are damaged by an end user accidentally washing the instruments when they are forgotten inside a piece of clothing, or taking a shower or going swimming without remembering to remove the aids first. "Whenever they say, 'I jumped in the lake, wore it in the shower,' usually, the first thing we go for is the microphone, and that usually fixes it," he says. "The chips don't have to be replaced or anything like that." Water does not usually damage the hearing aid's expensive computer chips, even when the hearing instrument is submerged, because those components are encased inside waterproof protection.
Aside from accidental water damage, moisture from humidity alone can cause problems. Even when the humidity outside an ear canal is low, hearing instruments are subjected to an average 98.6 degrees of heat and humidity when placed inside an ear canal. The rapid change in temperature and humidity from removing and inserting a hearing aid can cause condensation to build up inside the instrument and potentially corrode the wires.
Discovery provides a 2-day shipping label to referring audiologists and returns the hearing aid with another 2-day label. The company prides itself on the fact that its on-site repairs are always completed within 2 days after receipt. Consequently, patients can usually have their hearing instruments repaired and returned in about a week.
In-Office Repairs
Besides using the services of an all-make repair laboratory, some hearing care professionals are choosing to handle certain repair issues in their own offices. Purchasing the right maintenance tools is essential.
Since 1998, Chris Perkins, owner of Lightning Enterprises, Limington, Me, has manufactured and distributed a selection of tools and equipment for use by repair facilities, hearing health care professionals, and even hearing instrument users.
The idea for creating the company began while Perkins worked for a hearing aid manufacturer. "I noticed that a good majority of hearing aids that came in for repair could be repaired quickly and easily, right in the office," he recalls. "I determined that if hearing health providers had the right equipment, and it was affordable, they could provide a great service to their patients by repairing the hearing aid on the spot, instead of sending the unit to a repair lab and having the customer wait. So I set out to develop equipment for the hearing aid office or repair lab that anyone could use."
Today, Lightning Enterprises serves hundreds of hearing health providers, repair labs, and hearing aid manufacturers all over the world.
One of the company's products is the VAC-1 system, a vacuum pump that hearing care professionals can use to clean aids, removing wax and other debris. The system comes with needle tips that can reach inside the sound port to remove a wax blockage, potentially restoring the unit if its components have not been irreparably damaged. "I know every hearing aid is supplied with a brush and loop for picking the sound port clean," Perkins says, "but these tools just don't go far enough for every customer. If it did, we would not see earwax in the receiver port."
Perkins also believes that every end user should have a consumer vacuum pump, such as Lightning's My Vac, to help keep a device's sound port clean.

Lightning Enterprises' BDM-2 battery drain meter
End users can also help keep their hearing aids dry and potentially problem free through the daily use of a dry aid kit, which chemically or mechanically removes moisture from a hearing aid. A vacuum pump system can also combat moisture when used with a vacuum desiccator chamber, in which the hearing aid is placed and the vacuum is applied. The process removes the air inside the container, along with the moisture inside the hearing instrument.
Another common problem associated with ITEs is properly fitting the units into the ears. Rather than sending an aid back to a manufacturer for modification, Perkins says it is easier to modify the aid in the dispenser's office with the patient present, so that the dispenser can see what needs to be modified and receive instant feedback from the patient. Lightning Enterprises sells a Dual-Lite UV cure unit for this type of procedure.
"[For example], your patient has a feedback issue, and you have determined that the hearing aid is fitting a little loose. You can brush on a thin layer of UV-curable lacquer, put it under the Dual-Lite for about 20 seconds, and know instantly if the modification was a success. And the patient gets instant gratification and service," Perkins says.
A lathe may also be purchased for grinding and modifying the shell or applied hardened lacquer.
Another tool Perkins recommends for customer satisfaction is a battery drain meter, which can determine if a hearing aid has internal problems, or if the circuits are working properly. A battery meter can also be used when counseling patients about battery usage because it can accurately predict how long the batteries will last.
Kevin Smith, owner of Kingwood Industrial Products Inc, Hackettstown, NJ, says more audiologists and dispensers are taking repair classes, learning the skills, and buying the equipment needed to perform minor in-office repairs. "It's nice to see more and more people doing repairs," Smith says. "It's working out well for everybody because the manufacturers aren't getting back hearing aids that just have a little wax build-up, and the customers get their hearing aid back while sitting in the waiting room."
Since 1990, Kingwood has offered a selection of tools and machinery for the manufacture and repair of hearing aids—from professional laboratory workbenches and UV lamps to various polishing equipment for shell modification. The company's list of clients includes hearing aid manufacturers and repair laboratories, as well as dispensers and audiologists.
One of Kingwood's top-selling items is its Repair & Modification Kit with Grinder, a package that comes with a lathe for grinding, polishing, and buffing shells; burs for the cutting and trimming of faceplates and making adjustments to the shell; a magnifying glass; a pin vice; drill bits; and other repair essentials.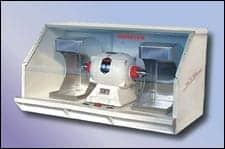 Kingwood Industrial's bench top polishing unit
Another popular item for audiologists just beginning to do repairs is Kingwood's Multifunction Bench Top Polishing Unit-575, which has an optional bench grinder. The unit has twin built-in dust collectors and is designed for a repair lab or audiologist working off a simple tabletop. Smith says a dust collector is crucial. "When you're doing polishing off the left side of the motor, the [UV material] compound inevitably kicks into the air, and you get a very fine powder on everything in the room. So any type of dust collector, especially an enclosed unit like the 575, will take all of the dust out of the air so you don't have to worry about dust getting on everything." This can be especially important in small offices where dispensers may perform repairs within a customer's view.
For those who have a high volume of repairs, Kingwood offers the Audio Repair Workstation, a full-featured workbench that comes with a grinder, dust collectors, a UV light for UV curing, and a large vacuum pump to handle wax removal, plus a desiccator chamber. "It's ideal for everything from shell modification to microphone replacement," Smith says. "You can do everything you need to do right on top of the Audio Workstation. It comes with a resist top on it, so you can spill just about anything on top of it, and it won't stain or stay. It's pretty difficult to destroy; it's a formidable unit." The workstation also comes with a great deal of storage to help organize tools and spare parts in one place.
Smith says the hearing health professionals who typically buy the Audio Repair Workstation have outgrown their makeshift desktop work areas and need something durable and organized in one stand-alone unit.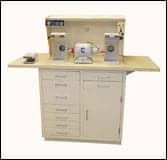 Kingwood Industrial's Audio Repair Workstation
Extended-Warranty Repairs
Not every hearing health care provider has the time, need, or interest to hone their in-office repair skills, and would rather leave repairs to those who specialize in it. With the price of some hearing aids reaching into the thousands of dollars, offering extended-warranty services may be the best service the professional can offer to end users.
Among the hearing aid warranty programs on the market these days are those in which separate insurance companies pay for the cost of repairs sent to a manufacturer or a preferred all-make repair shop. There are also warranty plans owned by or affiliated with all-make repair services, such as Discovery's warranty program.
Typical original manufacturer warranties expire in a year. As with Discovery's extended-warranty program, many companies sell their extended insurance through hearing health care professionals, who receive some form of compensation from the insurance company.
The insurance cost will depend on the insurer, the technology of the hearing aid, the level of coverage, the age of the device, and the plan's length of term.
The advantage of these programs for consumers is that they will be covered by a comprehensive plan for loss, damage, or failure of parts—providing peace of mind in knowing that a potentially multithousand-dollar investment is covered.
Perkins says the tools Lightning Enterprises provides for hearing health professionals are not for major rebuilds, but for small fixes or modifications. However, he also says many procedures are easy to address, and that hearing care professionals can learn to perform these repairs through practice and experience. "The whole idea behind these types of in-office repairs is the opportunity to provide the patient with exceptional customer service," Perkins says. "Imagine how they will feel when they come to your office with a problem, and you are able to help them immediately."
Kaiser, however, says most audiologists or hearing aid specialists need significant training to do the kind of high-quality work professional repair technicians perform daily. "It gets very complicated," he says. "It's not something [where] you open up the hearing aid, you replace the microphone, and then close it back up again; it's tedious work. There are many solder points within the hearing aids—three on a microphone, two on a receiver, five or six on a volume control—and all those have to be hooked up to an amplifier.
"So you do need to know what the specifications of a particular circuit are in order to be able to repair it properly and rewire it properly. It's not something [where] you come in and can be up to snuff on how to repair hearing aids within a month. It takes a lot of experience and practice to become a journeyman hearing repair technician."
Tor Valenza is staff writer for Hearing Products Report. He can be reached at .