When the technology that transformed console stereos into palm-sized music players began to circle the hearing health care industry, Audina Hearing Instruments Inc, Longwood, Fla, chose to face the phenomenon straight on. Audina's owners, Marc McLarnon and Frank Robilotta, sized up the benefits that emerged in the wake of cutting-edge microsystems and moved to adopt them in ways that would further enhance the company's product line.
Now, each new hearing instrument Audina develops is firmly rooted in digital technology. The company's latest creations, the INTUITION® 4 and SPARO™, have entered a market in which audiologists and dispensers have warmed to digital devices, and technology has matured sufficiently to nudge costs downward.
| | |
| --- | --- |
| Marc McLarnon | Frank Robilotta |
"Right now, 80% of what we do is digital," McLarnon says. "Eventually it will be 100%."
The sweeping transformation across technologies parallels a similar pattern McLarnon says occurred in the mobile phone industry. "At one point, they simply said, 'Digital is the way to go.' You can carry more options, more bandwidth, more controls onboard, [and] you can load more algorithms," he says. "The digital hearing instrument provides the consumer and the audiologist much more flexibility in fitting the product."
It can also alter the core of a manufacturer's business.
"We used to be a hearing aid company," says McLarnon, a 28-year veteran of the hearing health care industry who is also Audina's president. "Now, we've become more of a software company that happens to sell hearing aids."
BRINGING IT IN-HOUSE
So important to McLarnon was the capacity to produce top-performing software for the company's digital wares that Audina brought the skill and personnel in-house to author its own code. "Unless you can deliver top-end software, top-end technology, reliability, and consistency in this business, you are out of business," McLarnon says.
Products in the Audina line are developed with code-driven functionality that allows the units to be programmed in the field or preset for consumer use at the company's manufacturing site. The software interface that connects hearing care professionals to the chips inside the devices has cast software as a central player in the success of new devices, McLarnon says.
"The products we develop are market driven, and Audina is a sales-driven organization," he says, "so our product development is geared around 'what is the marketplace asking for?'
"Our software is developed not only with the idea of being easy to use, but also being something the marketplace understands."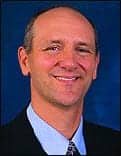 Paul Bryant
Robilotta, Audina's executive vice president, says the company's new digital instruments provide a wider latitude of adjustments that yield more satisfactory fittings. Software-driven functionalities allow the devices to be customized for a patient's specific hearing loss and to perform optimally in a variety of listening environments.
Robilotta says the enhanced programmability built into the INTUITION 4 and SPARO—both introduced in 2006—has made a "noticeable difference."
"INTUITION 4, which fits up to an 80 dB loss in CIC instruments, is now our top-of-the-line digital product, and we've built a family of products around that circuit, not only in the custom line but in the over-the-ear and behind-the-ear lines as well," Robilotta says.
McLarnon says the success of software-driven devices hinges on the performance mix a manufacturer is able to coax from a particular microchip. "The success of a new product depends on how you use what's in the chip," he says. "How you want to make that chip operate to fit your needs as you define your needs is critical. The chip is basically the engine and the software is the driver for the technology."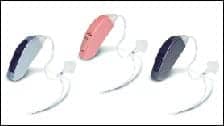 SPARO Group
The over-the-ear SPARO entered the marketplace positioned on a platform with feedback management and usable gain designated as key specifications. The SPARO AD and SPARO 2 showcased the platform's latest refinements when they were unveiled in April at AudiologyNOW! in Denver.
"We've packaged the product such that the overall performance can range from an open-ear-fit product to ones modified with a standard earhook to be up to 45 dB gain and 118 output," McLarnon says.
The sophisticated 4-channel, 4-memory SPARO AD processes more than 2.5 million calculations per second, and with the Environmental Recognition System (ERS), unique sound environments are identified and the system automatically adjusts unwanted background noise such as wind, air conditioning, and fans.
"With this advanced feedback management, we can produce significantly more usable gain prior to reaching feedback," McLarnon says.
CREATING AN ALLIANCE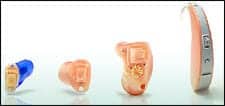 Intuition Family
Digital devices began to edge out the analog products in the Audina line as the technology/pricing ratio changed in the industry nearly 3 years ago, and leapt into dominance in 2006 on the heels of SPARO's launch, according to Robilotta. Before SPARO was widely released, however, it spent nearly a year in development being vetted by technical staff and observed closely throughout beta tests in the field. Under actual use conditions, nearly 1,000 units were scrutinized for weaknesses in design, issues associated with long-term failure, and any other reasons for return.
"We had four or five customers who took a couple hundred units each over a period of 2 to 3 months to try the devices and [help us] get the bugs out," says Paul Bryant, Audina's vice president of sales.
"We felt if we could satisfy these particular test sites, we knew we would have a good product," Bryant says. "Once we'd locked down everything, we felt confident we could go into high-volume production."
Since Audina does not manufacture any of the integrated circuits, microphones, or receivers in its digital devices, it has leveraged a series of strategic alliances with outside manufacturers that supply component stock. The alliances, Bryant says, allow Audina to be competitive not only in pricing but in the technical arena as well.
Audina, which is entering its 18th year in business, now plans to expand its alliances to outside consultants in an effort to create algorithms on chips the company's principals hope will help establish a competitive advantage and differentiate their products.
Bryant says Audina's current development program is moving to achieve better feedback cancellation and directionality, and cultivate an improved understanding of speech in noise. Progress will be largely contingent on advances in microchip technology, he says.
"The more information you can put on a chip, the more algorithms you can put on the chip to do more sophisticated processing," Bryant says. "We're going to have to wait for the next generation of chip to see what sorts of things we can add to it, because there is always a compromise [among] functionality, process speed, and power consumption—all those variables demand compromise with what you can do."
A TECHNOLOGICAL SHIFT
To find out more about Audina and its products, search HPR's archives.
Technology, McLarnon says, will decide who stays competitive as the future unfolds; and while the demand for analog devices has not vanished entirely, the days of that technology appear numbered.
"The supply of analogs has basically evaporated," McLarnon says, adding that Audina still fields a selection of analog devices, though its flagship models have been digital since early 2001. He says the falling cost of digital components has lowered the price barrier, particularly among entry-level digital devices, pushing analog models further toward the door.
"The suppliers of analog chips are discontinuing the manufacturing of those chips," Robilotta says. "You either shift to digital or you're left behind."
Frank Long is associate editor of  Hearing Products Report. He can be reached at [email protected]