Audio Energy
Audio Energy provides customized battery packaging that enables the dispenser to see more patients, sell more hearing aids, and create customer referrals—all popular packaging options available.
(800) 332-2323
www.audioenergy.com
Booth No 2124
---
Energizer Battery Co
Full line of zinc air hearing aid batteries including the Energizer EZ Change. Energizer Alkaline batteries for test equipment.
(314) 985-1639
www.energizer.com
Booth No 200
---
iCellTech Corp
iCellTech's new generation hearing aid batteries are specially designed to operate with a longer lifetime in high-current drain applications, maintaining higher operating voltage and an increased voltage reserve to the 1.1 V cutoff limit of the latest digital hearing aid devices.
(+82) 2 3665 6962
Booth No 1702
---
Micropower Battery Co
Retailer/wholesaler of zinc air hearing aid batteries.
(866) 999-2355
www.microbattery.com
Booth No 2167
---
Rayovac Corporation
Rayovac is the #1 choice of hearing care professionals. By leading the industry in product performance, technology advancements, marketing programs, and service, Rayovac has earned the trust of professionals across the globe. Contact us to find out more about how Rayovac is committed to investing in your business.
Booth No 1859
---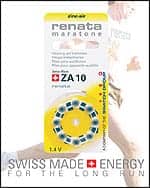 SY KESSLER SALES/RENATA BATTERIES
"Swiss Made Energy for the Long Run." When you recommend Renata maratone batteries, your patients will benefit from Renata's consistently great, marathon-like performance. These batteries are designed to perform so that patients return to you again and again, because Renata maratone is only available from hearing healthcare professionals like you. For a sweet deal—including great prices, terrific Swiss chocolates and Swatch watches, and to learn more about Renata maratone, we invite you to visit principals–of Kessler and Renata at AAA (booth #1743), or to contact your authorized Renata battery distributor.
(800) 527-0719
www.renata.com
BOOTH NO 1743
---
Varta Microbattery Inc. (PowerOne)
Power one demonstrates world-class innovation by being the first to offer primary and secondary battery technology for hearing instruments. These rechargeable batteries (p10 accu, p13 accu, p312 accu & p675 accu) deliver highly reliable performance with the convenience of our patented pen charger. Also featured are next generation IMPLANT Plus batteries for cochlear implants.
(800) 468-2782
www.varta-microbattery.com
Booth No 2131
---
ZeniPower
Top Performance Batteries at Best Value. ZeniPower has 20 years history making hearing aid batteries and is one of the top manufacturers on both quality and quantity. Supplying UK NHS hospitals as well as world's leading hearing aid manufacturers, ZeniPower batteries proved to be high performance and high reliability. Stable voltage above 1.1V will power your full digital hearing aid perfectly. Top value and private label service to save your cost! Try our free samples at AAA Booth No 2159, 2167.
www.zenipower.com
Booth No 2159, 2167
---
COMPONENT SUPPLIERS
3Shape A/S
Booth No 400
---
Accumold
Booth No 1846
---
AMI Semiconductor
AMI Semiconductor offers the most widely deployed open platform DSP systems for the hearing aid market, including the Toccata Plus and Orela 4500 series.
(208) 233-4690
www.amis.com
Booth No 214
---
Hermetic Switch Inc
Booth No 602
---
In'Tech Industries Inc
In'Tech is a leading supplier of miniature plastic hearing aid component parts for the hearing health industry throughout the world. Offering a variety of standard products to the industry, along with in-house custom design, tooling, and SLA capabilities to meet your specific needs. Our product line features faceplates, digital ear shells and earmolds, wax guard systems, BTE cases, faceplate programming systems, venting systems, and a variety of other miscellaneous components.
(763) 576-8100
www.intech-ind.com
Booth No 1868
---
IntriCon (RTI)
IntriCon-RTI is a leading world supplier of digital circuit solutions and algorithms for the hearing health and related industries.
(877) 651-1636
www.IntriCon.com
Booth No 201
---
Knowles Electronics
Knowles Electronics manufactures a full line of microphones, receivers, electromechanical controls, telecoils, and wax protection components for all ranges of hearing instruments.
(630) 250-5100
www.knowles.com
Booth No 2164
---

Sonion
Sonion is a leader in components for the hearing industry, providing a complete line of microphones, receivers, telecoils, volume controls, trimmers, switches, combination units, programming systems and wax protection. This comprehensive product portfolio is a result of Sonion's continuous research and development effort striving toward smaller size, higher quality and better performance. Please visit our booth to see the very latest Superior Solutions Made Smaller.
(952) 543-8300
www.sonion.com
Booth No 401
---
Sound Design Technologies Ltd
Booth No 2271