SoundCure Inc has announced the receipt of a medical device license from Health Canada, a department of the Canadian government that is engaged in public health matters, for the SoundCure Serenade Tinnitus Treatment System. The medical license enables the SoundCure Serenade to be available in Canada.
SoundCure announced that it also received a Notice of Allowance from the Canadian Patent Office for a device and method patent titled, "Devices and Methods for Suppression of Tinnitus," which relates to SoundCure's custom S-Tone sound therapy available on the Serenade device. This enables SoundCure to partner with hearing healthcare providers in Canada to assist patients suffering with tinnitus. Commonly known as "ringing in the ears," tinnitus can be a debilitating condition, and affects an estimated one in ten adults.
Serenade, which is currently commercially available in the US and the UK, is a handheld medical device that delivers customized sound therapy, one of the most accepted treatment approaches for tinnitus. After the Serenade device is programmed by a hearing healthcare provider, the patient uses it to play treatment tones known as S-Tones when relief is needed.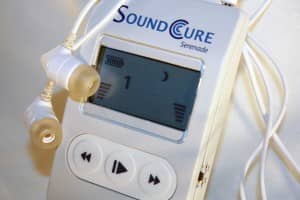 According to SoundCure, S-Tones are designed to be listened to very softly, at a volume lower than one's tinnitus and lower than traditional maskers, in order to minimize the patient's sound burden and provide long-term relief through the process of habituation. For those whose tinnitus is particularly loud and bothersome, using habituation to correct the over-perception of tinnitus and increase the periods of time where the patient doesn't notice the tinnitus at all is said to bring substantial relief.
"Receiving the Canadian Medical License from Health Canada and the patent allowance from the Canadian Patent Office are important achievements for SoundCure. In addition to having two US FDA-cleared products, CE Mark, ISO certification, and patents in Europe, the US and Asia, we are thrilled to introduce our products in Canada," said Bill Perry, chief executive officer of SoundCure. "We look forward to providing relief to patients in partnership with hearing healthcare providers in Canada."
Source: SoundCure, a subsidiary of Boston-based Allied Minds.