An impressive audiologist from London is celebrating again—after scooping the title of European Audiologist of the Year – just weeks after being crowned the winner of the UK heat of the competition. According to a press release from Rayovac UK, in what has been a record breaking year for the competition, Jaspreet Bahra, BSc (Hons) Audiology RHAD, who works at Harley Street Hearing in London, has come out on top thanks to a nomination from one of her patients, demonstrating her dedication and passion for her profession.??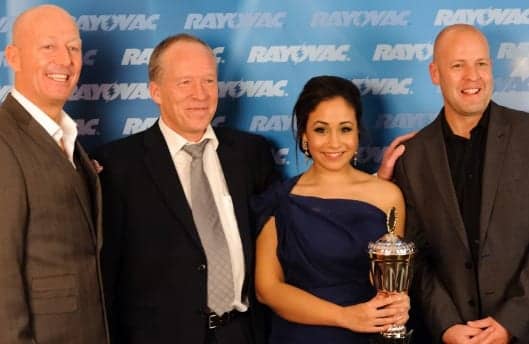 Honoring 2013 European Audiologist of the Year Jaspreet Bahra were (l to r)

Colin Brinson Pyke of Rayovac, Soren Hougaard of the European Hearing Instrument Manufacturers Assn (EHIMA), and Glen Rutherford of Rayovac.
Now in its 6th year, the competition, run in partnership between Rayovac and the magazine Audio Infos, celebrates the exceptional work of audiologists across Europe. An independent judging process, which included a panel of industry professionals, took place during the summer months to whittle down the nominees.?? Each was scored on the dedication, commitment, knowledge and levels of care demonstrated, with judges deciding on winners for the UK, Ireland, France, Germany, Spain and Sweden, before an overall European winner is chosen.??
"I'm still excited about being named as the UK winner of the competition, so to be crowned as the European winner as well is just unbelievable—it's a fantastic honour," says Jaspreet. ??"I'm really lucky to be in such an amazing profession, and I truly love the job I do, which means it never feels like work at all. I'd like to thank all of my wonderful patients, particularly Warren for nominating me."??
The inspiring story of 29-year-old Warren, who is a solicitor, was instrumental in the judge's decision to crown Jaspreet as Europe's top hearing professional. The judges were greatly impressed by Jaspreet's dedication to her patient's well-being and commitment to ensuring Warren received state-of-the-art devices that have helped enhance his life in every aspect.??
After suffering from hearing loss since he was just 6 years old, Warren explained how, since meeting Jaspreet, his confidence has soared—with the new hearing aid devices he has been fitted with making a real difference to his life.??Supported by Jaspreet, Warren has faced up to the challenges of working in a competitive law environment while living with severe hearing loss.
Warren was recently elected to the Executive Committee of the Lawyers with Disabilities Division, a division of the Law Society which seeks to widen access to the legal profession by creating a level playing field for talented disabled professionals, and he credits a great part of his success to the invaluable support received from Jaspreet. ??In his nomination for Jespreet, Warren said, "I have never known, nor even heard of, any audiologist being so committed to a patient that they would arrange appointments for the hours that Jaspreet does, even when it has meant rearranging their own annual leave.??"I cannot stress enough, having arranged for my primary care to be under Jaspreet and Harley Street Hearing, the difference this has made to my working and personal life. I firmly believe that Jaspreet is unique amongst her peers, a true professional who deserves to not only be nominated for, but to win this prestigious award in recognition of her outstanding contribution to both patient care and her field as a whole."??
Dale Sindell, Director at T-Oigo and one of the panel of judges, said, "Accessibility, service, dedication and kindness to the patient and family, all leading to a long-term relationship—these are the characteristics of many of this year's nominees. Each year, the bar is getting raised higher and higher after years of competition. It is fantastic to hear about the great lengths and dedication Jaspreet has demonstrated in her on-going care for Warren. These are the qualities that show Jaspreet has gone above and beyond for her patients and really set a high benchmark for other professionals in the industry."
"Audiologist of the Year is a great way for patients to bring to life the great support and dedication they have received from their audiologist, said Paula Brinson-Pyke, marketing director at Rayovac. "Each year it is a great pleasure to see how audiologists have really helped to transform the lives of not only their patients but also provide support for families, colleagues and peers."
In January, Rayovac US announced that Angela Lederman was selected as the 2012 North American Hearing Professional of the Year (see the January-March 2013 back covers of The Hearing Review). Previous winners of the North American contest have included Scot Frink and Indira Alvarez.
Source: Rayovac UK