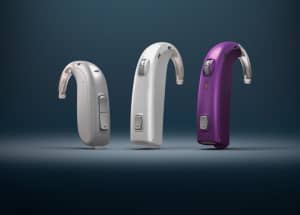 Oticon, Somerset, NJ, has introduced three power hearing solutions that are designed to meet the needs of people with severe-to-profound hearing loss. The new Oticon Dynamo, Sensei SP, and BTE Plus Power hearing devices are built on the Inium Sense platform that supports Oticon's BrainHearing technology.
According to Oticon, its BrainHearing technology delivers a very clear sound that helps the brain perceive a more natural listening experience and better speech understanding. The Inium Sense platform enables the new power solutions to provide higher gain and output, improved feedback control, and more personalized, comfortable listening. A new sound processing approach, Speech Rescue, gives power wearers access to inaudible high frequency sounds and more speech details than before.
"People with severe-to-profound hearing loss who rely heavily on their hearing solutions can find it challenging to transition to new technology," said Donald Schum, PhD, vice president of audiology and professional relations for Oticon Inc. "At the same time, technology advances rapidly and can offer new benefits and major improvements that significantly enhance quality of life. Our newest power solutions build on Oticon's power legacy and BrainHearing technology to make that transition easier."
Oticon reports that the Dynamo and Sensei SP are small and discreet, and deliver the peak output of 139 dB SPL and a peak full-on gain of 78dB and powerful low frequency output. Sensei SP, the newest addition to Oticon's Sensei family of pediatric hearing aids, is built for children with severe-to-profound hearing loss to ensure young brains are stimulated to learn. The two super power aids are hypoallergenic and meet safety and reliability standards with nano-coating, a shock resistant design, and IP58 classification. Sensei also has an LED that indicates to parents and caregivers that the hearing aid is functioning.
Dynamo and Sensei SP use Oticon's effective feedback control system, Inium Sense feedback shieldSP. The new SP feedback system is optimized for severe-to-profound hearing loss to protect wearers from unwanted whistling and squealing, without compromising high sound quality. Inium Sense feedback shieldSP is active across the range from 500 Hz to 6500Hz to allow for effective feedback cancellation in the frequency region most at risk for super power wearers.
Oticon says that its aim is to give Dynamo and Sensei SP wearers the freedom to hear conversation better with an approach to sound processing that combines the strengths of the Speech Rescue frequency composition and the Speech Guard E advanced compression system. Speech Rescue reportedly "rescues" speech cues that might otherwise be lost by capturing high frequency sounds and copying them to a lower frequency region. Moving high frequency sound to a lower frequency region gives wearers more access to high frequency sounds, such as softer consonants "s" and "th", and provides access to more of the details of speech. Speech Guard E then amplifies the high frequency sounds, bringing the softest sounds of speech into a narrow listening range while preserving the dynamic contrast of the signal. According to the company, with a clearer sound picture, the brain receives more of the information needed to decode speech for a better listening experience.
BTE Plus Power is a small BTE power solution with an MPO of 133dB SPL–the newest power style in the Alta2, Nera2, and Ria2 families–providing a discreet fit for people with moderate to severe-to-profound hearing loss. Despite its small size, Plus Power gives wearers access to the Inium Sense sound processing platform and BrainHearing technology.
The Inium Sense platform is said to increase the real-time processing power of BrainHearing technology by 30% to deliver a pure sound signal for the brain to decode. Soft Speech Booster gives wearers access to more of the soft sounds that exist in everyday speech. Like all hearing solutions in the Alta2, Nera2, and Ria2 families, BTE Plus Power has the Inium Sense feedback shield to reduce whistling without compromising sound quality or comfort.
According to Oticon, Inium Sense makes it possible to factor more of the wearer's sound preferences into the instrument fitting so that wearers of Dynamo and Plus Power can experience a more personalized fit. The easy-to-use personalization fitting tool, YouMatic, is intended to help wearers transition to the performance advantages of both Dynamo and Plus Power.
Dynamo can be worn in combination with a cochlear implant on the opposite ear. In a bimodal fitting, the hearing device takes on a greater role in the area of sound quality and environmental awareness. The new bimodal fitting protocol in Oticon Genie, developed by experts at Boy's Town National Research Hospital, guides hearing care professionals to better balance the sound experience for bimodal patients.
For more information on Oticon's new Dynamo, Sensei SP and BTE Plus Power, visit Oticon's Hear Every Moment website.
Source: Oticon