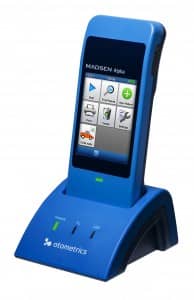 Audiology Systems, Schaumburg, Ill, recently announced that its MADSEN Alpha® OAE+, the new otoacoustic emissions (OAE) hearing screener by Otometrics, has received FDA 510(k) clearance and is now available for sale in the US.
According to David Adlin, screening products manager with Otometrics, "The MADSEN Alpha OAE+ provides physicians with objective data to help detect hearing loss early. This is especially important because recent studies show those with hearing loss suffer a dramatic impact on quality of life."
The company says the device is designed for both adults and children, and offers intuitive touch screen navigation, built-in probe test cavity, and an on-board cartoon that engages children during the brief test. It adds that the new innovations result in shorter test times and more accurate hearing screen results with virtually no user learning curve.
The MADSEN Alpha OAE+ hearing screener meets the new billing requirements for CPT code 92587.
Source: Audiology Systems