Phonak's in-ear monitors played a role in the movie La La Land, according to a blog posting on the company's website. The monitors were used to assist the director with providing sound cues to actors, particularly during live scenes.
"The overall guidance from our director to the sound department was, 'Hey I want to be ready to do any of these scenes lives at any time.' Which is a challenge in and of itself, but it's also a welcome challenge," said Sound Mixer Steve A. Morrow, in the blog post.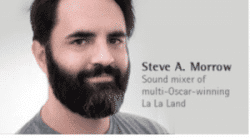 This is where Phonak's in-ear monitors came into their own, said Morrow: "We would have moments where the director would just say, 'Okay let's do it live,' and so we would pop the earpiece in. I have 10 Phonak earpieces in the cart, so they're always there and ready."
Morrow, along with colleagues Andy Nelson and Ai-Ling Lee, picked up nominations for the Oscar, Bafta, Cinema Audio Society, and Satellite awards for sound mixing in La La Land.
Phonak's monitors allowed Morrow to be able to offer the director multiple options, for example, allowing actress Emma Stone to be the only one hearing a key piece of music.
For the song "Audition," it was decided early in production to give Stone in-ear monitors. "The idea wasn't to have a playback track so that she could sing along to it. [Composer] Justin [Hurwitz] was going to be on his electronic piano off-set, and his goal was to play along with her, not that she sings along with him—so she'll drive the speed of his music," said Morrow in the post.
"We put the earpiece in, and, as always, it's basically a flawless system. It was one of the bigger songs in the film, and one of the more impactful moments, because the music was able to play along to her singing. It was a live performance by both of them," he adds.
Source: Phonak