Sonova, Stäfa, Switzerland—a manufacturer of global hearing care solutions—is inviting Chinese dancer Tianjiao Zhang to make appearances at Sonova's annual general shareholders' meeting in Zurich on June 13 and another at a charity event near Munich on June 16, Sonova announced. Despite Zhang's profound hearing loss, the 20-year-old artist is dancing at the highest level, and her story has been showcased by the Sonova Group: an emotional portrait in film about the young performer's life and dreams demonstrates how people with hearing loss can live a life without limitations, says Sonova.
"My heart beats along to rhythm when I hear music," said Zhang. "Dancing is a wonderful thing and I feel the music in my heart."
It has been said that even as a child, the young dancer knew that there was only one career for her, despite her profound hearing loss—and she has been supported in this endeavor by her hearing aids, manufactured by the Sonova brand Phonak, which she has been wearing since early childhood.
At the age of 16, Zhang became the only competitor with hearing loss to represent China at a dance competition in Ukraine— and went on to win. Having danced to victory by proving herself the most talented artist in a popular contest on Chinese television when she was 17, Zhang now appears with a range of professional dance troupes and gives ballet lessons to children, according to Sonova.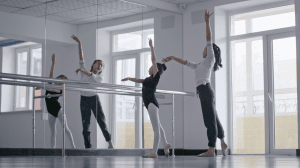 This short film captures Zhang's route into professional dance: Lights, camera, action!
The young artist shall present a program of modern free dance backed by the soulful classic pop of Italian composer Ludovico Einaudi at Sonova's annual general shareholders' meeting and at a charity event in Ettal Abbey in aid of Sonova's Hear the World Foundation.
"Tianjiao Zhang's story is a compelling illustration of how Sonova's innovative hearing solutions are helping people to live a life without limitations and a concrete example of our corporate vision in action," said Sarah Kreienbühl, Sonova's GVP Corporate HRM & Communications. "We are delighted that Tianjiao can bring people joy through her dancing while also actively supporting the charitable work of the Hear the World Foundation."