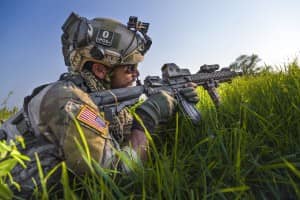 According to a report from Blanchfield Army Community Hospital (BACH) at Fort Campbell, Ky, Army Medicine audiology researchers are studying how hearing loss affects the performance of soldiers on the battlefield. Their findings are intended to give commanders a better understanding of real-world limitations, and help create more realistic hearing standards for active-duty soldiers.
BACH reports that, for more than 30 years, auditory fitness levels have been measured annually using an audiometry test, also known as the Defense Occupational and Environmental Health Readiness System Hearing Conservation, with a certain hearing-loss threshold prompting a mandatory medical review board. Many soldiers have been labeled non-deployable due to hearing loss, and the US Department of Veterans Affairs (VA) spends more than $1 billion in compensation per year to treat hearing loss for more than 800,000 veterans. Data collected by the VA shows that as many as 52% of combat soldiers have moderate to severe hearing loss, primarily due to exposure to loud sounds during combat.
The current study at BACH investigates whether the audiometry test's long-established hearing profiles are an accurate and realistic measure of a soldier's ability to move, shoot, and communicate in various battlefield scenarios. Those realistic battlefield scenarios were recreated in the form of team-level maneuvers across a wooded training area on Fort Campbell, which provided an ideal location for research audiologists. The researchers developed a hearing loss simulator, which soldiers in the study mounted on top of their helmets to superimpose hearing loss through earphones inserted into the ears, allowing the researchers to evaluate how well the soldier participants performed in a given scenario.
Soldiers from the 101st Airborne Division (Air Assault) reportedly donned the equipment and formed four competing teams, each of which simulated varying levels of hearing loss. The Army's current auditory fitness-for-duty system characterizes those levels as hearing profiles H1, H2, or H3, with the latter being the worst of the three profiles.
In the proof-of-concept phase, research audiologists had performed similar tests on West Point cadets using paintball-based scenarios with the same hearing-loss simulators.
In early studies, researchers saw a change in strategy as a function of hearing loss. Soldiers in the more difficult hearing loss profiles tended to camp out or hide in order to maintain their survivability, but the researchers report observing a very significant drop off in the soldiers' ability to engage the enemy. The soldiers' "lethality" dropped off to half what it was in a normal hearing setting.
While the collected data will be studied for months, the research has already produced early results. The research team reports seeing that the normal hearing team is winning close to 40% of the test rounds. There are four teams per test round. The severe hearing loss profile being tested is winning less than 15% of the time. The mild to moderate losses being tested fall between 25% to 30%.
One Soldier participating in the study reported that the simulated hearing loss was an eye opener, prompting the use of other tactics. "When I couldn't hear very well, it made me a lot more cautious. I felt like I needed to be more vocal to my [comrades] on my left and right. I couldn't tell if they could hear me or not, so it really affected our movement," said Sgt. Nimrud Velasco, 101st Airborne Division (Air Assault). Velasco said his team compensated by relying on hand-and-arm signals. "Somehow, we got it done. You have to work with what you have and continue the mission," he said.
The research team explains that lab derived testing is not real world, and these types of simulation tests are invaluable. They hope their simulation test results help make it more "real world" for the commanders on the ground so when their soldiers are given a hearing loss profile, they understand what that profile means and what the limitations are for that soldier.
For more details of the study, read the news announcement from the United States Army website.
Source: David E. Gillespie, Blanchfield Army Community Hospital (BACH) Public Affairs