The Ida Institute announced the launch of We're All Ears, a new campaign to encourage people with hearing loss to play a more active role in their own care. We're All Ears breaks down the elements of person-centered care in a way that speaks directly to people with hearing loss and lets them know how they can more actively participate in their care. The campaign's calls-to-action capture the essence of person-centered care seen from the perspective of the client: Be seen. Be heard. Tell your story. Be open. Take part. Be clear.
Related article:Ida Institute Launches New Person-Centered Care E-Learning Course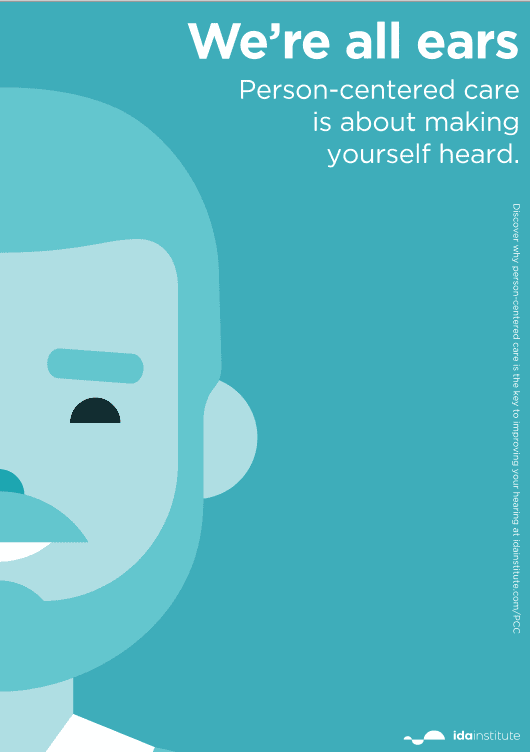 Ida Institute developed the campaign in collaboration with the Person-Centered Hearing Network (PCHN), which includes consumer advocacy groups, professional organizations, and universities around the world.
"Great hearing care requires teamwork between a hearing care professional and their clients," said Ida Institute's Managing Director Lise Lotte Bundesen. "Sometimes clients don't know exactly how to be more involved or even if they are supposed to be. We're All Ears empowers people with hearing loss to take more ownership of their care. We want to show how they can build a partnership with their hearing care professional by being more active. It's a call-to-action and a helping hand."
Nerina Scarinci, associate professor and head of speech pathology at the University of Queensland, said, "Patients need to be informed about person-centered care so they can potentially lead the change in this area. Patients may actually be the key to unlocking the potential of person-centered care in clinical services. To have a project come out supporting this is just incredible."
The road to better hearing can be a difficult journey. We're All Ears makes it easier for hearing care professionals and people with hearing loss to help each other along the way.
The campaign video is available at: www.idainstitute.com/pcc.
The campaign also includes social media content and posters. If you would like to receive campaign materials to help spread the word, please contact Communications Manager Jeanette Blom at [email protected].
Learn more about the Ida Institute at idainstitute.com or sign up for the institute's weekly newsletter at: http://eepurl.com/gxeHKv. You can also follow the Ida Institute on Twitter at @idainstitute, facebook.com/idainstitute, or linkedin.com/company/ida-institute.
Source: Ida Institute
Images: Ida Institute