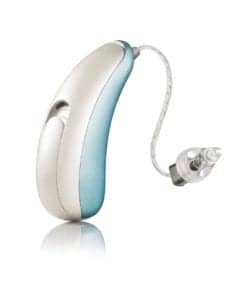 Unitron, Kitchener, Canada, announces that its Moxi™ Kiss hearing instrument has earned a "Red Dot Award: Product Design 2014", an internationally recognized distinction celebrating excellence in product design.
With origins dating back to 1954, the Red Dot Product Design Award ranks among the largest and most renowned design competitions in the world today, spanning a spectrum of 23 product categories from interior design, to consumer electronics, to healthcare.
Moxi Kiss was recognized for outstanding product design out of a field of 4,815 applications from 1,816 companies representing 53 countries. An international jury of 40 distinguished design experts evaluated each submission against criteria including innovation, functionality, emotional content, and ecological aspects.
According to Unitron, the intelligent design and luxurious finish of Moxi Kiss realizes the company's design goal to create a product that wearers would rate as stylish, discreet, and comfortable, and that hearing healthcare providers would be proud to represent. The hearing instrument's outer shell was meticulously designed, including precision of the tooling to the micron level to get the smallest form possible, and a G2 curvature to ensure a luxurious finish. Advances in mechanical design ensure Moxi Kiss' internal functionality upholds Unitron's commitment to high fidelity natural sound, providing wearers a high degree of listening comfort even in the most difficult noise environments.
"We are honoured to have Moxi Kiss recognized yet again by the world's leaders in product design," says Unitron President Jan Metzdorff. "Moxi Kiss represents the first step in a new design evolution for Unitron's hearing instruments that will continue for years to come. This Red Dot award provides further validation that we are absolutely on the right path. In creating Moxi Kiss, our team studied the best in the world, pushed through design barriers, and ultimately created an outstanding product design that is intelligent, beautiful, and truly worthy of international recognition."
Source: Unitron