Inside the Research | January 2018 Hearing Review
Even though the benefits of hearing aids are widely known in our field, the fact is that there is not a plethora of high-level scientific evidence proving the efficacy of hearing aids. In September 2017, Melanie A. Ferguson, PhD, and colleagues published a paper1 in the prestigious Cochrane Database of Systematic Reviews that synthesized evidence pertaining to hearing aids for adults with mild-to-moderate hearing loss. We thought it would be a good idea to catch up with Dr Ferguson, who is a consultant clinical scientist in audiology and associate professor in hearing sciences at the NIHR Nottingham Biomedical Research Centre at the University of Nottingham in England.
Beck: Hi Mel! Good to speak with you! I was delighted to see your new paper titled "Hearing Aids for Mild to Moderate Hearing Loss in Adults"1 was recently published in the Cochrane Database of Systematic Reviews. Congratulations!
Ferguson: Hi Doug! Great to speak with you, again. Thanks. It was really satisfying to see our Cochrane review finally published—it was a lot more work than it might look!
Beck: For some people, it might be quite surprising that we're now on the cusp of 2018, and hearing aids have been supplied to people with hearing loss for more than 100 years, and now you author this review to investigate whether or not hearing aids benefit people with mild-to-moderate hearing loss!
Ferguson: Yes, Doug, I can safely say that you are not the first to point that out! "Why bother when we know that hearing aids work?" some have said.
Beck: Then again, yours was welcome and a delight, as we haven't had an investigation into this issue with respect to modern contemporary hearing aids. And per Cochrane, I have to congratulate you and your co-authors also, because you laid out the arguments very well in terms of the level of evidence—which was graded as "moderate." This is, frankly, unusual for systematic reviews and sets a new standard for all of us.
Ferguson: Thanks, Doug. As you recall, Theresa Chisolm and colleagues2 published on this very subject in the February 2007 JAAA, when systematic reviews were pretty new to audiology. However, as that review only included studies up to 2004, we thought the time was right for an update of the published evidence.
Two differences were that we looked at the question of effectiveness of hearing aids in adults with mild-moderate hearing loss (MMHL), and also based this solely on peer-reviewed papers reporting randomized controlled trials (RCTs), a high level of evidence. We decided to approach this using the highly prescribed and specified methods laid out by the Cochrane Collaboration, which is the international "gold standard" for systematic reviews. It was quite an in-depth and lengthy process, including publication of a review protocol that detailed every aspect of the process prior to starting the review—nothing went undefined! We screened almost 3,000 research articles, from which only 5 studies met the predefined eligibility criteria.
Beck: So, after all that, your team showed that hearing aids provided benefit for adults with MMHL in listening ability, and with regard to participation in everyday life, both with large effect sizes. Additionally, you showed a small and significant effect on health-related quality of life (HRQoL) when compared to the control condition.
Ferguson: That's it in a nutshell. The effects on hearing-related quality of life, focusing on participation, was not so surprising. But what was new was the effect of hearing aids on listening ability and health-related quality of life. These effects—alongside the moderate quality of evidence that indicated the studies were generally well-conducted—led to our final conclusion that hearing aids are an appropriate and effective intervention for those seeking help with their hearing difficulties. That's a strong message.
Beck: Given the interesting world we live in and in light of all the controversy surrounding over-the-counter (OTC) devices in the United States, did the participants in your review have the selection and fitting of hearing aids and the counseling performed by audiologists and other licensed hearing care providers (HCPs)?
Ferguson: Yes, that's mostly correct. Larry Humes and his colleagues' notable AJA paper3,4 addressing the OTC issue included an alternative intervention arm whereby the patients chose preprogrammed hearing aids. In that study, there was little difference in outcome between the Audiology Best Practice (ie, current practice) and Consumer Decides (ie, OTC).
I know OTC is a hot issue right now in the States, and I see a lot of discussion online about it. My view is we need to be cautious and allow science to inform the distribution and dispensing of hearing aids in terms of current and new service delivery models. There is a risk that, without robust research evidence, provision of hearing aids may become a free-for-all, and this could negatively impact patient benefit. I think the HCP has an important role to play in aspects of aural rehabilitation, such as taking a patient-centered approach to counseling, which is not part of the OTC model. However, as the under-provision of hearing aids in many countries indicates—typically only 1 in 3 people who would benefit from hearing aids has them—there is a good argument that alternative delivery models should be investigated, but based on scientifically validated protocols and processes. In fact, my colleague David Maidment and I will be conducting research on this in the early part of 2018.
Beck: I agree, we need the professionals and we need scientifically proven protocols, which is why the satisfaction rates for hearing aids and for HCPs is so high in the United States. Clearly the professionals are a huge part of that success. Okay then, back to the study…So, to measure and evaluate the hearing-related QoL, you used three RCTs which each used the Hearing Handicap Inventory for the Elderly (HHIE)?
Ferguson: Yes, that's right. The HHIE was used in all three RCTs included in the meta-analysis, so for hearing-related QoL there was consistency in terms of the outcome measure used. It was interesting to see that two of the studies were from the VA, and they both indicated more benefit and greater reduction of hearing handicap than that demonstrated by Humes et al.3,4  We found this quite surprising initially, and we offered lots of reasons why this might be, but all we could do was speculate. It would be interesting to see what future studies show, particularly with the use of placebo (ie, acoustically transparent) hearing aids in the control group, which is an excellent way to reduce the risk of bias around blinding for patients and researchers.
Beck: What about the Health-Related QoL?
Ferguson: Well, I knew you were going to ask that! Our finding that hearing aids improve health-related QoL was a first. And quite unexpected. As researchers, we know that self-report questionnaires often focus on health-related QoL issues that don't tap into issues that are relevant to patients with hearing loss, such as self-care or mobility. Interestingly, a 2005 paper by Rachel McArdle and colleagues5 used the World Health Organization Disability Assessment Schedule II (WHODAS II), which includes 2 of 12 subscales relevant to the consequences of hearing loss: participation and communication. The WHODAS II data showed a significant benefit of hearing aids on Health-related QoL, which contributed to the overall significant effect showed in the meta-analysis.
Beck: In some respects, you verified the 1999 National Council on Aging Study  (NCOA) titled "The Consequences of Untreated Hearing Loss in Older Persons"6,7 and also the Bridget Shield article from 2006 titled "Evaluation of the Social and Economic Costs of Hearing Impairment."8 The NCOA study confirmed that, for older people, untreated hearing loss has many side effects: sadness, depression, worries, anxiety, depression, paranoia, less social activity, and emotional turmoil and insecurity. However, people who wore hearing aids to treat their hearing loss reported better familial relationships, better feelings about themselves, improved mental health, and greater independence and security.6,7 Shield8 concluded that hearing impairment has a major impact upon individuals and society. She reported hearing loss also affects the family and, for those who use hearing aids, the majority of them are satisfied or very satisfied. Further, Shield reported the use of hearing aids provides significant improvement to overall quality of life.
Conclusion: We found that hearing aids improve the ability of adults with mild to moderate hearing loss to take part in everyday life, their general quality of life and their ability to listen to other people. If an adult with mild to moderate hearing loss seeks help for their hearing difficulties, hearing aids are an effective clinical option. It is important that future studies measure benefits consistently and report benefits separately for different age groups, genders, levels of hearing loss and types of hearing aids.1 — Ferguson, et al (2017), found at: http://www.cochrane.org/CD012023/ENT_hearing-aids-mild-moderate-hearing-loss-adults
Ferguson: Yes. In many respects, we did revisit some of these same points, but we did so using RCTs and contemporary information to evaluate the two QoL measures. The issues around participation and their relationship to mental health, depression, and loneliness are an area of increasing research interest, and an area we are currently investigating. In addition to a self-report measure of social participation that has been developed using modern psychometric methods by Eithne Heffernan, a recent PhD student of mine, we have also developed a brief 5-item questionnaire on social isolation related to hearing loss.9 What we'd like to address is not just if hearing aids make it easier to participate in everyday life, which clearly they do, but we also want to know how hearing aids facilitate or better allow people to have better health and well-being.
Beck: And, of course, the audiogram isn't the be-all and end-all in determining who should wear hearing aids. We should engage in individual listening assessments, or individual communication assessments.
Ferguson: I totally agree. As all hearing care professionals know, you can have two identical audiograms and two totally different life and hearing experiences, secondary to those identical audiograms. We weren't able to do a subgroup analysis based on mild-vs-moderate hearing loss, so I recently reviewed audiogram and self-report data from a previous RCT of 203 hearing aid users.10 There were no differences in hearing difficulties and participation between those with either mild or moderate hearing losses. Interestingly, there was a huge variation in their self-assessment hearing difficulties and participation in both hearing loss groups. So it's not the hearing loss per se but the consequences of hearing loss that matter.
Beck: And so which communication assessment do you find to be most useful?
Ferguson: We usually use the Glasgow Hearing Aid Benefit Profile, but also use the HHIE as this is the most commonly used self-report measure in hearing research studies.
As I said earlier, we will have published our own social participation and isolation questionnaires in 2018, which we are using in current studies. However, in the meantime, based on our Cochrane review, we have shown moderate quality evidence that hearing aids are effective for adults with MMHL. We concluded decisively that hearing aids are an appropriate intervention, and hearing aids are (and should be) the first-line management option for people who seek help for hearing difficulties.
Beck: Mel, it's always a joy to speak with you, and congratulations again on the new and excellent publication!
Ferguson: Thanks Doug. I hope you'll come and visit us in the UK again, soon!
Beck: I would love that! Thanks Mel.
Acknowledgements
Many thanks to the review authors Padraig Kitterick, Lee Yee Chong, Mark Edmondson-Jones, Fiona Barker, Derek Hoare. This systematic review presents independent research funded by the National Institute for Health Research (NIHR). The views expressed are those of the authors and not necessarily those of the NHS, the NIHR, or the UK Department of Health.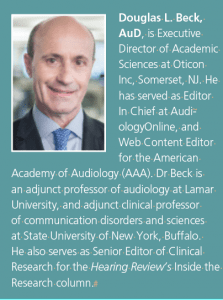 References
Correspondence can be addressed to Dr Beck at: [email protected]
Citation for this article: Beck DL. Hearing aids for adult mild-to-moderate hearing loss: An interview with Melanie Ferguson, PhD. Hearing Review. 2018;25(1):34-35.