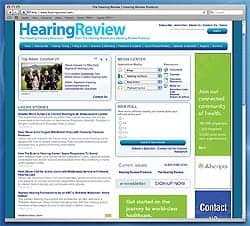 TOP NEWS and HEADLINES in October
Bidding War Over: Otix Chooses WDH
JAMA: Newborn Hearing Screening Improves Developmental Outcomes
Causal Link to Super Vision in Deaf Discovered
President to Sign Technology and Access Bill into Law
CASLPA Calls for Newborn Hearing Screening In Canada
How the Brain's "Hearing Center" Spurs Responses to Sound
New Oticon Chili for Active Users with Moderately-Severe to Profound Hearing Loss
Hear the World Foundation Celebrates at Awards Gala
Study Supports Keyhole Approach to AN Tumor Removal
Hearing Loss Linked to Chronic Kidney Disease
Starkey Hearing Foundation on ABC's Extreme Makeover: Home Edition
Bidding war for Otix/Sonic Innovations ends, with group going to William Demant Holding.

Effectively bringing a month-long bidding war between Danish hearing industry rivals William Demant Holding (WDH) and GN Store Nord to an end, Otix Global—owner of Sonic Innovations—announced it will stick with its original suitor, William Demant Holding.GN Store Nord, parent company of ReSound, will reportedly not launch a new bid for Otix Global, leaving WDH—the parent group of Oticon and Bernafon—to take over the company as originally planned and reported in last month's HR Online.In an October 19 statement, Otix, parent company of Salt Lake City-based hearing aid maker Sonic Innovations, said it would be filing a definitive proxy statement to obtain approval of the merger with WDH by its shareholders.

For awhile, it was unclear when the bidding might end. Otix sat quietly while WDH twice raised its bid to match GN's counter-offers of $58 million and $64.2 million in an effort to secure a WDH-Otix Global merger.Reuters reported that, if Otix had terminated the deal with William Demant, it would have had to pay a "break fee" of $2 million, which effectively made WDH's equal bid more valuable to the seller.

Sonic Innovations and HearingLife's distribution activities are expected to continue without any change. According to industry analysts, the transaction, if completed, would increase WDH's global market share by about 1 percentage point in terms of unit volume.

In the original September 13 statement by Otix, company Chairman and CEO Sam Westover said, "In a short period of time, Otix Global has grown from an innovative start-up company to a leading manufacturer and distributor of superior hearing solutions under its Sonic and HearingLife brands. Our product lines have garnered industry attention and awards and are representative of the innovative technology for which Otix is known. The merger with William Demant will provide the research and development, marketing and sales support, and resources necessary to further expand Sonic and HearingLife's presence in the hearing health care industry."

New study supports self-referrals, direct access.

In a study published in the Journal of the American Academy of Audiology, Mayo Clinic researchers in the Audiology Section investigated whether it was safe for Medicare beneficiaries to self-refer to audiologists for evaluation of hearing loss. Some clinicians have been concerned that audiologists might miss significant otologic conditions.The retrospective study, "Safety of Audiology Direct Access for Medicare Patients Complaining of Impaired Hearing," looked at 1,550 records comprising all Medicare-eligible patients referred to the Mayo Clinic in 2007.In the first study group, records of patients seen jointly by audiology and otolaryngology practitioners were reviewed by two otolaryngologists and two audiologists, who judged whether the audiologist treatment plan, if followed, would have missed conditions identified and addressed in the otolaryngologist's treatment plan.

In a second group, records of patients seen by audiology but not otolaryngology practitioners were evaluated by a neurotologist who judged whether the patient should have seen an otolaryngologist based on the audiologist's documentation and test results.

The researchers found that, in the first group who saw both the audiologist and otolaryngology practitioners, there were no audiology discrepant treatment plans in over 95% of cases. In no case where a judge identified a discrepancy in treatment plans did the audiologist plan risk missing conditions associated with significant mortality or morbidity that were subsequently identified by the otolaryngologist.

For group two, the neurotologist judged that audiology services alone were all that was required in 78% of cases. An additional 9% were referred for subsequent medical evaluation. The majority of remaining patients had hearing asymmetries. Some were evaluated by otolaryngology for hearing asymmetry in the past with no interval changes, and others were consistent with noise exposure history.

The authors conclude, "These findings are consistent with the premise that audiology direct access would not pose a safety risk to Medicare beneficiaries complaining of hearing impairment."

CASLPA calls for UNHS in Canada.

The Canadian Association of Speech-Language Pathologists and Audiologists (CASLPA) has submitted a position paper on Universal Newborn Hearing Screening (UNHS) as part of a national campaign to improve early identification of hearing loss in children. The organization is calling for a Canada-wide adoption of UNHS programs in all provinces and territories. Approximately three to five per 1,000 babies born each year in Canada have some degree of hearing loss.CASLPA, along with the Joint Committee on Infant Hearing in the United States, the American Academy of Pediatrics, and the National Institutes of Health, recommend that UNHS programs be designed so that initial screening is conducted by 1 month of age, confirmation of hearing loss by 3 months of age and intervention beginning by 6 months of age. In the United States, 95% of newborns are screened with UNHS programs.

Study finds tinnitus common in elderly.

Tinnitus is common among elderly Nigerians and associated with treatable health conditions like otitis media, rhinosinusitis, head injury, and hypertension, according to new research published in the October 2010 issue of Otolaryngology- Head and Neck Surgery.Nearly 36 million Americans, however, suffer from tinnitus or head noises. It may be an intermittent sound or an annoying continuous sound in one or both ears. In Nigeria, tinnitus affects between 10.1% and 33% of the population, with about 3% to 4% consulting a doctor on at least one occasion in their lifetime. Its effect makes it a significant contributor to morbidity in the elderly.The study included face-to-face interviews of 1,302 elderly people aged 65 years and over; age, sex, economic status, or residence was not associated with the occurrence of tinnitus. The researchers found a significant difference between the prevalence of tinnitus among "young elderly" subjects aged 65-69 (6.5%), and the older (80+ years) group (41.9%). Also in this study, a non-significant trend was observed for the prevalence of tinnitus to increase with decreasing socioeconomic and educational level.
Starkey Holds Its First Pediatric Symposium
Marion Downs, DHS, was presented with a bouquet of roses, as tribute for her pioneering work in the field of pediatric audiology and for providing a lively opening to the symposium, by her longtime colleague Jerry Northern, PhD, who now serves as director of pediatric audiology at Starkey Laboratories.
Starkey Laboratories Inc, Eden Prairie, Minn, hosted its first annual Pediatric Symposium in late September at its headquarters. Marion Downs, distinguished professor emerita at the University of Colorado School of Medicine, was the guest of honor at the event, and leading authorities in pediatric fitting and clinical applications presented keynote and case presentations to more than 250 participants throughout the 3 days. Additionally, attendees were given the opportunity to work hands-on with Starkey's pediatric hearing aids and the Inspire software, which includes specific pediatric fitting options.
Among a number of special presentations, Anu Sharma, PhD, a professor at the University of Colorado in Boulder, provided information on cortical plasticity, maturation, and efficacy of early intervention; Susan Scollie, PhD, of the National Centre for Audiology at the University of Western Ontario spoke about evidence-based protocols for pediatric hearing aid fitting; Yvonne Sininger, PhD, of the David Geffen School of Medicine at UCLA presented "Auditory Development in Early Amplified Children"; and Starkey's Jason Galster, PhD, provided information on pediatric considerations in real-ear measurements.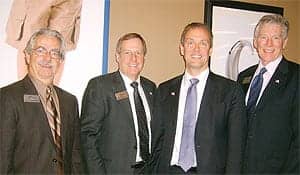 Starkey Laboratories' Jerry Northern, Senior Director of Education and Training Barry Freeman, PhD; Managing Director of Sales David Fabry, PhD; and Western Regional Director Dennis Van Vliet, PhD.
"We are so proud to have the opportunity to bring together such an exciting slate of pediatric audiology experts under one roof," said Jerry Northern, PhD, director of pediatrics for Starkey.
The Starkey Pediatric Program was launched in April 2010. Developed using Starkey's evidence-based design approach, the program provides hearing products and professional and patient support.
Thanks to an exclusive partnership, Starkey Pediatrics hearing aids are authorized to offer Nickelodeon characters from some of kids' favorite TV shows—including Dora the Explorer; Go, Diego, Go; SpongeBob SquarePants; and iCarly—on their earmolds and in materials that accompany the hearing aids. As a result, SpongeBob was able to make an appearance at the Pediatric Symposium, entertaining kids of all ages.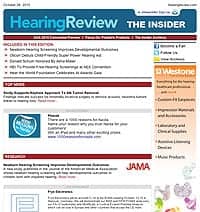 Get Your Weekly Edition of THE INSIDER
Every week The Hearing Review sends out THE INSIDER, a weekly FREE e-newsletter devoted to the top hearing-related news, research, product introductions, fitting topics, and marketing research stories that are influencing your business or practice, as well as the industry at large. [register]Sign up for your free subscription[/register].