Tech Topic | May 2018 Hearing Review
In this new era of disruptive technology, hearing care practices need valuable information to help increase the knowledge of decision makers. Primus Business Analytics is designed to help owners and managers effectively identify growth and development opportunities, understand best-practice protocols, the duration and scope of testing, and assist in fine-tuning in ways that would otherwise be virtually impossible. 
There has been much discussion over the years of hearing aid technologies which improve the signal-to-noise ratio at the ear. Receiving considerably less attention, however, is perhaps the most significant modern advancement in hearing aid technology of all: improved feedback reduction systems.
Hearing care professionals in the US are predicting dire disruption to their formal distribution channels, and are anticipating lower margins due to pending consumer access to OTC hearing devices. In reality, there is a convergence of technology, new access options, and sheer economics that has created angst in the professional community. This apprehension is striking at the very heart of the traditional business model which includes state-licensed practitioners, advanced university degrees, and private-practice delivery models.
There are a dichotomy of views among the professional community. Most professionals seem to be on both sides of the fence regarding the implications of the Over the Counter Hearing Aid Act of 2017 and labeling considerations.  While many see it as a rallying point to reinvent and re-inspire the professional network—a call to rise to the occasion and promote a more professional and clinical fitting experience—others predict a questionable, if not dreadful, future for the professional dispensing of hearing aids.
Many industries experience disruption. Keep in mind that disruptions are usually how new ideas, new products, and better solutions evolve. The "new world order" in hearing care will still include professional/clinical consumer access sites, but advancing technology is opening many new options for the consumer like OTC, PSAP, smartphone apps, and increased Internet availability. This is part of the evolution of the hearing care industry, and traditional dispensing professionals will have to find ways to compete and remain a vital link to better hearing.
One concept that has evolved is the use of accurate daily activity data to make better business decisions, professional adjustments, and refinements to the consumer journey. This data can help quantify, qualify, and accelerate best practices to ensure future success and growth of the professional network of hearing care professionals.
The patient experience still remains an important aspect to successful hearing rehabilitation—an experience that is compromised in a typical retail OTC environment.
Data and Knowledge
Retail hearing businesses collect valuable data each and every day. Information like patient lifestyle information, hearing aid information, fitting information, and test results are all routinely collected. Professionals know not only the etiology of the hearing loss and the rehabilitation options prescribed, but they also come to understand the lifestyle and personal needs of the consumer which helps guide them to an optimal fitting.
But what if there was a tool that provided intimate knowledge of what actually occurs with each and every test, with each and every clinician, at each and every location, that can provide insight and user data to ensure a continuity of service at all locations—a tool that silently and invisibly collects, quantifies, and determines best practices, 24 hours a day, 7 days a week? This technology and software exists today, embedded in a spectacular new generation of computerized testing devices for hearing healthcare.
Keep in mind that raw data simply describes the facts and figures that a company processes every day. In a retail hearing environment, each sale is recorded along with patient testing and fitting data. However, a company will learn little by looking at each sale in isolation. Data becomes informationafter it has been processed to add context, relevance, and purpose.
Importance of Data
The ability to analyze and act on data has become increasingly important to hearing care businesses. The pace of change in hearing care today requires hearing care providers to be nimble and to have the ability to monitor and understand what best practices are working to benefit the business and the patient.
This ability is greatly amplified when considering multi-office businesses. Managers need to consume and understand high volumes of data before they can make the necessary and warranted adjustments to their fitting and testing protocols.
A new generation of testing and fitting instrumentation has successfully integrated a complex Business Analytics module which collects and monitors all aspects of testing and fitting by user, by test, by instrument—visible 24 hours a day, for any location. Auditdata, a Danish developer and manufacturer of computerized solutions for audiology, has incorporated this software capability under the Primus™ brand for audiometers, real-ear instrumentation, video otoscopes, and hearing aid test chambers (see Figures 1-3).
Business Intelligence
Company data is often stored in multiple, unrelated software applications and databases, but with Business Analytics in Primus, software tools gather and process data from multiple sources and centralize the data in a format that is easy-to-retrieve and analyze (Figure 4). Primus can produce valuable reports on information to help increase the knowledge of decision makers. Effective Business Analytics helps owners and managers identify growth and development opportunities, understand best-practice protocols, duration and scope of testing, and can assist in fine-tuning that would otherwise be virtually impossible. Primus silently gathers, quantifies, and presents this data in an easy-to-understand report format.
In most multi-office businesses, there are typically higher-volume producers and there are lower-volume producers. What sets the two apart? Often, by simply analyzing the actions and protocols of the higher producers, managers can learn some of the key behaviors that produce results. Consistent protocols can then be evaluated and then initiated to all providers, at all locations, to ensure effective results and services in each location.
Imagine the power of having key user information from all your retail locations at the stroke of a button.  Knowledge and communication is power and this power can provide momentum and traction.  Today, the pressure to compete in the "new world order" is to be ahead of the game in a disrupted consumer hearing care market. Business Analytics' tools from Primus are invaluable to the professional clinician in managing a changing sales and treatment environment.
Other Unique Tools
Business Analytics and Primus also offer some industry firsts that directly affect bottom-line performance of retail hearing care providers. In addition, the company has worked to eliminate "downtime" associated with annual calibration. Calibration of Primus instrumentation eliminates downtime and disruption by storing the calibration offsets in the transducer itself.  This allows a seamless swap-out process for calibrated transducers. By eliminating outside business disruption, costs can be reduced and passed along to the business.
Summary
In the new competitive environment we are facing—as well as the unknowns presented by the era of OTC and other disruptive technologies—it is becoming crucial to work smarter and fully understand all the components that make your practice (and business) successful and profitable. An effective data collection system paired with Business Analytics is increasingly becoming an imperative in managing and effectively running a hearing healthcare practice. New tools that draw data from your professional staff members and their audiometers, real-ear instrumentation, video otoscopes, and hearing aid test chambers will be vital in accentuating those things that distinguish your services from the competition, today and in the future.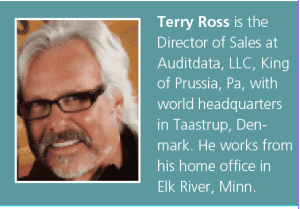 Correspondence can be addressed to HR or Terry Ross at: [email protected]
Citation for this article: Ross T. Data mining in the era of disruptive technology. Hearing Review. 2018;25(5):26-27.