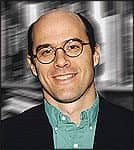 When taking things into a historical industry context, recent media coverage on hearing health care has been both abundant and positive—despite one rather shocking April 21 USA Today article (see AudiologyNOW! convention coverage in the sidebar of this month's HR Online article for details). Never before have we seen so many media features on the benefits of better hearing, professional services, and how hearing-related technologies significantly impact people's lives.
May's Better Hearing and Speech Month (BHSM) is a perfect time to amplify this news. Even though there may be fewer than 12,000 dispensing offices in the United States, if all of them promote hearing awareness through the media, health fairs, and open houses, we can send a powerful message to consumers. To that end, check out the Better Hearing Institute (BHI) Web page at www.betterhearing.org/bhsc. BHI has reconvened the Better Hearing and Speech Council, a coalition of national and local organizations dedicated to promoting quality hearing care for all US residents. On the bottom of the Web page is a large assortment of materials to help you kick off your own Better Hearing and Speech Month public awareness campaign for your office/practice.
Hearing Aid Tax Credit Is Reintroduced. And just in time for BHSM, the Hearing Industries Association (HIA), Washington, DC, announced that the federal Hearing Aid Tax Credit bill has been reintroduced by a bipartisan coalition of representatives led by Reps Tom Latham (R-Iowa) and Carolyn McCarthy (D-NY). The wording of the Hearing Aid Tax Credit (HR 1479) has been unchanged from the last attempt to gain approval in 2010. As a result, all 36 of its original co-sponsors, including four members of the House Ways and Means Committee, are supporting the bill in the House, while Senators Tom Harkin (D-Iowa) and Olympia Snowe (R-Me) have remained co-sponsors in the Senate and will soon reintroduce companion legislation there.

If the bill remains unchanged and is eventually signed into law, HR 1479 will provide a $500 tax credit per hearing aid once every 5 years for children and those adults age 55 and older. This tax credit would be in addition to any funds from states that mandate some type of insurance coverage for hearing aids. A list of individual state mandates was published in the Legislative Update article from the February 2011 HR.

HIA is spearheading the effort to gain more support in Congress. HIA Chairman Todd Murray said in a press release, "Given that hearing aids can help 95% of people with hearing loss, it is tragic that the lack of financial assistance continues to create a significant barrier to access for millions of Americans."

HR 1479 is supported by virtually every professional and consumer organization in our field, including the Alexander Graham Bell Association for the Deaf and Hard of Hearing (AG Bell), Hearing Loss Association of America (HLAA), Academy of Doctors of Audiology (ADA), American Academy of Audiology (AAA), American Speech Language Hearing Association (ASHA), American Tinnitus Association (ATA), and International Hearing Society (IHS).

Your and your patients' support is needed. HIA is also supporting the grassroots awareness for the bill with a dedicated Web site www.hearingaidtaxcredit.org. The Hearing Review has covered the Hearing Aid Tax Credit extensively in this magazine, and in 2008, a 5-part podcast series on the topic was broadcasted that featured HIA Executive Director Carol Rogin and Legislative Counsel Andy Bopp; BHI Director and MarkeTrak author Sergei Kochkin; HLAA Executive Director Brenda Battat; and HIA Former-Chair Jerry Ruzicka. To listen to it, visit our podcast page. One of the main take-home points from this series is just how influential "grassroots" advocacy from the public is for legislators. Even if you've already done it in the past, it's important to take a minute to visit www.hearingaidtaxcredit.org and ask your legislators to support this bill.

In my editorial last month, I described hearing loss as one of the least-appreciated major health issues in America. We're a relatively small industry, but when we all speak together in one concerted voice, we can accomplish big things. Let's be heard during Better Hearing and Speech Month in May!
Karl Strom
Editor-In-Chief