Siemens Hearing Instruments (SHI), Piscataway, NJ, held its second annual Siemens Student University at the company's state-of-the-art Learning Center during late July. About 30 top AuD students from around the United States who were nominated by their universities attended the intensive two-day program.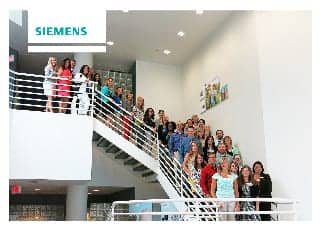 The curriculum featured presentations from several well-known experts in the field of audiology, including:
• H. Gustav Mueller, PhD, of Vanderbilt University discussed the use of probe-microphone speech mapping for verification.
• Joshua Alexander, PhD, of Purdue University spoke on clinical applications of frequency lowering.
• James W. Hall III, PhD, took an in-depth look at tinnitus and its various evidence-based treatment options.
Siemens' own expert staff also provided several interactive presentations, including:
An introduction from CEO Scott Davis;
Hearing industry trends overview from Thomas Powers, PhD;
A basic course on managing a private practice in today's market from Ron Gleitman, PhD;
Discussions on career opportunities in audiology by SHI's Nancy Werner, VP of Human Resources, and Cindy Beyer, AuD, VP of Professional Services; and
Several hands-on product demonstrations and lectures from the training and product management teams
"The Student University demonstrates Siemens' commitment to support our future hearing care professionals," said Alina Urdaneta, Vice President of Marketing and Education. "Our online Expert Series has been a hit with students and our Sit Down with Siemens virtual sessions are always available to both professionals and students."
Students also received a personalized tour of the Siemens New Jersey manufacturing facility and witnessed first-hand how custom hearing aids are electronically modeled, assembled, tested, packed, and shipped. Among other highlights, during the micon show-and-tell, each student was given the opportunity to change receivers, exchange housing, and use the miniTek™ accessory as a remote control and streamer.
"We're extremely pleased with the continuing success of this program and the positive feedback we received both last year and this year," added Urdaneta. "The University is an opportunity for young, talented students to build connections with fellow AuD students across the US, learn from experts in the field, and experience a manufacturer's operations—all while having fun!"
Source: Siemens Hearing Instruments