Yale University Press has announced the release of The Hearing-Loss Guide: Useful Information and Advice for Patients and Families, by John M. Burkey. According to the publisher, this book provides useful, first-hand advice from people who have experienced hearing loss. The advice from patients is accompanied by accurate treatment information from an experienced audiologist.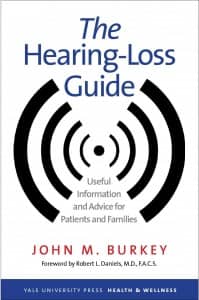 In a recent announcement, the author reported that he was prompted to write this book by a patient who felt that the reality of hearing loss and its associated problems could only be truly understood by someone with personal experience. Mr. Burkey gathered information from his own patients and their family members. His publication presents their candid recommendations for others who suffer a hearing loss, as well as advice for families, friends, and coworkers.
The book includes introductory chapters on the basics of hearing loss, hearing aids and other devices, and treatments. These chapters are followed by the contributions from patients, who discuss coping with hearing loss, how to get help, the real-life consequences of losing hearing, adapting to a hearing aid, and other useful topics. Family members also offer valuable insights in these chapters. A resource guide completes the volume.
The book's author, John M. Burkey, MA, is director of audiology for The Lippy Group, Ear, Nose and Throat in Warren, Ohio. This new hearing loss guide is available for purchase from the Yale University Press website and other booksellers.
Source: Yale University Press