By Phil Roth, Communications Manager, UT Dallas
In an effort to unify research into noise-induced hearing loss, a University of Texas at Dallas professor of audiology recently led the creation of a special journal issue focused solely on that topic, according to an article published on the University of Texas at Dallas news portal, UT Today.
The November issue of The Journal of the Acoustical Society of America features 33 articles that examine various methods and practices regarding the research of noise-induced hearing loss.
Dr Colleen Le Prell, area head of communication sciences and disorders in the School of Behavioral and Brain Sciences (BBS), said the articles will help promote progress in research related to noise-induced hearing loss.
"The overall goal was to summarize the state of the science and point the way forward in terms of how we can best close the current gaps in knowledge and successfully develop drugs that may one day be used to prevent noise-induced hearing loss in service members, construction workers, musicians, and others exposed to hazardous sound," she said.
According to Le Prell, who is also the Emilie and Phil Schepps Distinguished Professor in Hearing Science, noise-induced hearing loss and noise-induced tinnitus are the top two most prevalent injuries for members of the US military, resulting in a significant impact to US service members and a high cost to the Department of Veterans Affairs (VA). The US Department of Defense (DOD) funded the collection of articles.
Le Prell also said nonmilitary job-related noise-induced hearing loss, as well as hearing issues resulting from loud music, continue to be major problems.
Much of the current research on noise-induced hearing loss focuses on drugs that have the potential to restore some hearing when given before or immediately after exposure to loud noise. Le Prell said preclinical and clinical research methods on the topic often have not been aligned, however.
"There are differences in the type of drugs being tested, when it's delivered relative to the noise exposure, the types of noise and in the species of animals," she said. "If we were able to come up with, for example, a smaller number of common noise exposures and a smaller number of common species, it would be easier to compare the relative success of the drugs and then to determine the prioritization for funding and clinical testing in humans."
Several articles in the journal issue focused on the variations in human conditions that could potentially influence the results of a clinical trial.
"There are differences in ear canals, acoustics, the transmission of energy through the middle ear, genetics, diet, and noise exposure — all of which can make one person more vulnerable to injury than another," Le Prell said. "We wanted to discuss those variations and what researchers need to be aware of when recruiting people into drug studies."
In addition to serving as a guest editor of the issue, Le Prell is an author of five of the articles, including the closing piece that tied all of the information together. Dr Edward Lobarinas, UT Dallas associate professor, also contributed to two articles in the special issue. UT Dallas graduate students Celia Escabi, Monica Trevino, and Sarah Gittleman, along with Sarah Grinn, PhD '19 and former postdoctoral researcher Dr Mitchell Frye, served as lead authors for various articles.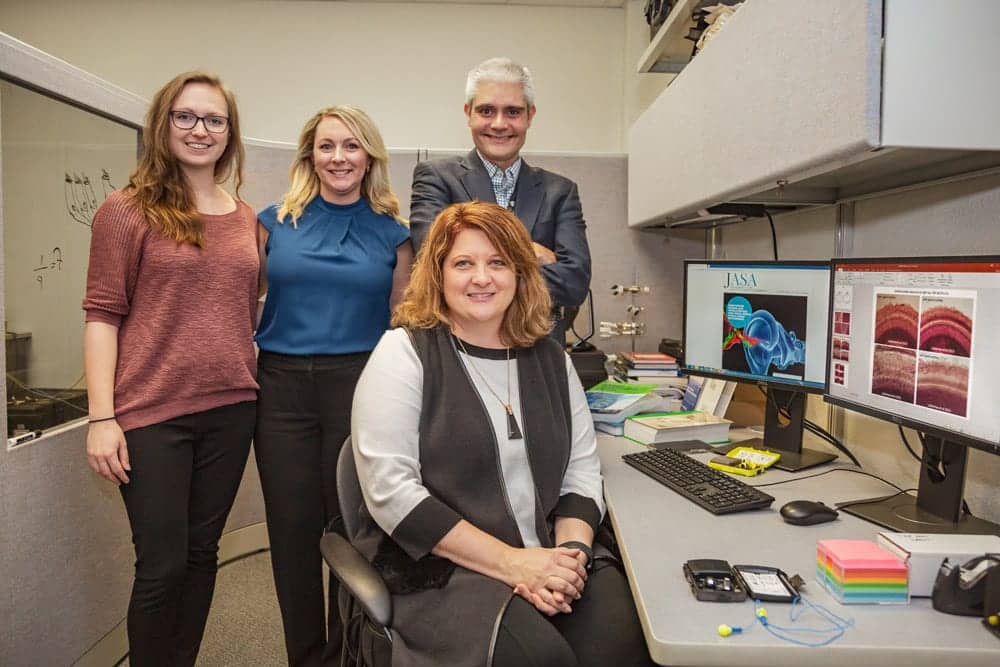 Dr William Murphy, a research scientist with the National Institute for Occupational Safety and Health (NIOSH), was a co-editor with Le Prell of the special issue.
Le Prell said there is more research than ever before regarding the use of drug therapy to curb noise-induced hearing loss.
"I think it will be a very, very highly cited [journal issue]. It features a number of articles by the leading experts from around the country and around the world," she said. "There are just some outstanding reviews within the series. I expect this will be recognized as a highly regarded series."
Original Issue: Le Prell CG, Murphy CWJ, Hammill TL, Stefanson JR. The Journal of the Acoustical Society of America. 2019;NIHLNS2019(1).
Source: UT Dallas, Journal of the Acoustical Society of America
Image: UT Dallas