On October 11-12, 2018, "Biggest and Best Event Weekend Ever" organized by Gyl Kasewurm, AuD, will take place in St Joseph, Mich.  The event kicks off on Thursday, October 11 at the Shadowland on Silver Beach with presentations from David Fabry, PhD, on the future of hearing aid technology and Robert Sweetow, PhD, (who is coming out of retirement for a rare presentation) on skills that will help make your hearing care practice more profitable. On Friday, October 12, AU Bankaitis, PhD, will present "Putting the Frosting on your Practice Cake," followed by lunch and more lectures.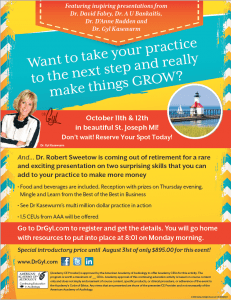 1.3 AAA CEUs will be offered.
Register early as space is limited! Early bird discount registration fee of only $895 until August 31, 2018. To register please click the link.
Event Schedule
Thursday, October 11 
8:30 a.m. –  Continental breakfast and discuss events and timeline for the meeting.
Event will be held at Shadowland on Silver Beach, 333 Broad Street, St Joseph, Mich.
8:45-10:15 a.m. – Dr Gyl Kasewurm 
"Creating the Practice of Your and Your Patient's Dreams" 
10:15-10:30 a.m. –  Break 
10:30 a.m.-12:00 p.m. – Dr David Fabry 
"Li-lons, Trackers, and BAERs – Oh My: The Future of 'Hearing Aid' Technology" 
12:00-1:00 p.m. Lunch and Learn 
1:00-2:30 p.m. Dr Gyl Kasewurm 
"The Number One Way to Grow Your Practice" 
2:30-3:00 p.m. Break and Carousel Rides
3:00-4:30 p.m. Dr Robert Sweetow 
"Two Surprising Skills to Add to Your Practice That Will Make You More Money!!!"
4:30-5:00 p.m. –  Daily wrap-up
5:30-???  Evening at Dr Kasewurm's Innovative Office 
Dinner, drinks, and MarketPlace 
Friday, October 12 
Come early and grab coffee and a bite before we get started 
8:30-10:00 a.m. Dr Kasewurm
"Purposeful Direction to Guide Your Practice to a Million Dollars and More!" 
10:00-10:15 a.m. – Short break and snack 
10:15-11:45 a.m. Dr AU Bankaitis 
"Putting the Frosting on Your Practice Cake" 
11:45 a.m.-1:15pm Dr D'Anne Rudden 
"Strategic Social Media Storytelling" 
1:30 p.m. –  Lunch and brainstorming 
Silver Beach Pizza – Pizza and schooners 
Voted 'Best Pizza in Southwest Michigan';spectacular view of Lake Michigan 
3:30-5:00 p.m.–  Dr Kasewurm (back to Shadowland)
"Wrap-up and Operation 8:01 Monday Morning" 
All this AND…. Each participant is given a zip drive of resources to take home! 
For more information, visit Dr Gyl Kasewurm's website here.
Source: Dr Gyl Kasewurm