John House Elected Secretary-Treasurer of American Academy of Otolaryngology

John W. House, MD
John W. House, MD, a practicing physician in the House Ear Clinic, Los Angeles, has been elected secretary/treasurer of the board of the American Academy of Otolaryngology-Head and Neck Surgery (AAO-HNS), Alexandria, Va. His 3-year term begins in October. House served as an at-large director during the last term. House will oversee the administration of general funds, securities, properties, and assets for the Academy and its foundation. He also sits on the review board for Otolaryngology—Head and Neck Surgery, the Academy's journal. In addition to his duties at the clinic, House is a clinical professor in the Department of Otolaryngology at the Keck School of Medicine at USC. A recipient of the 1990 USC alumni merit award, House was honored as outstanding teacher at the university from 1989 to 1991, and was named teacher of the year in 1987 by the Family Practice Department at USC.
Oticon A/S Names New Leaders, Executive Board

Søren Nielsen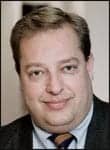 Mikael Worning
Oticon A/S, Smørum, Denmark, has named Søren Nielsen as its new president and Mikael Worning as the new executive VP.
Veterans of Oticon's management team, Nielsen and Worning have a combined 24 years of service with the company.
"Søren Nielsen and Mikael Worning know Oticon like the back of their hands, and I have had the pleasure of working closely together with them for many years," says Niels Jacobsen, president and CEO for the William Demant Holding Group. "I'm confident that together with Oticon's many competent employees, they will be able to take on the mantle, continue Oticon's positive development, and further strengthen Oticon's position as a global market leader in the hearing aid industry."
Nielsen, 37, will oversee research and development, marketing, and human re­sources based at the development center in Smørum. Worning, 45, will head the international organization and Oticon's 25 sales companies.
In connection with the appointments, Oticon A/S's board will be reshaped: Jacobsen will become the new chairman, which is in line with the setup of the other subsidiaries in the holding group.
"The appointment of the new executive board in Oticon should be seen as a logical development in our group, where I as president and CEO of William Demant Holding A/S have hitherto had double duties as president of the subsidiary Oticon," Jacobsen says. "Together with the new executive board of Oticon, I look forward to continuing Oticon's growth and progress over the next years."

Dan McNulty
Dan McNulty Joins GN Otometrics
GN Otometrics, a world­wide manufacturer of hearing and balance instruments and software, has named Dan McNulty as general manager for its North American operations.
McNulty cofounded Z-health, a consumer wellness company, where he served for the past 2 years as VP of sales and marketing. For a decade he worked for Tanita Corp, a multinational manufacturer and distributor of medical equipment and consumer electronics, where he was VP of sales, medical and consumer products. During his tenure with Tanita, McNulty spent a year at the Tokyo-based headquarters developing an integrated global enterprise, and 2 years in London establishing the UK distribution office.
Sonic Innovations Taps Michael Nilsson for VP of Auditory Research

Michael Nilsson, PhD
Sonic Innovations Inc, Salt Lake City, has named Michael Nilsson, PhD, as VP of auditory research and director of the Center for Amplification and Hearing Research. Nilsson holds a master's degree and PhD in cognitive science from the University of California at Irvine.
Nilsson joined the company in May 1998 as a researcher and became director of the center in January 2006. He is a co-inventor on the company's noise reduction patent. Earlier, Nilsson was a researcher at the hearing aid research lab at the House Ear Institute in Los Angeles.
Nilsson currently hosts an Expert Insight Q&A feature on the subject of hearing aids.
Judith K. Horning, AuD, Joins AFA Board

Judith K. Hornung, AuD
Judith K. Horning, AuD, has joined the board of the Audio­logy Foundation of America (AFA), Lafa­yette, Ind, mid-term to fill a vacancy. Horn­ing, who has been an audiologist for 35-plus years, owned Rancho Bernardo Hearing Services Inc, San Diego, until 2007, when she founded JKHorning Audiology Consulting Inc. She provides forensic and investigative audiology services and disability testimony.
Horning is a member of the Academy of Doctors of Audiology, the American Academy of Audiology, the Hearing Loss Association of America, the American Tinnitus Association, the Vestibular Disorders Association, and the California Academy of Audiology, where she served as president in 2003. She holds a gubernatorial appointment on the California Hearing Aid Dispensers Bureau Advisory Committee.
Horning earned a master's degree from San Diego State University and an AuD from the Arizona School of Health Sciences in 2003.