Like so many elements of modern life, computers and digital technology have taken over the world of hearing aid testing and fitting. High tech gadgets may be ubiquitous, but manufacturers acknowledge that a backlash may be brewing. Audiologists are hesitant to take on additional complexity for its own sake. Instead, the message is clear: Technology is desirable, but it had better be useful.
In the case of new computer systems, correct use is often the key to success. "The single biggest misconception about testing/fitting equipment is that PC-based systems are difficult to use," says Terry Ross, vice president of MedRx Inc, Largo, Fla. "As we continue to migrate from the dedicated 'knob and dial' era to the keyboard era, it is different—but our experience has shown that once the shift has been embraced, testing and diagnostic time actually accelerates and becomes second nature."
We asked four manufacturers to share their thoughts on the past, present, and future of testing and fitting. The products may take different approaches, but these manufacturers are developing new units and/or updates with an eye toward useful advancement.
Hearing Review Products (HRP):  Among audiologists, what is the single biggest misconception about testing/fitting equipment?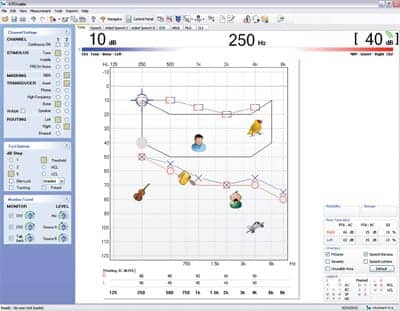 Mark Exley
Mark Exley, vice president, Sales & Business Development, Otovation, King of Prussia, Pa: Perhaps the biggest misconception about testing and fitting equipment is that high-quality audiometers and fitting systems aren't portable or convenient for satisfactory use outside the office. Otovation was founded to bring a different approach to diagnostic testing. We create products that are affordable, uniquely portable, and easy to use.
George J. Frye, president, Frye Electronics Inc, Tigard, Ore: I believe that all audiologists understand the need for an audiometer to determine an individual's hearing threshold. Then the audiologist feels that the programming computer shows the state of a hearing aid. But the computer is only showing how the hearing aid is programmed to act. It does not show how it is actually working. Using coupler and real ear tests, the audiologist needs to perform performance verification with the hearing aid analyzer.
Gail Gudmundsen, AuD, managing director, Audiology Products Division, Etymotic Research Inc, Elk Grove Village, Ill: Many products are over-featured, which contributes to complexity and cost. When selecting equipment, astute audiologists can meet the needs of their office, clinic, or institution by determining what will best work for the populations they serve and purchasing wisely.
Terry Ross, vice president, MedRx Inc, Largo, Fla: The single biggest misconception about testing/fitting equipment is that PC-based systems are difficult to use. Certainly, as we continue to migrate from the dedicated "knob and dial" era to the keyboard era, it is different—but our experience has shown us that once the shift has been embraced, testing and diagnostic time actually accelerates and becomes second nature.
There are so many advantages to computerized testing—from automation and integration to reliable archiving and accurate measurement. It is all part of the hearing health care digital revolution in instrumentation. We believe that the process of "change" is the most challenging barrier to advancement of the technologies—because it takes people out of their comfort zone. Advancement only happens when the profession challenges itself to grow.
HRP: How has testing/fitting equipment evolved over the years at your company, and what will the future bring?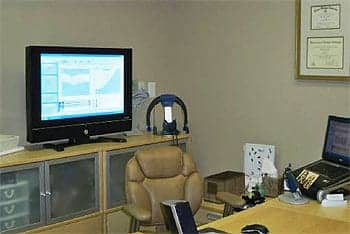 Otovation's OTOPod M2.
Exley: We are the first company in the industry to offer a portable audiometer combined with a hearing instrument programmer, so we're on the leading edge of this type of technology. We first introduced our OTOPod M1 audiometer in 2008.
Earlier this year, we released the OTOPod M2, which is a fully capable diagnostic audiometer that also programs a broad range of Widex hearing aids. Otovation and its partner Widex have successfully integrated the equipment needed to perform audiometry with software that manages hearing testing, hearing aid fitting, and patient data. The result is an efficient and customer-friendly fitting system. Otovation will release a wireless hearing aid programming adapter for the OTOPod M2 this fall, and we have exciting new products in our pipeline for 2011.
Frye: Our company is in its 37th year of operation. We have seen the hearing aid change from a simpler analog device filled with transistors and individual parts into a digital device with many of the fitting functions handled by software instead of manual adjustments.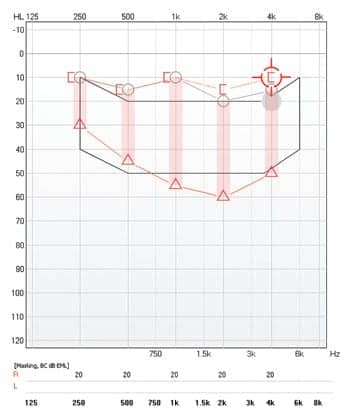 George J. Frye
We have also seen the hearing aid change from a behind-the-ear (BTE) device to an in-the-ear (ITE) amplifier and now, with the new open fit unit, back again. Directionality was a special feature when we started. It was abandoned for a period of time, but has made a comeback in the past few years.
Test equipment has had to evolve to keep pace with the industry. In 1976, the Food and Drug Administration demanded that manufacturers do extensive new testing of hearing aids, which made it necessary to develop specialized test equipment. About that time, lower-cost digital computer chips came on the scene, and were used to control the testing job.
As hearing aids changed in construction, test equipment also had to change. Steen Rasmussen introduced the probe microphone in the 1980s and started real ear measurements. Then came the digital hearing aid in the '90s, and the promise of a better ability to handle the needs of the hearing impaired individual. The addition of strange but interesting new digital amplification strategies has made the task of trying to test the new functions a challenging job, but a necessary one.
The hearing aid is expensive. It is not a commodity item that is easily used and then discarded when a problem is found. It costs enough to warrant the additional time it takes to make sure that it is functioning correctly when a customer takes it out of the door. Our reason is to make sure that the hearing aid is doing what it was programmed to do—both today and later. It's interesting to note that the consumer cost of a pair of new digital hearing aids is now about the same as that of the analyzer used to ensure that the aids are operating correctly.
As for the future, it is always cloudy. But if digital development continues at the pace it has for the last 20 years, then exciting times lie ahead.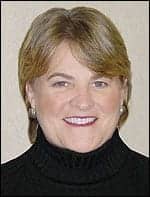 Gail Gudmundsen, AuD
Gudmundsen: Etymotic invented insert earphones. ER-1 and ER-2 earphones, developed in 1984, are still used in auditory research labs worldwide. ER-3As, the first insert earphones for clinical testing, are still the most widely used of all insert earphones. ER-5A insert earphones, codeveloped with Aearo Corp (now 3M), eliminated the front tubes and produced 20 dB higher output at 6-8 kHz. Etymotic also supplies proprietary insert earphones to all major manufacturers' ABR test equipment.
More recent developments include two personal noise dosimeters and the ERO·SCAN, the first truly handheld otoacoustic emissions test instrument. The ERO·SCAN Pro now includes tympanometry, a first of its kind.
Ross: The instrumentation industry, just like the hearing instrument industry, has gone digital and PC-based. It has evolved from traditional dials, buttons, and knobs, to a more sophisticated, integrated design that utilizes the personal computer as the primary engine for testing, navigation, and operation of the devices.
Historically, audiometers, tympanometers, real ear machines, otoacoustic emissions systems, hearing aid test chambers, and video otoscopes were large and bulky, occupying substantial space in a "limited space" testing environment. Today, many of the devices are extremely small and discreet, yet rugged and powerful, due to the inherent complex of solid state layered PC boards that have replaced traditional analog components.
Updates and improvements today don't require the mechanical changes of yesterday, because most can be simply downloaded as software. Even power supplies have evolved to USB-powered devices, eliminating the need for direct current supplies. This is especially convenient in remote testing situations or offsite diagnostic testing.
The future is exciting for instrumentation. Continued evolution of the size of many testing devices will evoke a new generation of "micro-systems" that will virtually allow them to be fully integrated into personal computers via wireless dongles. There is ongoing development within the communications industries to develop a more robust wireless technology that will someday decouple patients from the cables and wires of today, and make the transmission of data accurate and—more importantly—reliable. The "mobilization" of audiometric test results to actually initiate other activities through powerful software calculations will someday make the more tedious testing or programming tasks automatic-freeing up the professional's time to concentrate on rehabilitation and counseling patients.
HRP: What are your current product lines?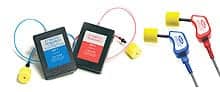 Etymotic Research's ER-1 and ER-2 earphones.
Exley: Presently, Otovation products reach from the diagnostic OTOPod lines and Amplitude T- Series Model T3, to the computer-controlled screener Amplitude T-Series Model T4, then to the manual ROTO 2 handheld screener. OTOPod and Amplitude T-Series operate on any current Windows PC using our Symphony software.
Symphony v1.3 features enhanced prerecorded speech testing functionality, as well as streamlined use with HIMSA's NOAH 3 product. OTONet, our proprietary Bluetooth wireless radio adapter, which links the computer and the test equipment, supports reliable and effective communication while testing.
Frye: Frye Electronics presently produces three classes of product—hearing aid analyzers, audiometers, and auditory cortical test devices. We have two high-end hearing aid analyzers and one dispenser analyzer. The newest high-end analyzer for the first time allows the clinical testing of a hearing aid directionality pattern.
Frye also produces an inexpensive two-channel audiometer designed for the dispenser. A third class of product has been recently introduced to allow the objective testing of aided responses for people who cannot or will not respond to verbal questions. It is currently only being sold outside of the United States.
Gudmundsen: We have the following: OAE instrumentation, distributed by Maico Diagnostics as ERO·SCAN and ERO·SCAN Pro; insert earphones for audiometric testing, ABR, and acoustic research; personal noise dosimeters; and QuickSIN and BKB-SIN speech-in-noise tests. We also have low-noise research microphone systems for: otoacoustic emissions; real ear measurement; and binaural measurement of diffuse fields, hearing aids, and all types of earphones via KEMAR.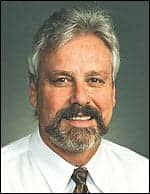 Terry Ross
Ross: MedRx Inc is a global manufacturer and distributor specializing in advanced PC-based audiometers, REAL EAR/Speech Mapping systems, Hearing Instrument Test Chambers, and Video Otoscopes. We also produce a popular hearing aid restoration system called UltraVac.
HRP: What features set you apart from the competition?
Exley: Affordability, mobility, and ease of use. Otovation testing systems are designed for the mobile practitioner, and for professionals who wish to economically and efficiently expand their base of operations—to additional offices or fitting rooms, to the patient's home or bedside, and to screening venues. Our USA-patented instruments combine the patient response switch with the audiometer and use wireless technology to minimize equipment clutter while maximizing versatility and patient acceptance.
Wireless operation means no cumbersome cabling between the patient and the tester; battery power means testing with an electrical outlet nearby is a thing of the past. Prerecorded speech means accurate test data, and three headset options mean an optimal fit between the test environment and the test equipment used. Audiometry and Widex hearing aid fitting in a single device means simplicity.
Using the OTOPod M2 Widex hearing aid, fitting is performed with a single 3½-inch diameter device, headsets, and a laptop with the proper software installed. Hearing testing and fitting of all other hearing aids can be performed with these same space-conserving tools, and the addition of a commercially available fitting link. Our M2 and all accessory equipment fit in a small soft-sided case that is supplied with the product.
Frye: We have always felt that our principal job was that of making a valid and useful measurement. We feel our competitors have been more concerned with helping the hearing aid dispenser make the sale. But we feel that having good measurement data can be a real asset when a sale is attempted.
Gudmundsen: All of Etymotic's instrumentation and tests were designed to fill an unmet need in the clinic, nursery, or acoustics lab. Innovation is synonymous with Etymotic, which means "true-to-the-ear." Most of Etymotic's equipment and tests were "firsts," with sustainability for over 25 years.
Many of our research tools are unique, with no competition in the marketplace. Our insert earphone technology was the basis for the ER-4, the world's first high-fidelity, noise-isolating in-ear earphones, which created an entire category of consumer electronics.
Ross: MedRx has a successful 17-year history in the hearing care market, and today is a leading PC-based instrumentation company. Our products are small, powerful, and incredibly durable. Our company prides itself on its ability to rapidly respond to market demands. We have a solid and proven software platform, and a service/support staff that is second to none. Our technologies are compact, easy to learn, and flexible.
---
Greg Thompson is a contributing writer for Hearing Review Products. He can be reached via Editor Will Campbell at [email protected]