Mick Fleetwood Joins Battery Maker to Promote Hearing Health
Fleetwood Mac drummer and Rock and Roll Hall of Fame Inductee Mick Fleetwood teamed up with hearing aid battery manufacturer Energizer, St Louis, to kick off the Energizer® EZ Change® "It's Hip to Hear™" program, to educate Baby Boomers and music fans about hearing loss prevention and treatment.

Fleetwood helped launch the national initiative in April at the Rock and Roll Hall of Fame and Museum, Cleveland.

"Having spent my career behind a drum set, I know how hazardous noise—including music—can be to your hearing," Fleetwood says. "But musicians aren't the only ones affected by hearing loss—there are millions of Baby Boomers who have experienced some form of damage. That is why I'm encouraging people to listen to loud music responsibly, so they can hear it for years to come."

After spending decades at rock concerts, listening to blaring car stereos, and enjoying the newest home theater systems, Boomers are feeling the effects of hearing loss. According to a survey by Energizer, despite the fact that more than 16 million Boomers have some degree of hearing damage, only 1% of this group cites hearing loss as a health concern.

According to Energizer, there are more Baby Boomers aged 46-64 with hearing loss than there are people over the age of 65 with this condition, and there is 26% more hearing loss among Baby Boomers than in previous generations.

To push its message of "responsible listening," Energizer EZ Change produced the "world's quietest concert," hosted by Fleetwood at the Rock and Roll Hall of Fame and Museum. The event featured a special performance by up-and-coming rock band Eagles of Death Metal. The concert audience heard the band's live vocals and music simulcast through portable FM radio headsets, rather than speakers or amplifiers used in traditional concerts.

"Our point? You can enjoy the music and the experience while being good to your ears at the same time," Fleetwood says.

Energizer also unveiled two exhibits at the Rock Hall to educate visitors about music, technology, and hearing; and offered a free Energizer EZ Change "It's Hip to Hear" Survival Guide to provide insight from Fleetwood and information on everyday lifestyle changes that can help prevent hearing loss. The free brochure is also available on Energizer's Web site, at the Museum, in audiologists' offices, and at retailers where hearing aid batteries are sold.
---
Tessmer Receives Beltone's President's Cup
Beltone Electronics Corporation, Chicago, awarded its President's Cup Award to Mike Tessmer of Cuyahoga Falls, Ohio, at its recent national meeting in Las Vegas.
Beltone has presented the President's Cup annually since 1958 to dedicated hearing care practitioners that demonstrate exceptional patient care, community involvement, and professional business practices.
Tessmer started his career as a Beltone hearing care practitioner in 1979 and opened his first office in 1993. He currently owns 11 full-time and 11 part-time offices.
Tessmer serves on a variety of industry councils, test markets products, and services and trains other practitioners. He is also a member of the International Hearing Society, is board certified, and is a member of the Ohio Speech and Hearing Association.
In addition to the President's Cup Award, Beltone also presented performance awards to other top practitioners from its offices throughout the United States, Canada, and Mexico.
---
Lawsuit Filed to Make Call Boxes Accessible to Deaf Motorists
The California Association of the Deaf, a non-profit organization headquartered in Los Angeles, and several individual deaf citizens recently filed a class action lawsuit against state and local agencies in California to compel them to make emergency roadside call boxes accessible to deaf and hard of hearing motorists.
According to the complaint filed in April in federal court in San Francisco, more than 16,000 roadside call boxes are maintained by local governmental entities called Service Authorities for Freeway Emergencies (SAFEs), and are answered by dispatchers of the California Highway Patrol (CHP) or private contractors on public rights-of-way controlled by the Department of Transportation (Caltrans). The SAFEs are funded by motor vehicle registration fees.
The defendants named in the class action are the CHP, Caltrans, and nine local SAFEs, which collectively operate 5,458 call boxes throughout California.
The complaint alleges that the government agencies have violated state and federal antidiscrimination laws "by effectively denying deaf and hard-of-hearing individuals full and equal access to California highways and roads" because the call boxes are not equipped with non-voice-operated, text telecommunications devices (TDDs or TTYs) that would enable deaf motorists to effectively seek medical, police, or roadside assistance.
The plaintiffs are seeking injunctive and declaratory relief to require the government agencies to install and use TTYs or other devices that allow deaf motorists to type in information and receive typewritten information from the CHP, thereby permitting two-way communication.
According to the California Association of the Deaf, call boxes accessible to the deaf have been available for a number of years, and have been installed by several SAFEs in California that are not named in the lawsuit, including those for Los Angeles, Orange, and Ventura counties.
---

Roeser Receives Larry Mauldin Award
Beltone Electronics Corp, Chicago, awarded the Larry Mauldin Award for Excellence in Education to Ross J. Roeser, PhD, at the recent 17th Annual American Academy of Audiology Convention in Washington, DC.
The Mauldin award was created to honor the accomplishments of the late Larry Mauldin, especially his work and commitment to education in the field of audiology. Presented since 1999, the award, which is sponsored by Beltone, is given to an industry leader committed to continuing education and unselfishly giving back to the profession, the community, and the hearing impaired. The recipient is nominated and selected by industry peers.
Roeser is the founder and first editor-in-chief of Ear and Hearing, the official publication of the American Auditory Society, and is the editor-in-chief of the International Journal of Audiology, the official journal of the British Academy of Audiology, the International Society of Audiology, and the Nordic Society of Audiology. He has published more than 60 scientific papers and written and edited seven textbooks.
Roeser is a fellow of the American Speech-Language-Hearing Association, and a founder and fellow of the American Academy of Audiology. He is one of the founders of the American Auditory Society, and is past president of the Better Hearing Institute and the Council for Better Hearing and Speech Month.
---
New Sales Reps Join Hearing Solutions Company
Siemens Hearing Instruments, Inc, a Piscataway, NJ, manufacturer of advanced digital hearing solutions, recently announced the addition of several new sales representatives.

Fred Boudreaux, Jr, MCD, CCC-A, joined Siemens as field sales representative for North and South Carolina. Boudreaux is responsible for supporting and growing business by helping his clients meet and attain their practice goals with a superior product and marketing plan. Prior to joining Siemens, his experience consisted of private practice in audiology and dispensing hearing instruments.

John Davis is the inside sales representative for Oklahoma and northern Texas. His responsibilities include assisting hearing care professionals in identifying the right solutions for their patients' needs, as well as assisting professionals in their daily functions and helping make their business successful. Prior to joining Siemens, Davis spent 6 years as a national board-certified hearing instrument specialist and office manager for a practice in Port Orange, Fla.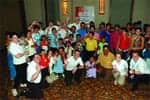 Michele Schultz is responsible for maintaining and generating business opportunities while providing product information to the Veterans Administration and other government services agencies. Schultz travels throughout 11 western states to answer clinician questions regarding options, ordering, pricing, and policies. Prior to joining Siemens, she was a clinical audiologist at a private practice in California.
---
Local Family Supports Starkey Hearing Foundation's Hear Now Program
Andrew Lee, a 17-year-old junior at Eden Prairie High School, and his sister Meg, a 12-year-old seventh grader at Eden Prairie's Central Middle School, have started a Web site designed to help kids nationwide get involved in a community service project. But not just any community service project. The Web site, www.HearNowLeaders.com, provides step-by-step instructions on how to support the Starkey Hearing Foundation's Hear Now program.
The Starkey Hearing Foundation is an Eden Prairie, Minn-based nonprofit dedicated to helping the world to hear. Through its Hear Now program, the Foundation provides hearing aids to low-income children and adults throughout the United States. The program accepts donations of used hearing aids, and proceeds from the sale of those devices are used to purchase new hearing aids that are then distributed through the Hear Now program. Since 2000, more than 100,000 hearing aids have been recycled to support the Hear Now program.
The Lee children learned of the Hear Now program and decided to offer their support. But instead of simply approaching local hearing providers—like audiologists and hearing aid dispensers—and asking them to start collecting used hearing aids, the teens decided to encourage kids all over the country to get involved. Through their Web site, Andrew and Meg hope student volunteers nationwide will start a Hear Now Leaders program in their community.
"It started as a class project for a Web design class of mine," explains Andrew. "At the time of the assignment, I wanted to get involved in a community service project. I had heard about the Starkey Hearing Foundation and the Hear Now program, and I decided to use my class assignment as a way to support them."
The result is HearNowLeaders.com, a Web site that provides step-by-step instructions for student volunteers who want to build their leadership skills through community service. Specifically, kids are instructed on how to bring the Hear Now program to hearing providers in their community—asking providers to participate in the program by distributing program applications and collecting used hearing aids.
"We just launched the site, and we're just now letting community service coordinators, churches, and schools know about it so they can help us get the word out to kids who might want to participate," says Meg. "A lot of schools require students to complete a community service project before graduation. HearNowLeaders.com gives them everything they need for that."
To ensure that the process of starting a Hear Now program is as easy as possible, Andrew and Meg will work online with kids who sign on. And while student volunteers can spend as little as 1 week implementing their local Hear Now program, Andrew and Meg consider this a long-term commitment.
"We think this can grow over several years as student volunteers recruit others around the country," says Andrew. "We hope to build a real community that helps more low-income people get free hearing aids from Hear Now."
Since 1973, the Starkey Hearing Foundation has been giving the gift of hearing to the world's underprivileged—especially children—through its internationally recognized mission program, Hearing Angels, and its domestic program, Hear Now. Since 2000, the Foundation has provided more than 115,000 hearing aids to those in need around the world. Visit www.sotheworldmayhear.org to learn more.