Web Site Overhaul
Responding to the needs of its clients, Audina Hearing Instruments Inc, Longwood, Fla, announces the overhaul of its Web site (www.audina.net) and a new comprehensive product catalog including an interactive multimedia CD. The multimedia CD includes ezFIT version 4.0, software tutorial videos, a digital product catalog, and more. The newly renovated Web site provides company background, detailed product information, educational opportunities, marketing tools, consumer presentations, and our downloadable ezFIT software. A product catalog and CD are available online. (800) 223-7700; www.audina.net.
---

Artificial Intelligence
Oticon, Somerset, NJ, offers Syncro, a new breed of hearing instrument that uses artificial intelligence to improve hearing performance in the user's unpredictable world of sound. Syncro reinvents directionality, noise management, and compression and employs a unique application of artificial intelligence to manage the synchronous interaction of these complex systems. The decisions that are made are based on real-time analyses of actual outcomes of the various features, and several solutions are evaluated before the actual outcome is chosen. Syncro provides solutions to the user's unpredictable sound environments. Syncro is available in a full range from CIC to BTE. (800) 526-3921; www.oticonus.com.
---

Amplified Stethoscope
Effective Communication Solutions Inc, Independence, Ky, announces the addition of specialist diaphragm and bells for the ESCOPE II amplified stethoscope. These new specialist heads feature Delrin stainless steel construction that offers superior sound conduction. The ESCOPE II belt-clip model provides headphones for CIC and ITE users and offers other solutions to BTE users. (800) 838-1649; www.BeyondHearingAids.com.
---

Swim Plug Poster
Westone Laboratories Inc, Colorado Springs, Colo, now offers the 2004 edition of its popular AquaNot™ and Swyrl™ swim plug poster. The colorful and eye-catching poster is perfect for promoting custom swim plug services within the office as well as practically anywhere people and water meet. The posters have been used successfully at area pools, at country clubs, and with local swim teams. Dispensers on Westone's regular mailing list will receive a copy of this year's poster automatically, but the posters are available free to any hearing health care provider who can make use of this promotional opportunity. (800) 525-5071; www.westone.com.
---

Infant Hearing Device
Bio-logic Systems Corp, Mundelein, Ill, introduces the HALO Ear Muffin™. Bio-logic has received FDA 510 (k) marketing clearance to market its Ear Muffin for use with the installed base of Natus® Medical Inc's ALGO® hearing screeners and has been demonstrated to be acoustically equivalent to the Natus Flexicoupler™. In addition, the HALO can also be used with Bio-logic's ABaer® and Navigator Pro® M_A_S_T_E_R_ hearing screening equipment. The HALO's soft, flexible contoured dual-wall design helps reduce the effects of ambient noise (patent applied for). While the baby-friendly hydrogel minimizes removal discomfort, it adheres to their skin for optimal performance. Save up to 30% off your newborn hearing screening costs. Free sample available. (800)272-8075; www.bio-logic.com.
---

Audioscope
ADCO Hearing Products Inc, Littleton, Colo, announces the addition of the Welch Allyn AudioScope 3 to its product line. This device enables otoscopy and hearing screening together in one handheld unit. Select from 20 dB, 25 dB, or 40 dB HL screening levels with automatic presentation in octaves from 500 Hz to 4 k Hz. Powered by a rechargeable battery, this device is convenient and portable, and comes with a charging stand and three reusable specula. Great for health fairs, nursing home screenings, or as a loaner to referral sources to generate leads. There is a 1-year manufacturer's warranty. (800) 726-0851; (303) 794-3928; www.adcopro.net.
---

ERA Revolution
Vivosonic, Toronto, opens a new era in ERA (Evoked Response Audiometry) with its revolutionary Amplitrode™, a novel miniature combination of electrode and optimized EP amplifier. It has exceptional low-noise performance and is almost immune to background electromagnetic interferences so it can obtain results faster. Elimination of cumbersome "boxes" and long, often tangled cables eases workflow and increases overall comfort. It includes many other features, such as automatic monitoring of electrode impedance mismatch, which allows users to focus on the patient, not electrode hassles. (877) 255-7685; www.vivosonic.com.
---

Credit Card
Starkey Laboratories Inc, Eden Prairie, Minn, has introduced a consumer financing program exclusively for patients' hearing needs—SoundChoice. In conjunction with GE Consumer Finance, SoundChoice provides affordable monthly payments with low rates, flexible terms, and easy approval. Provider benefits include increased revenues and additional customer contact. Funding for all transactions occurs within three business days, and low processing rates guarantee the practice receives the majority of the sale. Monthly statement messages enable direct contact with patients on a regular basis. (800) 328-8603; www.starkey.com.
---

Long-Lasting Batteries
iCellTech, Seoul, Korea, offers hearing aid batteries. The company guarantees superior quality by strict piece-by-piece in-house inspections and reliability tests under ISO-9001-2000 quality management. According to the test results by customers and authorized laboratories, the average running times of iCellTech batteries are much longer compared to most of the other leading brands. iCellTech batteries deliver enhanced power under high current drain and provide better performance for a larger range of devices including most of the cochlear implants. Magnatone (for the United States and Canada) (800) 789-6543; [email protected].
---

Portable Vacuum Pump Kit
Lightning Enterprises, Limington, Me, announces the Traveler 2, a completely portable suction system designed for professional hearing aid cleaning and maintenance. Traveler 2 includes the popular Lightning Vac 2 with suction and blower ports, which can also be used as a stand-alone system in the office, vacuum jar desiccator for drying; five various needle tips with convenient Slip-Luer fitting; and durable carrying case. (877) 546-1797; www.lightning-enterprises.com.
---

Hands-Free Communication
All American Mold Laboratories Inc, Oklahoma City, offers custom earpieces for a variety of communication devices for cellular telephone users, air traffic controllers, news broadcasters, etc. The custom devices increase clarity and comfort. (800) 654-3245; www.Allamericanmold.com.
---

Joint Program
Ear Technology, Johnson City, Tenn, announces that Interton is now including a Dry & Store® Global with every IQ hearing aid fitting in the United States. With two models available, Dry & Store accommodates all types of hearing instruments including cochlear implant hardware. In addition to Interton's program, Cochlear Americas includes Dry & Store with every implant system shipped in the Western Hemisphere. Information is available on how to become an authorized distributor. (800) 327-8547; www.dryandstore.com.
---

Measurement System
Interacoustics USA, Eden Prairie, Minn, features the Affinity. Affinity can be used with Windows-based software, and can be tailored as a HIT system, audiometer, and/or Real Ear Measurement system while connected to the hearing professional's office PC. Customized tests are up-to-date with current hearing aid manufacturers' test specifications. (800) 947-6334; www.interacoustics.com.
---

Screening Audiometer
Eckstein Bros Inc, Torrance, Calif, offers the Tetra Tone II™, a compact portable hearing screening instrument for general testing. The unit features a microprocessor, push-button operations, four intensity levels, low battery indicator, auto power shut-off, and memory recall. The TetraTone II is guaranteed for 1 full year and meets ANSI requirements. (310) 783-0902; [email protected].
---

Practical OAEs
Vivosonic, Toronto, offers the VivoScan™, a clinical OAE audiometer that improves clinical efficiency. Users report how easy it is to operate; particularly due to its user-friendly interface and easy-to-clean probe design. Test more patients per day due to the instrument's speed (up to 50% higher) and accuracy based on our Vivography™, a patented signal-processing algorithm. Extended probe life reduces downtime and saves on operating costs. Full portability enables testing anywhere, anytime, and the optional database module with built-in reporting and export functionality makes differential diagnosis a snap. (877) 255-7685; www.vivosonic.com.
---

Digital Hearing Instruments
Lotus Technology Inc, Mooresville, NC, offers the LEGACY® series of 115% digital hearing instruments. Available in both two and four channels, LEGACY features DSP technology designed to fit most hearing losses with high-quality digital sound. LEGACY is fitted using simple to operate, yet powerful, programming software. The software actively involves patients in the fine-tuning of their instruments with its seven adjustable parameters and independently adjustable compression ratios and time constants. LEGACY is available in all models, and with optional features including multi-memory buttons, manual VCs, telecoils, and a directional microphone designed to improve speech intelligibility in difficult listening situations. (877) 483-1072; www.lotustechnology.net.
---

Software Updates
Audioscan, Dorchester, Ontario, Canada, has released the 2.0 version of software for its Audioscan® Verifit® real-ear hearing aid analyzer. Among the program's improvements are a real-time Speech Envelope, which offers a clearer picture of how a fitting is mapping speech into the residual auditory area, and Speechmap®, with a choice of DSL®, NAL-NL1, or auditory-area mapping approaches to hearing aid fitting. NAL-NL1 is also provided as an insertion gain fitting method. Additional features include networking of screen images and data that may be exported to network files via the Verifit LAN port. This software update is free, and is automatically mailed to all Audioscan Verifit owners. (800) 265-2093; www.audioscan.com.
---

Live Speech Mapping
MedRx Inc, Largo, Fla, offers the DSM-PRO™, an affordable system that can interface with a computer, via the USB port, and provides the practitioner with the ability to use a variety of fitting protocols. Features include live speech mapping, a hearing loss simulator, and a hearing instrument simulator. It is NOAH™ compatible. (888) 392-1234; www.medrx-usa.com.
---

Hearing Health Care Web Site
Westone Laboratories Inc, Colorado Springs, Colo, offers 24-hour online service through its Web site for hearing health care professionals, www.westone.com/supply. The easy three-step process is categorized to correspond with both Westone's catalog and price list, including such product lines as impression materials, hearing instrument care, batteries, and point-of-purchase products. To use the online ordering service, visitors must have a Westone account number and a recent version of Microsoft Explorer. (800) 525-5071; www.westone.com.
---

Large Area FM System
Effective Communication Solutions, Inc, Independence, Ky, offers Listen Technologies large area FM system for consumers who want to hear better in church. This large area system is simple to install, has limited lifetime warranty, and has selectable channels for total flexibility. The versatile system can offer individual amplification with receivers and remote speaker access for other areas. (800) 838-1649; www.BeyondHearingAids.com.
---

Information for Kids
Unitron Hearing Ltd, Plymouth, Minn, offers its Kids Klub provides fun, care, and security to children with hearing loss and their parents. The kit contains fun educational materials for the child and parents, along with important tools for maintenance and care of the hearing aids. An extra year loss and damage is added for security, all at no additional cost. (800) 888-8882; www.kidsklub.unitron.com.
---

Tympanometer
Maico-Diagnostics, Eden Prairie, Minn, features the MI 24 tympanometer, which offers an optional high-probe tone feature with automatic impedance testing, as well as ipsi and contra reflex testing. The lightweight, portable model includes a backlit LCD screen and an internal thermal printer, making it a strong performer in its price category. (888) 941-4201; www.maico-diagnostics.com.
---

Hearing Protection
Perfect Seal Laboratories of Wichita, Kan, offers many styles of hearing protection. No matter what your client's needs, Perfect Seal can accommodate them. From the electronic series (shown) to solid plugs, Perfect Seal can provide solutions for many specific industrial applications. (800) 311-9810.
---

Faster ABR/ASSR
Vivosonic Inc, Toronto, is developing a novel clinical Auditory Evoked Potential instrument with ABR and/or ASSR functions. By using Vivosonic's proprietary Amplitrode™, a miniaturized and unique combination of electrode and optimized EP amplifier, the system provides for exceptional low noise performance and immunity to background electromagnetic artifacts which results in faster test times. VivoLink™ connects the Amplitrode and stimulating transducers with the VivoScan™ system or another PC through wireless Bluetooth communication technology and provides the operator full freedom of movement around the patient. In addition, the device monitors impedance mismatch and eliminates the ground lead wire. (877) 255-7685; www.vivosonic.com.
---

Infrared Listening System
ADCO Hearing Products Inc, Littleton, Colo, offers the Direct Ear 810-S infrared TV listening system. This new model allows the flexibility to use a variety of couplers. The receiver has an 1/8-inch stereo phone jack for neckloops, headphones, earbuds, or other listening options. There are independent gain and tone controls for each ear. The transmitter easily connects to TV, VCR, cable box, or satellite box. Compression, stereo, and external microphone are standard options. There is a 2-year manufacturer's warranty. (800) 726-0851; (303) 794-3928; www.adcopro.net.
---

Steady Prices
Westone Laboratories Inc, Colorado Springs, Colo, confirms the company's commitment to the hearing health care industry by not increasing prices for the second straight year. Although the economy is still struggling and the company's costs have continued to rise, Westone has committed to maintaining its 2002 prices through 2004. (800) 525-5071; www.westone.com.
---

Ear Gel
EarGuy™ Ear-gel by Earmold Design Inc, Minneapolis, is a gel lubricant designed to make earmold and hearing instrument insertion easy and comfortable. It is water soluble and will not leave residue or buildup on the ear, according to the company. The squeeze bottle is used to apply the gel onto a Q-tip™, which is then swabbed at the opening of the ear canal. (800) 334-6466; [email protected].
---

Silicone Earmolds
Mid-States Laboratories, Wichita, Kan, now offers Crystal Clear, the newest in its silicone family of earmolds. The unique material blends cosmetically into the wearer's skin tone for an appealing appearance. Also, the material is strong and durable, as well as soft and pliant. In addition, it offers excellent sealing qualities. (800) 247-3669; www.mid-stateslabs.com.
---
Pressure-Free Impression Material
Precision Laboratories, Altamonte Springs, Fla, offers Flextime ear impression material. The silicone-based, low viscosity material is available in bulk kits, single-use containers, convenient new single-use cellophane packages, and cartridges. It is especially recommended for almost pressure-free impression taking. The product has a wildberry scent. (800) 327-4792; www.precisionweb.com.
---

Tinnitus Treatment
EAR Inc, Boulder, Colo, introduces RingSTOP™, an all-natural product for people suffering from tinnitus. The product is a homeopathic formula that is available in capsule form. Ingredients include amino acids, herbal extracts, antioxidants, and vitamins that have been reported to reduce the symptoms of tinnitus, a condition for which there is no known remedy. (800) 525-2690; www.earinc.com; www.freehearingtest.com.
---

Wireless Hearing System
TV Ears Inc, Park City, Utah, offers the TV Ears wireless hearing system, designed to deliver sound directly to the wearer's ears. Television audio processing (TAP) technology ensures that all words are heard clearly, while the automatic volume control (AVC) circuit is designed to reduce loud bursts of sound. The system works separately from television speakers so that others can set the TV volume at the level they desire. TV Ears will also work in nearly all movie theaters, playhouses, concert halls, and other public places, according to the company. (888) 883-3277; www.tvears.com.
---

National Education Workshops
Audina Hearing Instruments Inc, Longwood, Fla, has more than 5 years of experience with national "Recognition and Enhancement of Hearing Healthcare Issues" educational workshops. These workshops provide a balance of theory and practicality to better understand today's sophisticated digital technology and provide constructive ideas to help grow a business. Earn ASHA, AAA, and IHS continuing education credits. Workshops are scheduled: June 5 (Columbus, Ohio); July 17 (Portland, Ore); September 18 (Piscataway, NJ); October 2 (Grand Rapids, Mich); and November 8 (Sacramento, Calif). (800) 223-7700; www.audina.net.
---

Potentiometer-Controlled Instruments
Starkey Laboratories Inc, Eden Prairie, Minn, offers an alternative to analog technology—GENESIS DX, a new family of nonprogrammable, potentiometer-controlled instruments, offering the flexibility and control of digital technology. The DX line features Inteli D, available in three configurations, WDRC, S-Amp, or high frequency; Discovery D, available in 3k Hz standard or 2k Hz mid-frequency responses; and Inteli Power D. Directional microphone, telecoil, and wax prevention options are available. (800) 328-8602; www.starkey.com.
---

Impression Material
All American Mold Laboratories Inc, Oklahoma City, offers an "intelligent" impression material by Detax. The pleasantly scented material sets in just 3 minutes—body temperature (in the ear) accelerates the curing process, providing the hearing health care worker sufficient working time. (800) 654-3245; www.Allamericanmold.com.
---

Reduced Price Batteries
Westone Laboratories Inc, Colorado Springs, Colo, announces reduced pricing on both Power One and private label batteries. Power One batteries are the OEM battery choice of some of the largest hearing instrument manufacturers, and are promoted as the industry's longest lasting. Westone's private label batteries provide that same German precision and quality, but are even more economical. In addition, private label batteries are an excellent marketing tool. Whether the batteries are retailed, provided with a service agreement, or both, private label batteries are an easy and convenient way to keep the business name in front of loyal customers and serve as a constant reminder of the professional services provided. Power One and private label batteries from Westone—high quality and great value. (800) 525-5071; www.westone.com.
---

Hearing Family Additions
Siemens Hearing Instruments, Piscataway, NJ, announces the addition of two new BTEs to its TRIANO™ product family: the TRIANO 3 P and TRIANO SL. Patients with severe hearing loss can have the benefits of the TriMic™ directional microphone system with the TRIANO 3 P BTE. Boasting a peak gain of 70 dB and a maximum power output of 131 dB, TRIANO 3 P combines the benefits of Siemens proven TriMic directional microphone system with the electro-acoustic performance of a power hearing instrument. TRIANO SL offers 115 dB maximum power output and 45 dB peak gain, and is an optimal product for first-time hearing instrument wearers and for patients with mild to moderate hearing loss. It was designed to be optimal for open-ear fittings. In addition, CONNEXX™ with SiFit™ 4.5 now offers new algorithms, which help reduce fitting time for all TRIANO custom and BTE instruments with ComfortFit™. (800) 766-4500; www.usa.siemens.com/hearing.
---

Hearing Aid Teddy Bear
Harris Communications, Eden Prairie, Minn, offers the Audiologist Teddy Bear—that actually has hearing aids—to encourage children to wear their hearing instruments. The bear wears a lab coat and comes with its own stethoscope and handcrafted hearing aids. Please allow up to 4 weeks delivery. (800) 582-8569; www.harriscomm.com.
---

New Released Batteries
ZeniPower, Zhuhai, China, features patented hearing aid batteries with low impedance and stable voltage (above 1.1v) with high drain use to ensure longer wear with new high-power hearing aids. A strictly controlled manufacturing process guarantees high reliability and consistency. Free samples are available. (814) 825-8398; www.hearing-aid-batteries-co.com; www.zenipower.com.
---

Soft Shell Digital Line
Audina Hearing Instruments, Longwood, Fla, offers the Super60 comprehensive product line, which includes the following technologies: conventional, programmable, trimmer driven digital, and highly flexible 100% digital. The Super60 line also features Audina's exclusive Otoseal all soft shell. Used for more than 12 years, this material is an established, reliable, and quality soft shell that conforms to the ear as it warms from body heat. The result is a comfortable, secure seal while minimizing the possibility of feedback. (800) 223-7700; www.audina.net.
---

Impedance Screener
Maico-Diagnostics, Eden Prairie, Minn, offers the MI 34 impedance screener with added function of reflexes and reflex decay tests that are usually found only on more expensive diagnostic equipment. The screener/diagnostic tympanometer also features ipsi and contra tests, as well as perforated and intact ETF testing. (888) 941-4201; www.maico-diagnostics.com.
---

Gift with Purchase
For a limited time, Hocks Hearing Healthcare Products, Portland, Ore, is offering its customers an 18-piece barbecue set, or a 102-piece comprehensive tool kit, free with minimum purchase orders. The offer is valid June through July, 2004. (800) 654-6257; www.hocks.com.
---

Wireless Instruments
Interton, Minneapolis, offers a discrete solution to patients with single-sided deafness with its IQTM Wireless CROS/BiCROS ITE instruments. This newly-released product is currently the only available ITE to ITE system. These wireless systems are different from the linear technology of older systems and incorporate all new wireless transmission technology and the latest digital hybrid. CROS and BiCROS systems are ideal for patients who have normal or aidable hearing loss in one ear, but suffer an unaidable loss in the other. By using the latest digital hybrid, hearing professionals can take advantage of modern fitting algorithms and fit targeted hearing solutions with greater flexibility than previously possible. (800) 247-4741; www.interton-usa.com.
---

Cleaning Pump
Mid-States Laboratories, Wichita, Kan, has added the Mark V Power Piston Driven Cleaning Pump to its product line. This heavy-duty unit produces strong vacuum power (pulling up to 27 inches of mercury) and blows up to 120 PSI. Standard accessories include seven milled needles and a vacuum chamber. The vacuum chamber runs automatically for 300 seconds. In addition to the standard accessories, an optional aspirator kit is available for cerumen removal. (800) 247-3669; www.mid-stateslabs.com.
---

Sonic Cutter
Kingwood Industrial Products, Hackettstown, NJ, is featuring the Sonic Cutter as its product of the month. This compact and lightweight unit is designed to fit in the hand without creating fatigue even after long continuous operation. The Sonic Cutter guarantees a straight, sharp, and burr free cut every time. Since the unit cuts rather than grinds, it eliminates the dust and noise normally associated with hand and bench grinders. Kingwood has demonstration units available for customers to evaluate and return if not completely satisfied. (908) 852-8655; www.kingwoodindustrial.com.
---

Interface Module
Interacoustics, Eden Prairie, Minn, offer the Eclipse (pending FDA approval), a module that serves as an interface between ABR, OAE, or both, and a PC. Designed so you can work with the familiar interface of your own computer without managing another stand-alone machine. Standard accessories allow you to conduct a variety of screening or clinical testing. (800) 947-6334; www.interacoustics.com.
---

Ear Wash System
ADCO Hearing Products, Littleton, Colo, offers the Ear Wash System by Welch Allyn. This product enables an easy, safe, and effective means of cleaning the ear canal. Unlike other irrigation systems, this product automatically collects the outflow of water, cerumen, and debris through a vacuum in the nozzle. Replaceable eartips filter cerumen and debris and return water outflow to the sink basin. Ear Wash System is non-electric and connects directly to a tap. It removes impacted cerumen, allows better impressions, and reduces plugged molds and receivers. (800) 726-0851, (303) 794-3928; www.adcopro.net.
---

Direct Mail Advertising
Action Marketing, El Cajon, Calif, specializes in the design and production of direct mail advertising. The company's marketing approach focuses primarily on new patients, which reportedly results in predictable and consistent business growth. In addition, the company's products are tested before inclusion in its product line, a process that is designed to minimize the risks involved in a new advertising approach. The company further reports that it has invested heavily in the development of an extensive production facility, while refinements in its tracking and production systems increase accuracy and decrease production time. (800) 227-0819.
---

Clinical Vacuum
jodi-Vac, LLC, Portland, Ore, offers jodi®-XL, a clinical vacuum desiccator for office, clinic, and hospital use. Two 2,000-hour vacuum pumps power this unit. The desiccator has a heated plate and a desiccant for maximum moisture absorption. The motor turns off when it reaches vacuum, until needed to keep the desiccator at vacuum. The second pump powers the needle vac, which is identical to the pro unit. It is a 15-volt DC unit with a dual 110-230 transformer, and can be used anywhere in the world. (866) 856-5634; www.jodivac.com.
---

Tabletop Displays
S & S Laser, New Port Richey, Fla, offers the "ready to show" briefcase tabletop display. It sets up in less than a minute and is completely self-contained. The display morphs from a briefcase to a 48-inch x 24-inch fabric-covered display. The header attaches to the top and is stored inside when not in use. Velcro-ready fabrics are available in assorted colors. The display weighs just nine pounds. Also available: graphics packages and larger style displays. (800) 934-6815.
---

Free Digital Media Kit
CareCredit' Anaheim, Calif, has developed a free Digital Media Kit for hearing health care practices to use on their Web sites. This easy-to-use promotional kit features multiple button options that can be copied and placed on the practice's site—including animated buttons, and several that link directly to CareCredit's Instant Online Application. The direct link enables patients to secure financing on their own in less than 30 seconds. Also featured are text options of varying length, a full Web-page design that can be used in its entirety or for reference, and professional photographs that can be used on clients' Web sites for visual accent. Practices enrolled in the CareCredit program are eligible for a free Digital Media Kit. (800) 300-3046, ext 4234; www.carecredit.com; [email protected].
---

Desiccant Packaging
Ear Technology Corporation, Johnson City, Tenn, introduces new packaging and delivery options for its Dry-Brik® desiccant. The desiccant is a critical component of Dry & Store's conditioning process, as it captures the moisture released from the hearing instrument during the conditioning cycle. Dry-Briks are individually sealed in a foil wrapper to block moisture and extend shelf life. Both the color and label of the wrapper have been improved. The name Dry-Brik now appears in large, consumer-friendly text on the front, along with the word "desiccant" translated into several languages. Instructions are now multilingual as well, reflecting Dry & Store's growing popularity around the world. Delivery options for distributors include a new six-pack option that saves space, is clean and neat to store, easy to dispense, and easy for the consumer to use. For most users, a six-pack represents approximately a year's supply of Dry-Briks and typically retails in a range of $20 to $25. (800) 327-8547; www.dryandstore.com.
---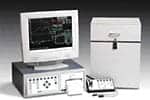 Infant Screening Device
Starkey Laboratories Inc, Eden Prairie, Minn, features the DP2000, a state-of-the-art otoacoustic emissions infant screening device. Weighing less than six ounces, without the computer, the DP2000 has a range from 500 to 16,000 Hz. The system allows the examiner to save up to 10 curves per ear per test session for each patient. The system comes with seven different sizes of disposable test tips to ensure a good acoustic seal. The DP2000 plugs into any Windows-compatible computer with an available PCMCIA type II slot. (800) 328-8602; www.starkey.com.
---

Impedance Audiometer
Interacoustics USA, Eden Prairie, Minn, features the AT235 impedance audiometer. The unit includes a multi-probe feature, which quickly transforms the standard clinical probe into a pencil probe for screening procedures. The AT235 smart software recognizes which probe is in use and automatically compensates for calibration differences. (800) 947-6334; www.interacoustics.com.
---

Cerumen Removal Device
Oaktree Products, Chesterfield, Mo, offers the Lighted Ear Curette™, by Bionix, for safe cerumen removal. The unit combines disposable ear curettes with a powerful LED light source, which illuminates the ear canal from the tip of the curette, enabling quick, efficient, and sterile cerumen removal. (800) 347-1960; www.oaktreeproducts.com.
---

New Product Line
In'Tech Industries Inc, Ramsey, Minn, a leading supplier of miniature plastic hearing aid components introduces its new VTM™ product line. Services include providing high-quality, highly accurate, digitally created ear shell services and rapid manufacturing to hearing instrument manufacturers. Proven technology includes precision scanning, electronic detailing, and stereo-lithography services while offering multiple surface finishes and color options that can improve your customer satisfaction ratings. This service is now available to all hearing aid manufacturers. www.intech-ind.com.
---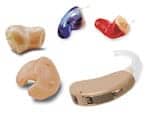 Office Management Software
Starkey Laboratories Inc, Eden Prairie, Minn, offers ProHear office management software for hearing health care professionals, providing fast, accurate methods for accessing customer information, finances, analyzing business trends, creating marketing strategies, and scheduling. ProHear 5.5 now provides instant access to NOAH 3.0. Measure and record a patient's hearing loss with any NOAH 3.0 certified device using 5.5's audiogram, speech test, or loudness scaling features. Results are then passed automatically to a common database, for use by any fitting system from any manufacturer. (800) 328-8602; www.starkey.com.
---

Consumer Vacuum Pump
Lightning Enterprises, Limington, Me, announces My Vac, a consumer vacuum pump designed for personal hearing aid maintenance. My Vac is a completely self-contained unit and includes a suction probe for cleaning, a replaceable filter, a mounting clip for easy probe storage, and a blower port for clearing obstructions. The suction probe is detachable for easy cleaning or replacement. Private labeling is also available for resale interests. Special pricing for email list members. (877) 546-1797; www.lightningenterprises.com.
---

Tinted Earmolds
Earmold Design Inc, Minneapolis, offers Conseal earmolds. These earmolds contain a fiber additive in a choice of three tints—pink, beige, and smoke—which can be combined with acrylic, Formaseal, and Softech silicone earmold materials, for a cosmetically pleasing appearance. In addition, the tubing comes in a matte finish and tinted to match the earmolds. Replacement tubes are available. (800) 334-6466; www.earmolddesign.com.
---

Amplified Phone
HITEC Group, Burr Ridge, Ill, announces the release of the Freedom Phone. The ClearSounds 40XLC has Caller ID, amplification up to 50 dB, and hands-free operation with both a 2.5 mm and 3.5 mm audio jack for use with any headset, neckloop, T-hook silhouette, or patchcord. It is a speaker phone with volume control, and it has a built-in signaling system including a loud ringer, a flashing strobe, or an optional bed shaker. A three-level speech output control enables volume adjustment of outgoing voice control. Large buttons and memory dial make it easy to use. It is stylish, elegant, and hearing aid compatible with a 2-year warranty. (800) 288-8303; www.hitec.com.
---

Open House Program
Commonwealth Hearing Aid Marketing, Roanoke, Va, is an open house specialist offering a variety of affordable programs to grow the business of hearing industry distributors. Available service programs include direct mail, telemarketing, full-page 4-color print ads, and newspaper inserts. Negotiable commission rates and a client "Key Dispenser Program" are available. Ask about the "Commission-Free Open House" promotion. (757) 810-3616; www.commonwealthhearing.com.
---

Physician Marketing Video
A video about a physician newsletter publishing service is being offered by the publishers of Hearing HealthCare News®, White Plains, NY. The 9-minute presentation, available on CD or VHS, describes how a physician newsletter can benefit an audiology practice. (800) 342-1643; www.hearinghealthnews.com.
---

Dealer Program
TV Ears Inc, Amsterdam, NY, announces the launch of its "Authorized TV Ears Dealer Program" and its "Put On Your TV Ears" marketing campaign. Authorized dealers will be listed on the TV Ears Web site and included in the TV Ears telephone referral program. The "Put On Your TV Ears" marketing kit includes everything an office needs to generate doctor referrals, attract new customers, and stimulate existing customers. Each kit includes ads, postcards, statement stuffers, brochures, "TV Bucks," and an eye-catching point of purchase display. (888) 883-3277; www.tvears.com.
---

Digital Hearing Aids
Oticon Inc, Somerset, NJ, offers the Atlas Plus family of digital hearing aids. Atlas Plus takes Atlas to a whole new level by incorporating Oticon's unique technology to effectively address the side effects of occlusion and acoustic feedback. Atlas Plus builds upon the success of Atlas, and incorporates significant technology improvements including OpenEar Acoustics™, Dynamic Feedback Cancellation, and two programs. Atlas Plus is available in a full range from CIC to BTE power, including directional models. (800) 426-3921; www.oticonus.com.
---

Cell Phone Solutions
Effective Communication Solutions Inc, Independence, Ky, offers HATIS hearing aid telephone headsets. The headsets feature precise comprehension on virtually every mobile, cordless, or landline phone for BTE, ITE, or cochlear implant users who have telecoils. In additions, digital cell phones can be used without an interference. The product features a strong telecoil induction for even the most severe hearing losses. Effective Communication Solutions Inc also offers cell phone solutions for hearing aids without telecoils. (800) 838-1649; www.BeyondHearingAids.com.
---

Amplified Telephone
Clarity®, a Division of Plantronics Inc (formerly Walker Ameriphone), Chattanooga, Tenn, offers the XL50 Amplified Telephone. The unit delivers up to 48 dB extra amplification and features a separate adjustable tone control (600 Hz-2,400 Hz) for high-frequency sounds. Its backlighted keypad with big buttons makes it easy to use. Other features include an extrabright flasher, a superloud ringer with adjustable volume control, voice mail, and missed call indicators. The XL50 includes 12 memory buttons, plus redial, hold, and flash buttons. The product is wall-mountable and has a battery backup in case of power outage. The XL50 is hearing aid telecoil compatible and has an audio output jack for connection to a headset, neckloop, or cochlear implant. (800) 426-3738; www.clarityproducts.com.
---

Engineering Expertise
At In'Tech Industries Inc in Ramsey, Minn, engineering experts strive to produce a product that matches its customers' design criteria. Whether producing a complete design based on generic sketches or integrating an existing design into a final product, combining the company's services with its customers' creativity is the key. (763) 576-8100; www.intech-ind.com.
---

Warranty Coverage
Starkey Laboratories Inc, Eden Prairie, Minn, has expanded its warranty coverage into one comprehensive program designed for a variety of patients' needs. Coverage is available in four unique programs: Worry Free Deluxe Loss, Damage, and Repair Warranty Protection; Worry Free Loss and Damage Warranty Protection; Worry Free Repair Warranty Protection; and Worry Free Extended Warranty Protection. The new warranty plan gives hearing professionals the opportunity to set their own pricing based on their individual services and policies. (800) 328-8602; www.starkey.com.
---

Portable Test Device
Maico-Diagnostics, Eden Prairie, Minn, features the EroScan, a versatile, portable diagnostic otoacoustic emissions test device that measures OAEs in 10 to 30 seconds. Testing can be performed by nurses or trained volunteers and no interpretation is needed, nor is any response necessary from the patient. Users can customize the testing parameters and the data quickly transfers to a printer or an optional EroScan database program for very low, disposable costs. Maico provides a free demonstration video, as well as the Guide to OAEs for Newborn Screening. (888) 941-4201; www.maico-diagnostics.com.
---

Digital Family
Oticon Inc, Somerset, NJ, introduces its GO line of affordable digital hearing instruments. GO features two-channel WDRC, NAL-NL1 rationale, Directional ITEs and BTEs, automatic feedback manager, optional programmable telecoil, and volume control, and is available in a full range of models. (800) 426-3921; www.oticonus.com.
---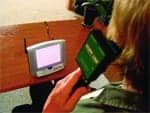 Digital Hearing Families
Unitron Hearing Ltd, Plymouth, Minn, presents offers its family of digital products, delivering the choices and technologies needed to satisfy client needs. Offering features and problem-solving technologies in every category, Unitron's digital family offers the right solutions to most clients. (800) 888-8882; www.unitronhearing.com.
---

Customized Newsletter
Hearing HealthCare News®, a customized newsletter for patients published since 1986, and Audiology HealthCare News®, a customized newsletter for physicians and other health care providers, are both edited by Dennis Hampton, a dispensing audiologist based in White Plains, NY. The newsletters are valuable resources for marketing a practice to patients and physicians. The newsletters are published quarterly, and delivered ready to mail. Samples and marketing videos are available. (800) 342-1643; www.hearinghealthnews.com.
---

Free Practice Growth CD
CareCredit®' Anaheim, Calif, a nationwide purveyor of comprehensive patient payment programs, is offering "Growing Your Practice—Effective Communication Techniques," a free CD or audiotape featuring J. Scott Bailey, a sales consultant at the Sandler System. Bailey has more than 25 years' experience working with companies and professional groups teaching effective communication techniques that can be used to uncover patients' emotional needs, "buying cycles," and buying objectives. Developed specifically for hearing health care professionals, the CD/tape provides Bailey's insights on developing pricing approaches, and identifies the most common mistakes professionals make during sales presentations. (800) 300-3046, ext 519; [email protected].
---

Fitting Software Update
Audina Hearing Instruments Inc, Longwood, Fla, announces the release of the latest ezFIT version 4.0. Additions to this model include the revised AutoFit to better assist practitioners in tackling out-of-the-ordinary hearing loss configurations; an interactive Fitting Wizard, designed to streamline fittings quickly and easily; and six new environmental fitting programs, including restaurant/noise, telephone/telecoil, and music listening to enable the dispenser to customize the patient's multi-memory settings. Furthermore, Audina has expanded its fine-tuning guide for "tweaking" fittings as needed. (800) 223-7700; www.audina.net.
---

Portable Video Otoscope
MedRx Inc, Largo, Fla, features the Ultra-View Portable Video Otoscope. Built into a durable carrying case, the lightweight system can easily be removed for countertop configuration. The 9-inch monitor has its own soft side carrying case, complete with shoulder strap. The deluxe probe has an aluminum body with a stainless steel conical tip that tapers down to 3 mm and requires no focusing. The miniature video camera is lightweight and streamlined, and has a precision "white balance" built in. The compact camera features digital signal processing, and a high horizontal resolution CCD chip. (888) 392-1234; www.medrx-usa.com.
---

Beam Forming Technology
Interton, Minneapolis, Minn, announces the release of the directional microphone with Adaptive Beam Forming technology available on the new IQ line of digital hearing aids. Adaptive Beam Forming provides a variable polar pattern that changes as the acoustic environment changes, creating different patterns whenever needed. (800) 247-4741; www.interton-usa.com.
---
Multipurpose Clinical Audiometer
Interacoustics USA, Eden Prairie, Minn, features the AD229e, a powerful multipurpose clinical audiometer in a small package. Connect a keyboard to input patient data, transfer data to NOAH, and generate professional reports with a direct printer connection. (800) 947-6334; www.interacoustics.com.
---

Integrated Audiological System
MedRx Inc, Largo, Fla, introduces the AVANT™, the next generation of completely integrated audiological systems. This patient-intuitive system provides a complete NOAH™ compatible solution to diagnostic testing, fitting, and validating test results. The AVANT system features USB connectivity, therefore existing computers can be used. This unique user-friendly system is specifically designed to enhance the patient/practitioner relationship. (888) 392-1234; www.medrx-usa.com.
---