Los Angeles-based John Tracy Clinic was established to provide parents with the tools to address the individual needs of their deaf and hearing-impaired children.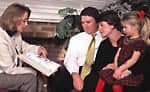 John Tracy Clinic's main campus is located in the historic Adams Boulevard District, near the University of Southern California, in downtown Los Angeles.
Kenji is an energetic 4-and-a-half-year-old boy, playing with a toy microphone, talking into it, thrilled by the tinny sound of his own voice coming out of the plastic amplifier. His mother sits nearby behind a glass partition, delighting as much as her son when he utters a clear "ba" or "th." Unlike his fellow toddlers in other preschools, Kenji's play has deeper implications. The serious-faced boy is hearing-impaired, and this play, masking his daily therapy session, is a key element in teaching him, aided with hearing instruments, how to use his residual hearing to communicate.
The one-on-one therapy session is a hallmark of the kind of individualized care available at the John Tracy Clinic.
Helpful Solutions
Since 1942, when the clinic was founded by Louise Tracy, wife of film legend Spencer Tracy, it has helped more than 100,000 hearing-impaired children and their families find solutions to everything from choosing the right hearing instrument to selecting the right school to how to entice a hearing-impaired 3-year-old to eat their peas to how to salve the feelings of a jealous older hearing sibling.
The clinic's work is directed as much at the hearing as the hearing impaired. "Our niche is really the parents," says Maura Martindale, EdD, vice president of education services. "This goes back to Mrs Tracy. The parents are the primary educators of their children. What we do, first of all, is give them support and understanding. They come to us at some level of crisis, and they are often hurting. We make sure that they know they are not alone and that we are here for them. Thereafter, we freely share our knowledge, experiences, and resources with them so they can make the best decisions for their child and their family."
This focus on parents is what makes the clinic unique, says Mary McGinnis, Cert, AVT, Cand, PhD, supervisor of speech and language services. "We want to empower parents," she says, and to that end the clinic offers an array of parent classes and support groups in several languages, including Spanish and Korean. There are about 50 families currently involved in the parent education program.
The parent focus is understandable considering Louise Tracy's experience as the mother of a deaf child in the 1920s. Going from specialist to specialist, she was offered little hope that her first-born, the clinic's namesake John, would be able to communicate. Because of a chance meeting with a deaf woman who could lip-read, Tracy consulted with one more specialist who put her in touch with the Volta Bureau in Washington and the Wright Oral School in New York. The latter's program would eventually form the basis for the services offered at the John Tracy Clinic. Tracy, who was an actress, eventually left the theater to devote herself full time to teaching her son to communicate.
It was another chance meeting with the head of the University of Southern California (USC) reading clinic and his urging that Tracy "do something" to help deaf children to communicate that led to the first meeting with 12 mothers of deaf children 18 months to 7 years old in 1942, and the founding of the John Tracy Clinic. The clinic moved to its present quarters on a quiet tree-lined section of West Adams Boulevard in Los Angeles in 1952. Much of the early funding for the clinic came from Spencer Tracy. One of the earliest corporate sponsors was Walt Disney's studios, where John Tracy worked after finishing art school.
A Global Operation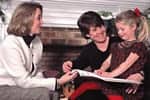 Five-year-old Joseph Chung (left) takes part in a semi-annual language assessment with speech pathologist Sandra Alexander, MS, SLP.
Today, the clinic is a global operation with a correspondence program—its largest and busiest activity—that spans 50 countries, including India, Israel, Greenland, South Africa, New Zealand, Japan, Germany, and Bermuda. Currently, there are about 2,000 students and their families on the rolls. The courses have been translated into 26 languages and are individualized to meet the students' and parents' needs. This individualization includes the ability to call the clinic staff on an 800 line any time they wish. "Everyone is different, they want to talk about their child's needs," says Martindale. "Sometimes they have a couple of little ones at home and need help. We're their lifeline." The staff handles on average between 40 and 50 phone calls from correspondence participants every day. Those they cannot help directly on the phone are put in touch with local services.
The clinic is also well known in Los Angeles where it screens about 18,000 primary school children every year for signs of hearing loss. About 9% to 14% of those students fail the testing, says Martindale.
Children, some as young as 2 weeks, also come to the clinic, usually referred by their pediatrician, and receive a battery of tests including behavioral/observational testing, otoacoustic testing, and tympanometry. Because it is an invasive procedure, the only test not administered is auditory brainstem response (ABR). "Many times we are the people that help the parents find out what's going on with their kids," says Christine Eubanks, PhD, an audiologist at the clinic. "[Pediatricians] in the community will send kids [to us] because they know something's going on, but they're not sure what." In many cases, the clinic's audiologists can identify the specific hearing problem or rule out hearing loss as the culprit and refer the children to further testing resources. Like all the programs at the clinic, hearing screening is free.
This and other testing programs are identifying more and more children with hearing loss and making the work of the clinic more crucial. "The needs are tremendous because kids are being diagnosed earlier," says Martindale. "Because we have worked with babies for decades, we're in a good place to teach others and the parents."
Although the clinic screens, makes recommendations, and provides information about hearing loss and solutions, it does not dispense hearing instruments other than loaning hearing aids to children awaiting their own devices. "Our facility is really a parent education facility, so we help the parents to discover what their options are," says Eubanks. "Some of the options are out in the community, and others are the preschool or parent education program [we provide]."
It is the program that shows the principles of the clinic in action. Currently, with a recent classroom expansion, the program now has 28 children who attend the preschool several days a week. The children, nearly all of whom wear either hearing aids or cochlear implants, receive nearly individualized teaching. Classes are small and full of activity with teachers, assistants, and parents—who must attend classes from 9 am to 12 pm 1 day a week—keeping a close, affectionate watch on their charges. The classrooms are large, homey, well-lighted spaces. "The success of the preschool can be attributed to many things—the warm and supportive atmosphere, strong parent involvement and follow-through at home, the low child/adult ratio, and the individual attention given each child through the daily speech and language program," says Angie Stokes, preschool director.
For any Hard-of-Hearing Child

Dina Glouberman (left) and her 2-year-old son, Elon, attend an individual family session in one of the clinic's two demonstration homes. Elon is practicing breath control and lip rounding by blowing bubbles as part of his speech training.
The preschool is open to any child who is deaf or hard of hearing from the time of birth to 6 years old. There are no financial requirements—parents are not asked their income level—and enrollment is available on a first-come, first-served basis. The parents must be available on Tuesday nights, twice a month, to attend parent meetings. Parents and other family members are also encouraged, but not required, to take part in the weekly family Fridays.
All of the lessons in the classroom and daily therapy sessions stress sound values and the use of mouth, tongue, and residual hearing to teach the children to communicate.
Like the therapy and testing areas, one wall is covered by a one-way mirror that allows parents, teachers, administrators, and therapists a panoptic view of the students without disturbing the learning process. Supervisors can interact when necessary, giving advice or feedback through a sound slot built into the wall.
Many of the lessons in both the classroom and the daily 45-minute therapy sessions look like play, but they are designed to concretize language for the children in an individualized, hands-on way. During a therapy session, one student, Erica, listens to a story about a little boy digging a tunnel at the beach. At her therapist's urging, she acts out the story in an ad hoc sandbox in the therapy room, making the story and all its communicative elements real to her in a direct, tactile way. Recently, to concretize a lesson about snow and cold weather, the staff introduced the children to real, manmade snow. "The children lack real world experience tied to language," says McGinnis. "Everything we do is meaningful."
This meaningful experience is designed to usher the preschool students into a mainstreamed setting, something that the clinic can help the student and parents to accomplish either informally or formally.
Summer Sessions
During the summer recess, the clinic holds three summer sessions for families from outside the Los Angeles area. During each session, 24 families participate and can include as many members who would like to travel to Los Angeles. Attendees can stay in quarters on the clinic's campus.
The sessions resemble a conventional day camp with arts and crafts, but are supplemented with support group sessions and communication programs. The culmination of the week-long program is the production of a video enacting a scenario scripted by the family that illustrates a real or imaginary family problem and its solution. Members can play themselves or someone else in the family. The videos, which are only 5 minutes in length, are taped in one of the clinic's model homes—used throughout the year to teach life and parenting skills—and have two endings. The first is a disastrous one, the second an equitable, positive solution.
Throughout the year and during the summer session, the clinic also focuses on another member of the family—the hearing sibling. "There's so much upheaval in a family when a child is deaf," says Mary Beth Goring, MFT. "Their world is turned upside down including the world of the siblings. The siblings need to make the adjustment with the rest of the [family]. Some are like little lost souls, others are rebellious and angry. Siblings need help adjusting; they need to feel less isolated, they need support." She adds that not every sibling feels lost or resentful. Some become surrogate parents to their deaf brother or sister.
The hearing sibling has an important role in helping to acculturate their hard-of-hearing brother or sister, says Goring. "[Siblings] can be incredible contributors, not just in play, but in rules to games, how to dress and be cool, all the things that acclimate them to youth culture," she says. "Aside from their contributions [it has to be emphasized] that they are just important individuals and that they occupy an important spot in the family."
Learning to Interact

Clockwise from left are Sabrina, Brandon, and Arlene Serna, who play a preposition game with tutor and mainstream support teacher, Jody Reiss, MSEd. Five-year-old Sabrina is a John Tracy Clinic preschool student.
Deaf children, their hearing siblings, and parents are not the only ones getting an education at the clinic. Each year, about eight USC graduate education students come to the clinic to learn first hand how to teach and interact with deaf and hard-of-hearing students. Like their small counterparts, every experience is hands-on with the graduate students teaching and testing the children under the watchful, supervisory gaze of the therapists and teachers. "New state and federal mandates for early intervention and mainstreaming have created a critical need for teachers trained to work with young children with hearing losses and their families," says Barbara Hecht, PhD, vice president, audiology, counseling and teacher education. "The program gives students both a broad academic foundation in all aspects of deaf education, and varied practices at John Tracy Clinic and other private and public schools. The extensive hands-on experience provided by the program allows future teachers to gain the confidence and expertise they will need. [The USC] students are also trained in up-to-date educational technology and assessment methods." In addition, the clinic offers a professional distance learning course from which participants can receive a certificate in early childhood deaf education. For those already certified, it earns them continuing education units. The program had 27 students enrolled this year.
Ongoing Fundraising Activities
The clinic, a 501(c) (3) nonprofit organization, is able to offer all of its free services due to its ongoing fund-raising activity. Much of the revenue to finance the $4 million budget—much of which goes to pay the salaries of the 60-person staff—comes from corporate sponsors, a number of which made their first donations to Louise Tracy in the early days of the clinic. As with its instruction, the clinic individualizes the way it approaches these corporate donors. There is at least one grant submitted every week.
Many of the potential contacts come from the board of directors of which Susie Tracy, John Tracy's younger sister, is a member.
In addition, parent guilds and auxiliaries help raise money or conduct other activities—such as testing in schools—that help offset the cost of operating the clinic.
Even with 60 years of success under its belt, the clinic continues to grow and change. The halls of the buildings smell of fresh paint, one of the outward signs of the clinic's recently added classroom and continued evolution. The addition will allow the addition of four more students to the preschool program and help to keep the noise level of the school down. In addition, an auditorium, office space, and activity and testing rooms have been built or renovated. A dedication ceremony for the new classroom and renovations was held on May 3, 2002.
Chris Wolski is associate editor of Hearing Products Report.