Diana Bender Is Named President of HLAA Board of Trustees

Diana D. Bender
Diana D. Bender, PhD, a person with hearing loss and a longtime hearing advocate, has been elected president of the Board of Trustees of the Hearing Loss Association of America (HLAA). Bender, who lives in Phoenixville, Pa, officially assumed her role at HLAA's Convention 2012 in Providence, RI, in June.
Bender was diagnosed with progressive hearing loss at the age of 10. She began wearing a hearing aid at the age of 15 and received a cochlear implant in 2004. However, having hearing loss never stopped Bender from having a family and pursuing a professional career as an organic chemist and researcher.
Bender graduated in 1961 from Bucknell University in Lewisburg, Pa, with a bachelor of science degree in chemistry. She received her master's and doctoral degrees in organic chemistry at the University of Munich, in Munich, Germany, and investigated new cancer drugs as a postdoctoral fellow in the laboratory of Dr K.C. Tsou at the University of Pennsylvania from 1968 until 1970.
Bender also has worked as a postdoctoral fellow with Nobel Prize winner Dr Richard Heck at the University of Delaware. She retired in 2001 as a research chemist and product manager in the Agricultural Products division of Rohm and Haas Company.
In addition to her professional and academic achievements, Bender has been a member of HLAA since 1995; she served as president of the Montgomery County Chapter in Lafayette Hill, Pa, from 1997 to 2001, has been the editor of that chapter's newsletter since 1997, and has participated in many other HLAA initiatives. Prior to being elected president, she began serving on the HLAA Board of Trustees in 2009 and was elected secretary in 2010.
Bender commented in the press release, "I am deeply honored and humbled to have been chosen to serve as president of the HLAA Board of Trustees for the next 2 years. I look forward to working towards the day when Rocky Stone's vision of opening the world of communication to people with hearing loss through information, education, advocacy, and support becomes a reality, not for just a few, but for all people who have a hearing loss."
Other officers installed at the HLAA Convention were vice president James J. DeCaro, PhD; Treasurer Roy Kulick, MD; and Secretary Zachary S. La Fratta. In addition, Nancy R. Peterson has joined the board as a new member.
---
US Olympic Volleyball Team Member Competes with Hearing Loss

David Smith
David Smith, competing as #20 on the United States Olympic Volleyball Team in London, has not let hearing loss get in the way of his goals in life or for winning a gold medal in the Olympics.
The University of California Irvine graduate was born with severe hearing loss and has worn hearing aids since he was 3 years old.
Before leaving for the Olympics, Smith upgraded to an Oticon Chili hearing aid.
Although the US Volleyball team didn't win gold this year, David remains a shining example of a person with hearing loss who is living life to the fullest.
"David is an inspiration to all of us but especially to people with hearing loss," says Oticon president Peer Lauritsen. "When he returns from the Olympics, David will join with us on a patient education campaign that will talk about his performance with his new Chilis on and off the court."
---
Carrie Spangler Wins Phonak's 2012 Cheryl DeConde Johnson Award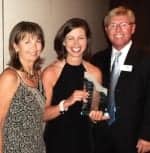 (L to R): Cheryl DeConde Johnson, EdD, FAAA; Carrie Spangler, AuD; Patrick Henry, director of pediatrics, government services and wireless, Phonak US.
Phonak has awarded the 2012 Cheryl DeConde Johnson award for Outstanding Achievement in Educational and Pediatric Audiology to Carrie Spangler, AuD, an educational audiologist in the Starke County Educational Service Center in Ohio since 1999.
Born with a bilateral hearing loss, Spangler brings a unique perspective to her work as an empathetic counselor and successful role model to children with hearing loss and their families, as well as to her colleagues and peers.
In its press release, Phonak noted Spangler's leadership in organizing and chairing continuing education events in Ohio, facilitating preceptor programs for graduate students from local universities, as well as her many presentations. Spangler is also credited with multiple hearing health initiatives that have positively impacted children with hearing impairment at the local, state, and national level. She graduated with a master's degree in audiology in 1998 and a doctoral degree in 2005.
The Cheryl DeConde Johnson Award honors educational and pediatric audiologists for their outstanding work and commitment to advocate and improve communication, as well as academic outcomes of children. The award is named for Johnson, who was the first hearing health professional to receive the award for her many years working as an educational audiologist and deaf educator.
Johnson, the honorary chairperson of Phonak's award selection committee, commented in the press release, "Dr Spangler's work and commitment to advocate and improve the communication and academic outcomes of children is outstanding by all measures.