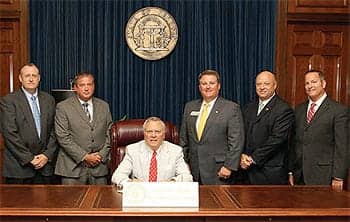 Attending the ceremonial signing (around seated Governor Nathan Deal, l to r) were Representatives David Knight (R-Griffin) and Ed Rynders (R-Albany), and Ralph Jackson, and Jeff Fargason, BC-HIS, ACA, of the Georgia Society of Hearing Professionals, and Jerry Usry of Usry Consulting Inc.
Georgia Reinstates Hearing Aid Tax Exemption
On May 11, Georgia Governor Nathan Deal signed HB 168 into law, which reinstates the sales tax exemption for hearing aids, effective immediately. In 2010, a comprehensive tax bill, HB 1221, had repealed the exemption for hearing aid sales, which made hearing aids fully taxable beginning January 1, 2011. Upon learning of HB1221's passage, the Georgia Society of Hearing Professionals, representing those professionals engaged in hearing aid dispensing, quickly activated to return the exemption to state law.
"This was an important victory for Georgia consumers and we are extremely pleased with the outcome," said Ralph Jackson, board member and past-president of the Georgia Society of Hearing Professionals, a chapter of the International Hearing Society (IHS). "As a licensed hearing instrument specialist, I see patients every day who struggle to afford much-needed hearing aids, and passage of this bill will help with some of the burden of the cost and bring Georgia in line with the vast majority of other states in terms of hearing aid taxation."
Scott Haug Hill Country Audiology Retreat
The 27th annual Scott Haug Hill Country Audiology Retreat is scheduled for September 29 to October 2, 2011, and will be held at the TBarM Ranch and Resort in New Braunfels, Tex. The line-up of speakers includes:
Cynthia Compton-Conley, PhD, Gallaudet University
Earl Johnson, PhD, US Dept of Veterans Affairs/East Tennessee State University
Robert Traynor, EdD, Audiology Associates Inc, Greeley, Colo
Ian Windmill, PhD, University of Mississippi Medical Center
Among the topics addressed will be telehealth, practice management, baby boomer demographics, ALDs/wireless connective technology, and development and application of prescriptive formulae. Those who attend the sessions are eligible to receive 12 hours of continuing education units for ASHA, AAA, IHIS, and Tier 1 ABA CEUs. For more information, visit www.scotthaug.org.
EarQ Now Offers 4-year Warranties on Branded Aids
The EarQ Group reports that all EarQ-labeled hearing devices now come with a standard 4-year warranty. Characterized in the announcement as the most significant offer in the company's history, the standard warranty is a unique program offered exclusively through EarQ that will be an added value for patients, providing them with security in their device's performance. The group reportedly completed a nationwide survey of over 1,000 private practice owners, and found that competitive challenges were identified as the number-one concern.
"Private practices are facing many challenges from the Internet as well as large chain competitors," says Ed Keller, president of EarQ Group. "Our new standard 4-year warranty is a fresh approach that shows your commitment to patients' hearing healthcare. Practices can now offer a powerful tool that sets them apart from the competition. In difficult economic times patients are seeking added value, and a standard 4-year warranty meets their needs and gives them peace of mind."
The EarQ Group offers a broad variety of business resources and support services, including value-based marketing, business tools, audiology support, and staff training, to practitioners nationwide. For more information, visit www.EarQ.com.
Sycle.net Announces Integration with CounselEar
Sycle.net has announced its system's integration with CounselEAR. Leveraging the new Sycle NOAH Sync tool, users can now launch the CounselEAR module from within the Sycle.net practice management system. They can then create the desired reports and seamlessly save them to their CounselEAR system, without ever leaving the software.
"It makes perfect sense for Sycle.net and CounselEAR to integrate. Both systems share a common goal aimed at increasing office efficiency and the productivity of hearing care providers," said Sycle.net's Marketing Director Peter Adams. "The more services and improved work flows we provide to our users, the better."
"We are very excited to join forces with Sycle.net to help make clinics more efficient and improve patient care," said Brian Urban, AuD, president of CounselEAR. "We feel that our online report writing tools are a great fit for Sycle.net's proven office management solutions."
Sycle.net reportedly has over 3,900 practices utilizing the software every day. The company's suite of office products includes Sycle.net Practice Management, Patient Financing, Sales Generation, Sycle Marketing Group, E-Claims, Sycle NOAH Sync, and QuickBooks Synchronization.
CounselEAR is an online tool that enables audiologists to rapidly create customized counseling summaries, professional audiologic reports, and chart notes. For more information, see Urban's article "Five Ways an Online Report Writer Helps Dispensing Offices" in the November 2010 edition of HR.