ADVOCACY
Smaldino and Sterkens Honored with Larry Mauldin Award for Excellence in Education Award
Beltone Electronics, Chicago, awarded the Larry Mauldin Award for Excellence in Education to Joseph Smaldino, PhD, and Juliétte Sterkens, AuD, at a gathering of friends, students, and colleagues during an event held at the same time as the American Academy of Audiology (AAA) Convention in Chicago.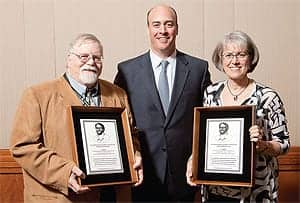 (L to r) Joseph Smaldino, PhD, Beltone President Todd Murray, and Juliétte Sterkens, AuD
The Mauldin Award is unique because honorees are solely nominated and selected by their industry peers. Generally, the award is given to a single individual each year. However, this year, the award committee decided that it could not choose between two deserving nominees.
"Beltone is proud to present this award to Dr Sterkens and Dr Smaldino," said Beltone North America President Todd Murray. "Their extraordinary contributions to the field of audiology and the hearing care industry are profound. We are grateful for their ongoing efforts to improve our industry through continuing education and innovation."
Smaldino has spent the majority of his career working in higher education, sharing his knowledge with future audiologists. He has held faculty appointments at the University of Minnesota-Duluth, Southern Illinois University, University of Northern Iowa, Northern Illinois University, and Illinois State University. His recent research and writings have focused on classroom acoustics and the impact of acoustics on listening and learning. In addition, he co-authored the ASHA guidelines relating to classroom acoustics and was on the working group that produced the 2002, 2009, and 2010 American National Standards Institute guidelines on classroom acoustics. The 2005 text, "Sound Field Amplification: Applications to Speech Perception and Classroom Acoustics," which Smaldino co-authored with Carl Crandell and Carol Flexer, is considered a standard resource for those working in the schools.
Born and raised in the Netherlands, Juliétte Sterkens is the co-owner of the Fox Valley Hearing Center, with locations in Oshkosh, Neenah, and Ripon, Wis. She also serves on the Hearing Loss Association of America (HLAA) and American Academy of Audiology (AAA) "Get in the Hearing Loop" Joint National Task Force. For almost 30 years, her passion has been helping persons with hearing loss, which led her to found the Fox Valley Hearing Loop Initiative. Sterkens advocates for hearing loops on a local, state, and international level through speaking engagements and by writing numerous articles supporting the use of this technology. With assistance from her husband, Max, she reaches out to hearing health care professionals, the audiovisual industry, church officials, and consumers. She has fostered hearing loop initiatives and installations across the country. Her efforts have resulted in more than 50 large hearing loop installations throughout Wisconsin—a number expected to double in 2011.
The Mauldin Award was created to honor the accomplishments of the late Larry Mauldin, especially for his work and commitment to education in the field of audiology. Presented annually since 1999, the award is given to an industry leader committed to continuing education and unselfishly giving back to the profession, the community, and those with hearing loss.
Blog Launched by Eight Hearing Industry Veterans
Eight prominent hearing professionals have launched a new blog, hearinghealthmatters.org. The blog's editor, Holly Hosford-Dunn, PhD, says that the new site is designed to be interactive and it will feature posts from hearing care providers, researchers, manufacturers, educators, and consumers. Hosford-Dunn has written many articles and books, and has also taught courses in marketing and practice management. In her spare time, she's earning a degree in economics at the University of Arizona.
The associate editor of hearinghealthmatters.org is David H. Kirkwood, who was editor-in-chief of The Hearing Journal from 1990 to 2010. Other contributors include HR Editorial Board members Wayne Staab, PhD, and Marshall Chasin, AuD, and hearing and tinnitus experts K. Ray Katz; Robert Traynor, EdD; Judy Huch, AuD; and Alan Desmond, AuD.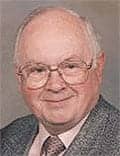 Bruce B. Knowles
In Memoriam:
Bruce B. Knowles
Industry expert and sales manager
Glen Ellyn, Ill—Bruce B. Knowles passed away March 31, 2011, in Glen Ellyn, Ill., at age 83. He was born May 9, 1927, in Oskaloosa, Iowa, and grew up in Iowa City, Iowa. He joined the Navy during World War II and then attended the University of Iowa. He worked as a studio engineer for NBC Radio in Chicago for 2 years. A resident of Glen Ellyn for over 55 years, he spent most of his career in the sales of subminiature microphones and components used in hearing aids and headsets, then in the sales of audiology testing machines. He worked for over 30 years as sales manager at Knowles Electronics, later joining Etymotic Research in a similar capacity. Later, he owned his own consulting business for 20 years. Being hearing-impaired for most of his adult life gave him a unique insight into the hearing industry and the products he sold. Bruce's close friendships with hearing aid design engineers and others in the hearing industry was a huge asset to all of the companies that he worked with and represented. Knowles had a passion for music and was the leader of the Retired Rhythm Rascals band, and member of the Music Makers band, playing keyboard, trumpet, or tuba. He was president of the Chicago Torch Club, elder at First Presbyterian Church of Glen Ellyn, and an avid photographer, and was involved in many civic organizations, including the Glen Ellyn Jaycees. He leaves behind his beloved wife Delores, three daughters, and step-son. In lieu of flowers, memorials may be made to the American Academy of Audiology Foundation at www.audiologyfoundation.org.