TOP NEWS and HEADLINES in July
Potential Drug Treatment Found for Noise-Induced Hearing Loss
New Cochlear Implant Could Improve Outcomes for Patients
Imaging Reveals How Brain Fails to Tune Out Tinnitus' Phantom Sounds
YouTube Sensation: Baby's Cochlear Implant Activation
ReSound's Alera Wireless Hearing Aid Coming to Market August 2
MP3 Players Linked with Short-Term Hearing Effects
Starkey Wins Awards for Sweep Technology on S Series iQ
Panasonic's Line of BTEs, RICs Coming to North American Market
Podcast: Tinnitus Research Topic of BBC Talk Show
Oregon Man Sues Over Alleged Hearing Loss Caused by Rodent Blasting
Defect in Cellular Process May Spur Balance Disorders
IHS to hold 59th annual convention in Orlando next month. The International Hearing Society (IHS) will hold its 59th Annual Convention and Expo from September 29 to October 2 at the Walt Disney World Dolphin Resort in Orlando, Fla. The meeting is expected to draw more than 500 attendees, including hearing instrument practitioners, audiologists, audioprosthologists, board certified dispensers, and other allied health professionals.

Attending professionals will have the chance to further their continuing education in specialty areas such as infection control, aural rehabilitation, federal dispensing laws, amplification, verification and validation, and modern hearing aids, and to participate in sessions focusing on the four principles of motivational interviewing. The meeting focuses on the latest research and technological advances in the field, and includes 15 seminars, as well as exhibit booths representing more than 40 manufacturers. During the 4-day event, 16 hours of continuing education are offered, as well as the annual membership meeting, the chapter leadership conference, the licensing board meeting, exhibit hall showcases, and the grand finale event that takes place at Disney's Hollywood Studios. For more information, visit www.ihsinfo.org.

NIDCD scientists develop new technique for assessing mechanical properties of tissues, including tectorial membrane and vocal cords. Richard Chadwick, PhD, and Núria Gavara, PhD, of the Section on Auditory Mechanics, National Institute on Deafness and Other Communication Disorders (NIDCD), Bethesda, Md, have implemented a new technique that allows them to study the mechanical properties of tissues at frequencies near the upper reaches of human hearing (about 20,000 Hz), which has never been possible before, all while preserving the tissue.

Instead of poking the sample, which often damages it, the researchers use high-frequency sound vibrations to tell them if a material is soft or stiff. They have modified their commercial atomic force microscopy (AFM) device to oscillate a microscopic bead only tens of nanometers above the surface of the tissue, oscillating at high frequency. Also, the oscillations of the bead are extremely small, less than 10 nanometers, so the researchers don't hear a thing. Even though the bead and the tissue are not in direct contact, the tissue surface disturbs the bead oscillation, which is reflected as a change in the bead's mass. If the tissue is rigid and the bead is hovering close to the surface, the increased mass is at its greatest, and the oscillations slow down, lowering the frequency. If the bead is farther away, the increase in mass is lower, and a smaller frequency shift results. Likewise, if the tissue is soft, there is a reduced increase in mass and a smaller frequency shift.

According to Dr Chadwick, the amount of force the new method exerts on the tissue sample in comparison to the standard method would be like comparing the weights of a penny and a gallon of milk; moreover, the force is exerted at the proper frequency. "It's a huge difference, so it's much better for preserving the sample," he says.

In addition, the researchers are now able to measure the properties of a tissue sample at acoustic frequencies similar to those of human hearing. Although sound frequencies have be used to study biological materials in the past—a technique called frequency-modulated atomic force microscopy—they could only be used to assess the properties of a single molecule versus an entire tissue sample.

Chadwick and Gavara are applying their new technology to study the tectorial membrane, the complex membrane overlying the sensory hair cells in the inner ear. In earlier work, they demonstrated that the tectorial membrane is arranged as a gradient, going from very stiff to very soft along the length of the membrane, which is about a quarter of an inch (see HR online news item, "It's Not Just About Hair Cells: New Research Shows Tectorial Membrane Plays More Active Role in Helping Us Hear").

Their new method now confirms these properties exist at frequencies similar to those of human hearing. Chadwick notes that the new method should be useful, not just for studying tissues that detect sound, but for measuring tissues used in the production of sound, such as the vocal folds, which is also a research interest of the NIDCD. The latest study is published in the journal Nature Methods.

Wind turbines may present a blow to hearing and health for some. A little-known phenomenon related to infrasound generated by wind turbines is making some scientists challenge the common wisdom that "what we can't hear won't hurt us." Infrasound is a subset of sound broadly defined as being lower than 20 Hz, which is the lowest pitch most people can hear. The whoosh of wind in the trees, the pounding of surf, and the deep rumble of thunder are natural sources of infrasound, and whales and other animals use infrasound calls to communicate because it carries over long distances. There is also a wide range of man-made infrasounds, including industrial machinery, traffic, and heating and cooling systems in buildings.

Alec Salt, PhD, and colleagues at Washington University in St Louis, whose work is supported by the NIDCD, have been using infrasound as a way to slowly displace the structures of the inner ear so that their movement can be observed. In their experiments, infrasound levels as low as 5 Hz had an impact on the inner ears of guinea pigs. Their study appears in the June 16 edition of Hearing Research online. "We were doing lots of work with low-frequency tones," says Salt, "and we were getting big responses."

What they were observing in the lab, however, didn't jibe with the scientific literature about hearing sensitivity, which was in general agreement that the human ear doesn't respond to anything as low as 5 Hz. Since human ears are even more sensitive to low frequencies than guinea pig ears, that didn't make sense.

Salt and a colleague conducted a literature search, focusing not on papers about hearing sensitivity, but on the basic physiology of the inner ear and how it responds to low-frequency sounds. During the search, Salt found anecdotal reports of a group of symptoms commonly called "wind turbine syndrome" that affect people who live close to wind turbines.

"The biggest problem people complain about is lack of sleep," says Salt, but they can also develop headaches, difficulty concentrating, irritability and fatigue, dizziness, and pain and pressure in the ear. Continuing his search, Salt began to see a way in which infrasound could impact the function of the inner ear, by the differences in how inner ear cells respond to low frequencies. When outer hair cells (OHCs) are stimulated by sound, special proteins contract and expand within their walls to amplify the vibrations. These vibrations cause the stereocilia on the tips of the inner hair cells (IHCs) to ripple and bend. These movements are then translated into electrical signals that travel to the brain through nerve fibers and are interpreted as sound.

Only IHCs can transmit this sound signal to the brain. The OHCs act more like mediators between sound frequencies and the IHCs. This wouldn't matter if the OHCs behaved the same way for all frequencies—the IHCs would respond to what the OHCs amplified—but they don't. It turns out that OHCs are highly sensitive to infrasound, but when they encounter it, their proteins don't flex their muscles like they do for sound frequencies in the acoustic range. Instead they actively work to prevent IHC movement so that the sound is not detected. So, while the brain may not hear the sound, the OHC responses to it could influence function of the inner ear and cause unfamiliar sensations in some people.

Salt and his colleagues still aren't sure why some people are sensitive to infrasound and others aren't. It could be the result of anatomical differences among individual ears, or it could be the result of underlying medical conditions in the ear that cause the OHCs to be ultrasensitive to infrasound.

Regardless, it might not be enough to place wind turbines farther away from human populations to keep them from being bothersome, since infrasound has the ability to cover long distances with little dissipation. Instead, Salt suggests wind turbine manufacturers may be able to re-engineer the machines to minimize infrasound production. According to Salt, this wouldn't be difficult. "Infrasound is a product of how close the rotor is to the pole," he says, "which could be addressed by spacing the rotor further away."

An article on this topic by Jerry Punch, PhD, and his colleagues at Michigan State University also appears in the July/August 2010 edition of Audiology Today. Articles by Wayne Staab, PhD, et al and Martin Lenhardt, PhD, about the other end of the sound spectrum—20 to 100 kHz, or "audible ultrasound" and ultrasound—and its application and potential threat to hearing appeared in the February and March 1998 editions of HR respectively.

Gene mutation that causes auditory neuropathy is identified. Researchers have identified a gene mutation that causes auditory neuropathy, according to scientists from the University of Michigan Health System Medical School, Ann Arbor, Mich, with colleagues from New York Medical College. In the study published online in the Proceedings of the National Academy of Sciences USA, U-M's Marci Lesperance, MD, and Margit Burmeister, PhD, led a team of researchers who examined the DNA of individuals from the same large family afflicted with the disorder. The researchers identified a mutation in the DIAPH3 gene that causes overproduction of a compound known as a diaphanous protein. In previous studies, hearing loss has been linked to a related gene that also affects a diaphanous protein (see March 12, 2009 HR Insider news story "Hearing Loss Gene Found"). Diagnosing auditory neuropathy requires specific testing, and it may be unrecognized if testing is not performed early in life.

"Since we previously knew of only two genes associated with auditory neuropathy, finding this gene mutation is significant," says Lesperance. "This discovery will be helpful in developing genetic tests in the future, which will be useful not only for this family, but for all patients with auditory neuropathy." The researchers investigated the gene by engineering a line of fruit flies that expressed an overactive diaphanous protein in the insects' auditory organ.

Burmeister says finding the genes causing such rare disorders is very difficult because researchers cannot look at many different families; instead, they have to rely on a single family that is often not large enough. But in this study the researchers used a multipronged approach. Rather than relying purely on genetic inheritance information, they combined this information with biological function regarding gene activity. "The approach we used here of combining genetic inheritance with functional information can be applied to identify the culprit genes in many other rare genetic diseases that have so far been impossible to nail down," says Burmeister, professor of psychiatry and human genetics. "We can now say we have a tool by combining several genomic approaches to find these genes."

The researchers are actively recruiting research subjects for studies to identify genes involved in genetic hearing loss and also for inherited neurological disorders. Those interested can sign up at www.umengage.org after searching on keywords neurological, deafness, or hearing loss. Funding for the study was provided by NIH and the Children's Hearing Foundation of New York.

ON Semiconductor acquires Sound Design Technologies Ltd for $22 million. ON Semiconductor Corp, Phoenix, a supplier of high-performance silicon chips for electronics firms, including the hearing industry, recently acquired privately held Sound Design Technologies Ltd (SDT), Burlington, Ontario, Canada, from an affiliate of Global Equity Capital LLC, in an all cash transaction for initial consideration of approximately $22 million with the possibility of additional earn-out proceeds of up to $10 million depending on certain revenue thresholds in 2010 through 2012. SDT is the former hearing instrument products portion of Gennum Corp, which was acquired in 2007 to form SDT.

"The acquisition of Sound Design Technologies solidifies our position as a leading supplier of ultra-low-power DSP technology for hearing aids and audio processing applications," says Robert Tong, vice president of ON Semiconductor's Medical Division. "In addition, the acquisition strengthens the company's talent base and adds an experienced design and applications engineering team for the audiology segment."

In 2004, AMI Semiconductor purchased DSPfactory, a spin-off of Unitron Hearing, that was headed by Tong. ON Semiconductor, which originated from Motorola's Semiconductor Components Group, purchased AMI Semiconductor in March 2008.
Gala Nets Nearly $7 Million for Starkey Hearing Foundation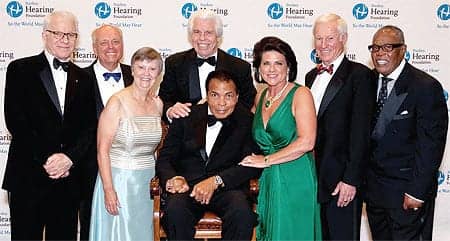 Honored among the dozens of celebrities helping the Starkey Hearing Foundation raise money for its worldwide hearing projects were comedian/actor Steve Martin, former Best Buy CEO Brad and Janet Anderson, Starkey founder Bill Austin, boxing champion Muhammed Ali, Foundation Treasurer Tani Austin, author/business leader Harvey MacKay, and soul singer Sam Moore.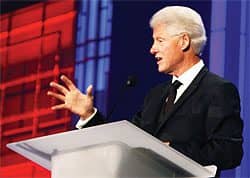 Former President Bill Clinton offered a stirring speech at the 10th annual star-studded So The World May Hear Gala.
Former President Bill Clinton stressed the critical need for community and global giving while addressing nearly 1,400 guests at the 10th Anniversary Starkey Hearing Foundation So the World May Hear Gala at the RiverCentre in St Paul, Minn."America now has a million foundations doing good community work around the corner and around the world," Clinton said. "Half of them established in the last dozen years. All are dealing with the same fundamental thing—the gap between what the private sector can produce and the government can provide. And people like us who have the means, ability, and understanding are supposed to fill that gap through these organizations," he added. "That is what the Starkey Hearing Foundation does so brilliantly."
Nearly $7 million in proceeds were generated at the one-night event through sponsorship, silent auction, and live auction bidding. "Words cannot even begin to express our feelings of gratitude for the generosity of so many," said Tani Austin, gala founder and Starkey Hearing Foundation treasurer. "The Starkey Hearing Foundation was able to raise almost half of our $15 million operating budget to better help children and their families around the world receive the gift of hearing."
"There is no greater gift we can give as we help these children stand at their true height so they can meet the challenges of life," said Bill Austin, CEO and founder. "And we couldn't do it without the help of so many."
Performers included Frankie Valli and the Four Seasons, the Doobie Brothers, and honoree Steve Martin with his band, the Steep Canyon Rangers. Basketball legend Magic Johnson called football greats Adrian Peterson and Larry Fitzgerald onstage to honor Muhammed Ali for pioneering a new level of notoriety and prominence for African American athletes. Red carpet celebrities included Norm Crosby, the evening's emcee, Sharon and Ozzy Osbourne, Paul Williams, Brad Childress, Dennis Rasmussen, Roy Williams, Bernard Berrian, and Josh Harding. For more information and photos, visit HR's online news article from July 30th.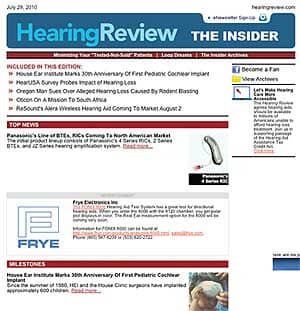 Get Your Weekly Edition of THE INSIDER
Every week The Hearing Review sends out THE INSIDER, a weekly FREE e-newsletter devoted to the top hearing-related news, research, product introductions, fitting topics, and marketing research stories that are influencing your business or practice, as well as the industry at large. [register]Sign up for your free subscription[/register].