Starkey Introduces New Pediatrics Program, Launches Hearing Innovation Mobile Tour
Photo by Will Campbell
Starkey Laboratories Inc, Eden Prairie, Minn, introduces Starkey Pediatrics, a new program developed using Starkey's evidence-based design approach. The program aims to provide hearing professionals with innovative hearing products and professional and patient support.
Only Starkey Pediatrics hearing aids are authorized to offer Nickelodeon characters from some of kids' favorite TV shows as part of the program. "We wanted to create the right kind of pediatric program, so we drew on the insight of pediatric audiologists across the country to help develop a comprehensive hearing program that delivers industry-leading hearing instruments, support, and materials," says Jerry Ruzicka, president of Starkey.
Starkey S Series iQ hearing instruments provide child-friendly features, including PureWave Feedback Eliminator, Live Real Ear Measurement, pediatric-specific Auto Path via Starkey's Inspire fitting software, and 2 years of free earmold remakes for children 17 and under.
Children will have the opportunity to include Nickelodeon characters from their favorite TV shows—including Dora the Explorer, Go, Diego, Go, SpongeBob SquarePants, and iCarly—on their earmolds. In addition to the Nickelodeon earmolds, multiple earmold colors and swirls are available, as well as a variety of tubing colors. Nickelodeon characters will also be featured on Starkey Pediatrics materials that accompany the hearing aids. For hearing professionals, the Starkey Pediatrics Program offers support and counseling materials for kids and families, as well as a new care kit and in-office materials—all showcasing the new Nickelodeon partnership.
The Starkey Hearing Innovation Mobile Tour's semi truck and trailer is traveling the nation starting April 19 in the San Diego area, and visiting cities across the country from west to east, hosting hearing care professional and consumer events throughout the summer. Some of the interactive elements on the unit include: a wireless demonstration, audio demonstration showcasing Voice iQ, the OtoLens product introduction, a Starkey On Demand demonstration, and hearing tests for patients. During the recent AudiologyNOW! expo, the vehicle was displayed on the USS Midway aircraft carrier at the Midway Museum in San Diego. A list of cities is posted on StarkeyPro.com.
The Hearing Review erroneously posted outdated information about American Hearing Aid Associates' annual convention in our April edition. Below is the correct information. We apologize for the error and any inconvenience it may have caused.
AHAA Convention: Success via Fundamental Business Principles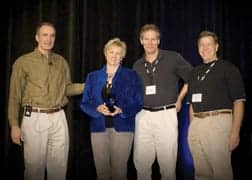 The winners of AHAA's Leadership Award together with AHAA CEO Vince Russomagno (at left): left to right, Kim and Douglas Bryant, and Frank Butts of Hearing Clinics of Virginia, Richmond.
Chadds Ford, Pa — Nearly 300 network associates and exhibitors attended American Hearing Aid Associates' 14th annual convention earlier this year in Dallas.
Despite the difficult economic environment, AHAA's message throughout the proceedings was that opportunity exists in all market conditions. CEO Vince Russomagno and President Tina Soika stressed that in their addresses, saying that the most successful practices coming out of the multiyear recession will be those that focus on executing well the fundamental business principles. AHAA calls it doing "All the Right Things," which was the theme of the meeting.
Using a new program format, the planners presented 25 highly interactive, hands-on workshops where attendees shared ideas and experiences with one another, more than just listening to solo presenters.
As in previous years, the sessions were divided into five tracks for owners/CEOs, directors of operations and practice managers, audiologists/dispensers, practice development representatives, and telemarketers/front office personnel.
Attendees gave the program overwhelmingly high marks for its scope, relevance, and immediate practical applications.
Major hearing aid manufacturers and software vendors were exhibitors, and many of them also gave program presentations.
AHAA's associate managers nominated top-performing practices in AHAA's nationwide network to receive Centers of Excellence awards. The top President's Award went to Lewis Breslau, AuD, Hearing Health Associates, New York; the Growth Award went to Chris Eckert, MS, Hearing Unlimited, Pittsburgh; and the Leadership Award to Kim and Douglas Bryant and Frank Butts of Hearing Clinics of Virginia, Richmond.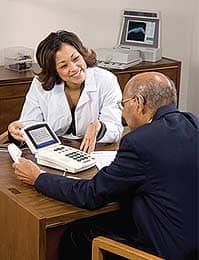 An audiologist explains how the CapTel 800i phone allows users to listen to the phone conversation, as they see and read captions of what the outside caller is saying.
Hamilton CapTel Joins Forces with HearUSA and Hal-Hen
A new marketing agreement between Hamilton CapTel, Aurora, Neb, and HearUSA Inc provides for HearUSA, West Palm Beach, Fla, to offer the Hamilton CapTel telephone through HearUSA's Web site and a nationwide network of hearing health care providers and hearing health care insurance subscribers. HamiltonCap Tel has also signed a distribution partnership with Hal-Hen Co Inc, Long Island City, NY, allowing hearing care providers to extend the benefits of Hamilton CapTel to their patients via Hal-Hen.
Hal-Hen has built a global network of more than 11,000 audiologists and hearing care professionals. "As we inform our hearing health care providers about the benefits of CapTel service, many express to us the critical need this product fills for their patients," said Joe Vespe, Hal-Hen's director of operations. Hal-Hen offers more than 4,000 products for patients and practices.
The Hamilton CapTel phone offers a free captioning service, displaying every word the caller says during the conversation, enabling users with hearing loss to listen to the caller's voice while reading written captions on the phone's display screen. Access to high-speed Internet service is required.
"As we expand our national presence, we envision CapTel filling a critical need for our customers and, through them, directly to patients across the country," said Jeremy Moser, director of network operations and www.hearingshop.com, HearUSA's retail Web site.
Hamilton CapTel will be included in the HearUSA Provider Advantage program, which leverages the buying power of HearUSA, with its network of more than 2,000 hearing health care providers nationwide. Through Provider Advantage, hearing health care providers can purchase CapTel products directly.
HearUSA operates 180 company-owned centers and a network of more than 2,000 hearing care providers. The company is also the administrator of the AARP Hearing Care program, designed to help millions of Americans aged 50-plus who have hearing loss.
Hamilton CapTel is a service of Hamilton Relay, a division of Hamilton Telecommunications.

EarQ Group Reaches Its 1000th Location
In the process of spreading its services nationwide, EarQ Group, Syracuse, NY, recently signed on its 1,000th location since the company was started in 2001.
The business assistance that is provided by EarQ Group helps practices to become more efficient and profitable even in recessionary times, say its owners. EarQ Group helps private hearing care practitioners in achieving their business goals while remaining autonomous. Members have access to practice support tools, such as marketing, brand exclusivity, audiology recruiting, retirement planning, simplified administrative support, and more.
EVENTS
Oregon Hearing Society Hosts Summer Event and Educational Seminars
The upcoming June meeting of the Oregon Hearing Society, Portland, will feature a variety of continuing education seminar topics presented by professionals, both local and from around the country. The event is to be held at the Resort at the Mountain, Welches, Ore.
On the evening of June 11, Jay Thurman, from Hearing Resources, Portland, will be presenting Hearing Assistive Technology: An Interfacing Primer for the Hearing Instrument Specialist.
On June 12, Neil Bauman, PhD, from the Center for Hearing Loss Help, Pa, will present Ototoxicity—The Evil Menace, in two parts. For the second seminar, Bauman will be presenting The Eerie World of Tinnitus and Other Phantom Sounds. To round out the day, Curtis Billings, PhD, of the Oregon Health and Science University and National Center for Rehabilitative Auditory Research, will be presenting a neuroscience perspective on Hearing Aid Acclimatization, Auditory Training, and Perception in Noise.
On June 13, James Jerger, PhD, University of Texas at Dallas/Callier, will be presenting The History of Audiology in the USA, followed by a Q&A.
AWARDS
Siemens Hearing Remote Control ePen Gets red dot Product Design Award
Siemens Audiology, Erlangen, Germany, with US headquarters at Siemens Hearing Instruments Inc in Piscataway, NJ, has been awarded the red dot award: product design, for its hearing instrument remote control, called ePen.
The international prize is awarded annually for products with exceptional design quality by a jury organized by the Designzentrum Nordrhein-Westfalen in Essen, Germany. This year, more than 1,600 participants from 57 countries took part, with more than 4,000 entries. The award-winning ePen is a remote control for Siemens hearing aids that is shaped like an elegant fountain pen; it allows hearing instrument wearers to discreetly adjust the volume and listening programs. By simply pulling it open and making a few small turns, wearers can easily set their hearing aids as desired.
The ePen works with Siemens Life, Pure, and Motion hearing instruments.
The red dot is the second design prize Siemens Audiology has received for its ePen remote control. The red dot is awarded to products that are judged to have outstanding design quality. The independent jury also evaluates criteria such as the degree of innovation, functionality, ergonomics, symbolic and emotional content, and the self-explanatory attributes of a product. The award will be presented on July 5 in Essen, Germany, as part of a gala event.