OPERATIONS
---
Starkey Donates Scholarship Funds to Trivia Challenge Winners
Starkey Laboratories Inc, Eden Prairie, Minn, has named the winners of the Starkey University Trivia Challenge played at AudiologyNOW! in Dallas:
Gallaudet University in Washington, DC will receive a $5,000 donation to their student scholarship program; second place went to Louisiana State University, which will receive a donation of $2,500; and in third place is Missouri State University, which will receive a $1,000 donation to their audiology doctoral scholarship fund.
The game was played by students more than 4,000 times. Students, faculty, and alumni answered 10 questions on auditory science, audiology history, and the company's newest technology, S Series with Drive Architecture. Some 65 universities competed.
---
Siemens Ventures Outside the Box at AudiologyNOW!
As an offshoot of AudiologyNOW!, executives and sales representatives from Siemens, Piscataway, NJ, furthered community betterment efforts through Siemens Science Day and a fund-raising event for the Susan G. Komen Foundation. They visited Lakewood Elementary School in East Dallas to promote math and science literacy in the classroom, challenging students to connect science, math, and technology to their everyday lives. In its fourth year, the program has reached more than 1,100 students. The following night, Siemens held a VIP customer event as a fund-raiser for the Susan G. Komen Foundation. Hosted at Eddie Deen's Ranch, the company made a donation to help support the continuing fight against breast cancer.
---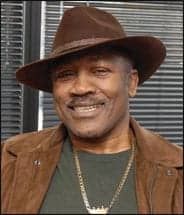 Joe Frazier
Boxing Champ Joe Frazier Knocked Out as Dual Wearer
Joe Frazier, 65, the Olympic and former world heavyweight champion, recently adopted the new high-tech Oticon Dual hearing device from Oticon, Somerset, NJ.
"When I work with the young boxing hopefuls, I need to be able to hold up my end of the conversation," Frazier says. "The noise in the gym can create problems for me. Hearing clearly in social and business situations is also important to me."
---
Williams Sound Expands European Presence with Distribution Partner, Humantechnik
Williams Sound, Eden Prairie, Minn, continues to expand its global footprint in the European market through Humantechnik—a European distribution partner serving Switzerland, Austria, France, Germany, and the Netherlands—with commercial sound systems and assistive-listening devices. Humantechnik provides Williams Sound with strategic relationships in an established network of systems integrators—delivering the high-quality FM, large area infrared, loop, and assistive devices for solutions in the tour, language, interpretation, and hearing accessibility markets. Humantechnik has a 25-plus year track record in the hearing assistance market.
---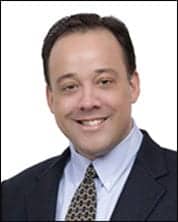 David Schaer
David Schaer Takes Reins as President of Computers Unlimited
David Schaer was recently named president of Computers Unlimited, Billings, Mont, a software provider for audiology and hearing aid clinics and developer of TIMS Software. The move follows a series of enhancements to the TIMS product, including a new branding image and the release of the latest version of their audiology product, TIMS Software version 5.1.
---
EVENTS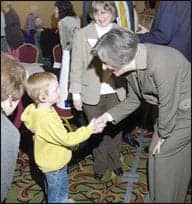 Rep Allyson Schwartz (D-Pa) greets attendees of the Congressional Brunch.
Pennsylvanians Applaud Rep Schwartz's Backing of Hearing Aid Tax Credit
Some 180 Philadelphia-area residents recently gathered in Fort Washington, Pa, to demonstrate their support for the Hearing Aid Tax Credit (HR 1646) and to thank Rep Allyson Schwartz (D-Pa) for her original cosponsorship of the bill. The event was hosted by the Pennsylvania chapters of the Hearing Loss Association of America (HLAA) and the AG Bell Association for the Deaf and Hard of Hearing (AG Bell), with support from the Pennsylvania chapter of the International Hearing Society (IHS) and Hearing Industries Association (HIA).
Schwartz says that health care reform is an important part of the Congressional agenda this year, and that this would be a good time to enact the hearing aid tax credit. Known as a health care expert, she is one of 10 House Ways and Means Committee members who have cosponsored the legislation—a record amount of support from the Committee that has jurisdiction over the legislation.
The brunch was the latest in a series of grassroots initiatives in support of the hearing aid tax credit sponsored by HIA in partnership with HLAA, AG Bell, and IHS. Other successful events have been held in California, Nevada, Texas, and western Pennsylvania.
---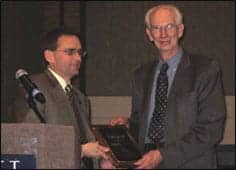 NASED President Steve Wood with George Frye, founder of Frye Electronics, who accepted NASED's Lifetime Achievement award.
NASED Convenes Annual Meeting In Conjunction with AudiologyNOW!
Steve Wood, president of the National Association of Special Equipment Distributors (NASED), presided over the meeting and provided the treasurer's report. Board elections were completed: Mark Becker, treasurer; Greg Ollick, Jr, president-elect; and Scott Schulz and Brian Hough confirmed for a second term in their current positions.
The NASED Lifetime Achievement award was presented to George Frye, founder of Frye Electronics, for his development of the FONIX test box and real ear measurement systems, and his pioneering work and lifelong dedication to the field of hearing aid testing equipment and standards.
---
Tune In To BHI's Better Hearing and Speech Month 2009 Campaign
The theme for Better Hearing and Speech Month in May is "Listening Up in a Down Economy," and the campaign focuses on how hearing health issues affect job security, performance, and employment options. The Better Hearing Institute (BHI), Washington, DC, urges hearing care professionals nationwide to help kick off the campaign. Visit the organization's Web site (http://www.betterhearing.org/professionals/turnkey09.cfm) to download the 2009 hearing care professional local media kit.
---
CONFERENCES
25th Annual Scott Haug Hill Country Audiology Retreat
"Going Haug Wild in '09!" the 25th annual Scott Haug Hill Country audiology retreat, is scheduled for September 17 to 20, at the T Bar M Ranch and Resort in New Braunfels, Tex. Marlene Bagatto, AuD, will discuss the fitting of frequency-shifting technology and other pediatric topics; Ken Henry, PhD, will discuss vestibular assessment and implementation; Patty McCarthy, PhD, will review aging and hearing loss, and aural rehabilitation; Jerry Northern, PhD, will discuss the use of fitting tools, such as datalogging and virtual environments, speech mapping, and other verification procedures; and Gus Mueller, PhD, will present on evidence-based innovations. The "Sturgis Rally of Audiology" will provide opportunities for stylin' with your fellow audiologists, whether it's during the golf scramble, or while tubing on the Comal River, or dancing the night away at the theme dance. For more information, visit www.scotthaug.org.
---
Florida Society of Hearing Care Professionals Plans 2009 Convention
The Florida Society of Hearing Healthcare Professionals has scheduled its annual convention on July 17 to 19 in Clearwater Beach, Fla, at the Sheraton Sand Key resort. The organization will offer 10 CEU hours, including 6 hours of mandatory requirements for Florida licensure, and a course in cerumen management.
The event features hors d'oeuvres in the Exhibit Hall on Friday night, breakfast with exhibitors on Saturday morning, the George Martinez Awards luncheon, a Saturday night gala event with a silent auction, and hospitality suites sponsored by manufacturers. The membership meeting includes updates on legislative and legal issues, and an election on the slate of officers who are up for renewal. Convention packets will be distributed this month. For more information, contact Neil Waingrow, executive director, at (954) 553-4045.
---
AWARDS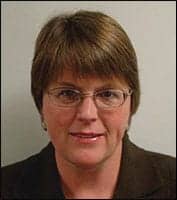 Catherine Palmer, PhD
Beltone Honors Catherine Palmer with Larry Mauldin Award
Beltone Electronics, Glenview, Ill, presented the Larry Mauldin Award for Excellence in Education to Catherine Palmer, PhD, at a special event at AudiologyNOW! Honorees are solely nominated and chosen by their industry peers.
"I can't think of anyone more deserving of this award than Dr Palmer," said Todd Murray, president, Beltone North America. "Her extraordinary contributions to audiology education in the hearing care industry are profound. We are grateful for her ongoing efforts to improve our industry through continuing education and innovation."
Palmer serves as the director of audiology and hearing aids at the University of Pittsburgh Medical Center and is an associate professor in the Department of Communication Science and Disorders at the University of Pittsburgh. She conducts research in the areas of adult auditory learning post hearing aid fitting as well as matching technology to individual needs. Palmer teaches graduate level amplification courses at the University of Pittsburgh, where she is also the editor-in-chief of Seminars in Hearing. In her commitment to hearing as it relates to musicians, Palmer opened the Musicians' Hearing Center at the University of Pittsburgh Medical Center in 2003, and she has focused on community hearing health since that time—including a partnership with the Pittsburgh public schools and the Pittsburgh Symphony, promoting hearing protection for young and professional musicians.
The award honors the accomplishments of the late Larry Mauldin, most notably for his work and commitment to education in the field of audiology. Presented since 1999, the award is given to an industry leader committed to continuing education and unselfishly giving back to the profession, the community, and individuals with hearing impairment.