Cochlear Implant Receives CMS Coverage
Cochlear Americas, Denver, recently announced that its Baha® system, an osseointegrated auditory implant system, is now covered by Medicare under a new policy issued by the Centers for Medicare and Medicaid Services (CMS).
Cleared by the US Food & Drug Administration since 1996, the Baha system—consisting of a mastoid implant and detachable sound processor—was previously classified as a hearing aid by Medicare and, therefore, not covered. In November 2005, however, CMS revised its definition of hearing aids, and initiated coverage for the system, effective November 10. As of December 12, Medicare carriers were able to accept and pay claims under the policy.
The Baha system is an implantable device available for individuals suffering from conductive or mixed hearing loss, as well as single sided deafness (SSD). According to Cochlear Americas, it is the only treatment for hearing loss that works through direct bone conduction, allowing sound to bypass the outer and middle ear to reach the cochlea directly.
Since Cochlear Limited and its US headquarters, Cochlear Americas, launched the world's first cochlear implant system more than 20 years ago and added the Baha system to its product offerings in 2005, more than 90,000 hearing-impaired individuals across the globe have been implanted with the companies' devices.
---


Kristi Albers


Russell Kacer


Yvette Duran
Web Site Promotes, Adds Staff
Audiology Online, San Antonio, Tex, promoted Russell Kacer to marketing director. Kacer's new responsibilities will include advertising campaign management, convergent Web analytics, and other marketing research-based projects. He will also remain heavily involved with the Audiology Online Corporate Partners and their E-Learning efforts.
Kacer joined Audiology Online in early 2005 and has assisted in managing the E-Learning platform. His educational and professional background is related to technology marketing.
Audiology Online also hired Kristi Albers as its E-Learning manager, and Yvette Duran as software development engineer.
Albers will offer support to Audiology Online's E-Learning department in efforts to ensure customer satisfaction and to assist corporate partner companies in developing a more robust library of online event offerings. Albers is a former product training and education coordinator at a hearing aid manufacturer.
Duran will administer the maintenance and operations of the Web site. She will also be involved in assessing the platform for new and updated features to improve the visitor's overall experience.
Web Site, Academy Partner To Offer Online Education
Audiology Online, San Antonio, Tex, recently partnered with the Canadian Academy of Audiology (CAA) to provide continuing education programs to CAA members via the Internet. CAA members can now access more than 250 online activities provided by Audiology Online and earn continuing education equivalents (CEEs).
CAA President Stacey Weber said members have been asking for online learning.
Audiology Online is a news, education, and information source for the hearing health care profession. The Web site includes a continuing education platform, job listings, Web site services, articles, and news items.
CAA is a professional organization dedicated to enhancing the audiology profession, as well as the provision of quality hearing health care and education to those with, or at risk for, hearing and/or vestibular disorders.
A library of future accredited events offered by Audiology Online can be found at www.audiologyonline.com. N
---
Hearing Loss Organization Changes Name, Launches Online Program
The board of trustees of Self Help for Hard of Hearing People (SHHH), Bethesda, Md, recently voted to change the name of the organization to the Hearing Loss Association of America.
The board made the decision during its fall meeting in November. In a statement, Terry D. Portis, EdD, executive director of SHHH, said the name change will allow the organization to better communicate its message, fulfill its mission, and "position itself to meet the needs of a new generation of people with hearing loss while continuing to serve the constituents who rely on us today."
The association's mission is to open the world of communication to people with hearing loss through information, education, advocacy, and support.
Portis said SHHH expected to complete its transition to the Hearing Loss Association of America in March.
In December, the association launched an online education program, the American Academy of Hearing Loss Support Specialists™. The association said the distance-learning academy is the first of its kind in the United States, and is targeted to individuals who provide support for people with hearing loss on a professional or voluntary basis. The academy will help build those individuals' knowledge about hearing loss among the public, increase understanding, improve services, and enhance the professionalism and credibility of those who provide support services to people with hearing loss and their families. Upon successful completion of the program, graduates will be awarded the Certificate in Hearing Loss Support.
On January 1, Scott Bally, PhD, of Gallaudet University, Washington, DC, became the academy's curriculum consultant. The Academy Advisory Board, which oversees the academy's program content and integrity, includes some of the most prominent leaders and authors in the field of hearing loss, including Portis; Teresa Blankmeyer Burke; Paul E. Hammerschlag, MD, FACS; Michael Harvey, PhD; Patricia Kricos, PhD; Rose Aird Minette, MA; and Sam Trychin, PhD.
The academy is currently accepting applications from the public, and launched its first public class on December 6, 2005.
---
Companies Make Supply Agreement
MedRx Inc, Largo, Fla, a manufacturer and developer of advanced computerized testing and diagnostic instrumentation for the audiology and hearing health care markets, recently announced a supply agreement with Audigy Inc for its full line of audiometric instrumentation.
Members of the Vancouver, Wash-based Audigy Group, LLC, business network receive preferred pricing on equipment and services as a valued-added benefit of membership to the group. New generations of computer-based microtechnologies recently introduced by MedRx to the hearing industry have been added to the product line mix available to Audigy Group members.
---
Organizations Honored for Solutions to Excessive Noise Exposure
The European Agency for Safety and Health at Work, Bilbao, Spain, honored seven organizations with its European Good Practice Awards 2005, which recognize the best practical solutions for the prevention of noise exposure.
The European Union (EU) established the European Agency for Safety and Health at Work to help meet the information needs in the field of occupational safety and health. Its mission is to "improve the lives of people at work by stimulating the flow of technical, scientific, and economic information between all those involved in occupational safety and health issues."
In December, EU policymakers, social partners, and leading safety and health experts met in Spain to discuss how to better protect European workers from noise, and to award organizations that have implemented effective solutions. The summit, jointly organized by the European Agency for Safety and Health at Work and the UK Presidency of the European Union, was the culmination of the "Stop that Noise!" campaign in 25 EU member states, as well as the European Free Trade Association and candidate countries.
The winners of the European Good Practice Awards 2005 include new low-noise concrete-processing methods from Germany and France, a nightclub design project from Sweden, tools from Denmark to protect farmers, a Dutch example of how to calculate the most cost-effective noise solution, and a training project from the United Kingdom aimed at orchestral musicians.
According to the agency, as many as 60 million workers in the EU are considered to be exposed to excessive noise at work. The agency states that noise-induced hearing loss is among the most commonly reported occupational diseases in the EU. It is also one of the most costly, with billions of euros paid each year in compensations and in indirect costs resulting from sick leave, lower productivity, and accidents due to impaired communication because of noise.
---

Microsonic Inc's new building houses its corporate headquarters and full-service earmold laboratory.
Company Gets New Headquarters, Laboratories
Microsonic Inc, the full-service earmold laboratory, recently moved into a new corporate headquarters/laboratories building, in a suburb of Pittsburgh. The one-story, 15,000-square-foot facility brings together virtually all company operations under a single roof. Microsonic's research and development laboratory and its fast-growing accessories division will have cutting-edge, state-of-the art equipment and space to grow.
---
Foundation To Provide Hearing Aids to Underprivileged in Four Countries
The Starkey Hearing Foundation, Eden Prairie, Minn, planned to complete seven major hearing mission trips over the course of 10 weeks in the beginning of 2006 through which it would provide an estimated 6,000 hearing aids to 3,500 adults and children in four countries.
"We are truly delighted to be able to start off 2006 by giving the gift of hearing to thousands of people in need," said William F. Austin, founder of the Starkey Hearing Foundation.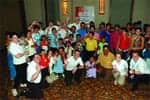 Representatives from the Starkey Hearing Foundation participate in a mission trip to Nicaragua.
Starkey has aided the world's underprivileged, especially children, through its internationally recognized mission program and its domestic program, Hear Now, since 1973. Since 2000, the Starkey Hearing Foundation has provided more than 130,000 hearing aids to those in need around the world.
The recently announced mission trips will include stops in Managua, Nicaragua; Antigua, Guatemala; Caracas and Margarita Island, Venezuela; and Mexico City, Monterrey, and Reynosa, Mexico. Mission trips are paid for by donations to the foundation. Every year at the foundation's annual "So the World May Hear" Awards Gala, attendees can bid during a live auction to fund a mission trip. Sponsors of this year's mission trips include Knowles Electronics, a provider of devices and accessories to the hearing health care industry, which is funding the Nicaragua mission; Taylor Corporation, a holding company in Minnesota, which is funding the Guatemala mission; Starkey Texas, whose hearing aid customers are funding the Venezuela missions; Royal Caribbean Cruise Lines, which is funding the Mexico City mission; and Omni, a division of Starkey, and AMI Semiconductor Inc, a digital products designer and manufacturer, which are funding the Monterrey and Reynosa, Mexico, missions.
The Starkey Hearing Foundation completed six similar mission trips in November and December 2005 that resulted in 4,000 patients receiving hearing aids. N
---
Invention for Hearing Impairment Makes "Amazing" List
In its annual look at inventions across various fields, Time magazine named the Ear Level Instrument (ELI) from Starkey Laboratories, Eden Prairie, Minn, one of 40 examples of "inventive genius" in 2005.
The Ear Level Instrument (ELI) attaches to the base of hearing instruments.
"It was exciting and a privilege to be selected as one of 40 products in an astounding field of inventions. Starkey is especially proud of the design team that created this practical solution that promises to have such far-reaching impact," says Jerry L. Yanz, PhD, FAAA, senior trainer with Starkey's Education and Training Department.
Time spent more than 6 months looking at inventions in such fields as electronics, aeronautics, medical technology, sports equipment, toys, clothing, and food, in search of "the newest—and most inspired—ideas of the year" before releasing its "Most Amazing Inventions of 2005" issue in December.
Work on ELI began in June 2004. "Starkey's general goal was to offer a new solution to some of the challenging communication situations hearing aid wearers encounter," Yanz says. "Within that general framework, we targeted two specific goals—improved usability of telephones, especially digital mobile phones, and improved signal level and signal-to-noise ratio from a variety of audio sources. And we wanted to achieve these goals with a device that is secure, wearable, easy to use, and affordable."
According to Starkey, ELI is the first device that turns hearing aids into wireless headsets. It is designed to eliminate the interference that hearing instrument users encounter when using portable devices, such as cell phones. When used with Bluetooth®-enabled phones, ELI automatically overrides the hearing instrument's microphone signal, essentially turning the instrument into a wireless cell phone headset, thereby improving the instrument's sound quality and clarity while eliminating feedback and static problems.
ELI, the first in what will be a complete line of wireless applications from Starkey, is currently designed for behind-the-ear (BTE) hearing instruments. The device attaches to the base of the hearing instrument. ELI requires no power from the instrument; instead, it is powered by its own rechargeable lithium-ion battery. Each charge offers 140 hours in stand-by mode or 2.5 hours of continuous use.
Yanz says the specific target user for ELI is a current hearing aid wearer who is "active, mobile, and with it, which is to say, one who is motivated to use current communication technology to its fullest."