CONFERENCES
2nd Phonak Virtual Audiology Conference 2008
The second Phonak Virtual Conference (www.phonak.com/virtualconference) will take place May 19-21, with Phonak expecting up to 1,000 participants from around the world. More than 30 international speakers and scientists are scheduled to present live their latest research results in English, French, German, Spanish, and Portuguese. For those unable to attend live lectures, participants have an additional 30 days on the conference platform to listen to the recordings and submit quiz results for obtaining CEU/CPD points.
Phonak's Virtual Conference is designed to allow participants to take part from their office and home, or on the road from hotels, and listen live to more than 30 presentations focused on the latest results in audiology. For all the English lectures, accreditation points for different international professional bodies will be offered. After the presentation, each participant can interact with the presenters and ask questions or submit comments. Missed presentations can be watched by accessing recordings. Information and presentation handouts are accessible to download. Several forums open to all participants offer another possibility to interact with colleagues and audiologists from around the world.
Those who wish to participate in the event will need broadband Internet access, headsets or speakers, and the latest Flash Player.
Among those who will speak in English for the event are Dave Fabry, Brian Fligor, Lorraine Gailey, Claes Moller, Michael Valente, Robert W. Sweetow, Wendy McCraken, Anu Sharma, Tracey Adams, Teresa Ching, and Hugh McDermott.
For more information, visit www.phonak.com.
Arkansas Hearing Society Convention
A gathering July 10-12 marks the 50th year for the Arkansas Hearing Society Convention, set to convene at The Peabody Hotel in Little Rock, Ark. The program for this year includes presentations by Robert Sweetow, PhD, Charles Berlin, PhD, and Ruth Bentler, PhD.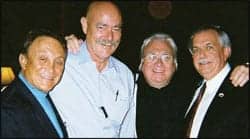 Drs Charles Berlin, Mead Killion, and Gus Mueller with Arkansas Hearing Society President Gary Pearson at the organization's annual meeting in 2007.
"We are very proud in Arkansas to have an exceptional dispenser/AuD/audiologist relationship, which seems to be growing even stronger because of the caliber of lecturers that we are able to have speak," says Gary Pearson, president of the Arkansas Hearing Society (AHS). "We are expecting an even bigger crowd this year because of the strength of our program," Pearson adds. Last year's event drew more than 110 audiologists and dispensing professionals from seven states and featured Berlin, Mead Killion, PhD, and Gus Mueller, PhD.
AHS reports the 2008 convention will offer 12 continuing education hours, and approval has been applied for from ASHA, IHS, and the states of Arkansas, Louisiana, Mississippi, Missouri, Oklahoma, Tennessee, and Texas. Topics at this year's event include "A Critical Analysis of Tinnitus Management Procedures," "Hearing Aids: 'High Technology Options for Children and Adults," and "Beyond Amplification: LACE (Listening and Com­munication Enhancement)."
The convention is scheduled to begin with a general membership meeting Thursday evening with continental breakfasts hosted Thursday and Friday mornings. Lectures will begin at 8:30 am and lunch is furnished Thursday and Friday. There will be a cocktail reception Friday night, and the final session concludes Saturday at 5 pm.
For more information, contact LeAnn Jackson, MS, at or at (501) 454-9964.
California Academy of Audiology
The California Academy of Audiology will host its 9th Annual Conference September 11-13 at the Radisson Hotel Sacramento. Audiologists from Arizona and Oregon are also invited, and they will have the opportunity to earn CEUs at the conference.
Keynote speaker for the event will be Patrick Feeney, who will assume the office of president of the American Academy of Audiology (AAA) on July 1. Highlighted speakers will include AARP California State President Jeannine English, and Charlotte Moore, PhD, Pacific Neurophysiological Systems—one of the first audiologists to do intraoperative monitoring. Robert Sweetow, PhD, director of audiology for UCSF Medical Center, will also be a featured speaker.
Highlighted topics for the conference will include genetics, a wireless technology round table, and a cerumen management workshop. Preconference training is scheduled for September 10 with workshops conducted by HIC representing Widex, Phonak, and Siemens.
Pending CEUs: 21 hours for AAA/SLPAB; 3 hours for tier 1 ABA; and 11.5 hours for HADB. For more information, visit www.caaud.org or call (310) 821-6179.
International Conference on Cell Replacement in the Inner Ear
The 2008 International Conference on Cell Replacement in the Inner Ear, June 12-15 in Bethesda, Md, will serve as a forum to stimulate research in regeneration biology of the cochlea, vestibule, and primary neural pathways.
Conference attendees will be exposed to the latest advances in regeneration research methods, both in the ear and in other systems, from investigators around the world. All potential methods to restore function will be discussed including spontaneous and induced regeneration, genetic modification, stem cells, viral vectors, growth factors, and delivery systems.
The conference content and organization reflect the commitment of the Deafness Research Foundation to accelerate progress in biologic methods to hasten the eventual development of treatments that may reverse the effects of damage and disease in the inner ear. The conference is open to all interested scientists, clinicians, and students. To see the full conference program and register online or submit an abstract, visit www.drf.org.
CHARITY
Starkey and NBA Join to Provide Hearing Aids for Needy Children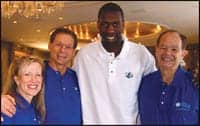 Debbie Wright, Starkey; Dennis Hansen, Starkey; Julian Wright; Glenn Taylor, owner of Minnesota Timberwolves.
Starkey Hearing Foundation partnered with NBA All-Stars and legends, as well as WNBA players and other celebrities, to fit 150 children with hearing aids in New Orleans on February 17. This was the second partnership between Starkey and NBA Cares, following an October 2007 event at which Minnesota Timber­wolves players and team owner Glenn Taylor distributed hearing aids to more than 1,000 needy children in Istanbul during NBA Europe Live 2007.
NBA legends who attended the New Orleans event included Karl Malone, Jerome Williams, Julian Wright, Sam Perkins, and Jim Hardaway. Participating on behalf of the WNBA was Tamika Catchings. Other participants included NBA Commissioner David Stern and international star of martial arts films, Jet Li.
Starkey reports that since 1973 the company has been providing hearing instruments to the world's underprivileged—especially children—through its internationally recognized mission program and its domestic program, Hear Now. In late 2007 the foundation launched the Sound Affects media campaign with public service announcements to educate consumers about responsible listening. The foundation reports it provided more than 50,000 hearing instruments globally from February 2007 to February 2008 and, since 2000, has distributed more than 240,000 hearing instruments to persons in need.
For more information, visit www.sotheworldmayhear.org.
INTERNET
"Women In Audiology" Moves Online
Oticon Inc is making a portion of the 2007 Oticon Women in Audiology Conference available online with a video recording from the conference accessible through the Training and Education Programs link at oticonusa.com. Women in Audiology: Communicating with Power and Influence features conference presenter Jan Fraser, founder of WomensConference.org and author of the Women's Success Journal.
The online course is designed to offer practical advice on becoming more assertive and generating an aura of authority, confidence, and genuine self-esteem. Among the topics covered in the 1-hour video are exploring self-expression, self-talk, and personal communication style. Fraser provides practical guidelines to increase credibility when speaking and to ensure that verbal cues match body language.
"Providing video courses online is a knowledge-sharing innovation that we are pleased to bring to hearing care professionals," says Peer Lauritsen, Oticon Inc president. "The ability to see and hear Jan Fraser present this valuable professional coaching session is an incredible enhancement of the learning experience."
Women in Audiology: Communicating with Power and Influence is free and is approved for 1 hour of continuing education from AAA and IIHIS.