Denver—The American Academy of Audiology (AAA) held its 4-day 2007 convention AudiologyNOW! April 18 to 21—an event that drew more than 7,400 attendees, according to the organization, with more than 6,000 audiologists attending. The convention was highlighted by numerous learning sessions, more than 200 exhibits, and a general assembly that showcased the academy's leadership and objectives as well as the fun side of audiology.
At the AudiologyNOW! General Assembly, legendary pediatric audiologist and Denver native Marion Downs, MA, welcomed attendees to town. She presented her perspective on the enduring need to treat hearing loss in the young to achieve optimal language development, and focused on some of the important progress made by Colorado audiologists as well as advances made in the field of audiology in general.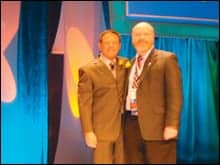 AAA President Paul Pessis, AuD (left), presented Craig Newman, PhD, with the AAA President's Distinguished Service Award for Newman's work on the organization's strategic documents.
AAA Program Chair Sharon Sandridge, PhD, provided an overview of the convention and the convention's Discovery Zone, which featured interactive exhibits about the ear and hearing. She also noted that, consistent with the convention's theme of hearing loss prevention, preconvention activities included 200 children visiting the exhibit and having their hearing checked, plus an all-day, hands-on workshop for K through 12 teachers to learn about noise-induced hearing loss and tinnitus in children. Additionally, 30 audiologists visited the classrooms of more than 1,200 students to educate them about hearing-related issues.
Accreditation. AAA President Paul Pessis, AuD, spoke on the need for AAA to maintain an accrediting body in order to be a truly autonomous profession that is member driven. The academy's Accreditation Commission for Audiology Education (ACAE) is striving to become the sole accrediting body for audiology. The long-established Academic Accreditation in Audiology and Speech Language Pathology (CAA), which has been funded by the American Speech Language Hearing Association (ASHA) and represents the historic accreditation vehicle for audiologists and SLPs, has locked horns with the ACAE, ,created and funded by AAA and the Academy of Doctors of Audiology (ADA). The latter two organizations were the driving forces behind making the AuD the entry-level degree in the profession (in opposition to ASHA), and have argued that ASHA—through the CAA—should no longer be in control of the accreditation body for audiology. With this in mind, AAA created the ACAE, which would also unlink the ASHA CCC-A certification from accreditation. The battle has been acrimonious at times, with neither side willing to yield much ground.
Turn It to the Left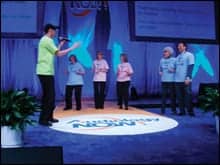 Benjamin Jackson entertained the General Assembly with his rap song "Turn It to the Left" and was aided by audiologists-turned-rap dancers Sharon Sandridge, Kadyn Williams, Sharon Kujawa, Marion Downs, and Paul Pessis.
One of the highlights of the General Assembly was a rap song by 26-year-old Benjamin Jackson, a classically trained musician and Harvard graduate in linguistics. It was about the dangers of noise exposure and loud music. Lyrics to Jackson's song, "Turn It to the Left," had the audience singing, laughing, and applauding. They included:
It ain't no fun, man, it ain't no fun
When you're 20 years old but your ears are 81.
You won't know what it's like to be hearing this track
When your hearing is all muffled and the beat is whacked.
So if you don't want to lose it, turn it down don't wait
Because you should hear with your ears in their original state.
Once the damage is done it's done forever
Your ears can get worse but they can never get better.
(chorus) Turn it to the left…

Now tell me what can I do to protect myself and make sure I'm maintaining good aural health?
You got one set of ears to last your whole life
So listen up close and follow my advice:
Protect your ears when you hear loud sounds
When you're listening to music turn the volume down,
Use good headphones, and don't listen too long
Get your hearing checked—and memorize this song.
(chorus) Turn it to the left…
Jackson received a standing ovation from the appreciative audience and was called back for an encore at the end of the general session—this time accompanied by several "rap dancers," including 91-year-old Downs, Sandridge, and AAA President Paul Pessis.
"A successful accredition body must be autonomous in decision making," said Pessis. "And for its role to be relevant, it must interface with other aspects of the profession, including the development of professional standards. But with the development of [the ACAE] model, however, comes the fiscal responsibility of the audiology profession to support an accreditation mission that is expensive but is a necessary and very valuable undertaking."
"Additionally, ACAE was an opportunity for audiology to fully integrate the educational foundation of the profession into our vision for autonomy," said ACAE Chair Ian Windmill. "The ACAE has developed and adopted educational standards. We've also developed policies and procedures consistent with the US Department of Education and the Council of Higher Education Accreditation Guidelines. We have created a Web-based computerized system that is not only unique in health care but is the first of its kind for any profession anywhere."
Central Michigan University (CMU) and Washington University in St. Louis volunteered to be the first universities to undergo the ACAE accreditation process, and the new accrediting body reported that it would begin accepting applications from other universities beginning in July. On the first day of the convention, the ACAE board of directors unanimously voted that CMU be approved for accreditation, making it the first university to be accredited under the program. Windmill presented Jerry Church, PhD, director of the CMU program, with a plaque commemorating the event.
Reimbursement. The Academy, along with ADA and ASHA, has been involved in petitioning the Centers for Medicare and Medicaid Services (CMS) regarding reimbursement. The American Medical Association (AMA), which is in charge of the current procedural terminology (CPT) codes that designate reimbursement of health care services, assigns a relative value unit (RVU) to every CPT-approved procedure. The RVU plays a large role in the level and amount of reimbursement, and it is based on three general components: cognitive work, practice expense, and malpractice expense.
"Most of the procedures [audiologists] perform are currently not given credit for [the cognitive work component], "said Pessis. "Upon the elimination of the Non-physician Work pool, our members were invited by the AMA and CMS to participate in a formal RVU update survey process to gather data and help redefine the payment methodology for audiology. This was an unprecedented change in the CMS mindset for two reasons: allowing audiologists to be considered for compensation in the work component, and inviting us to play an important and integral part in the data collection."
A large number of surveys were completed by AAA members, according to Pessis. "Hopefully, we'll be recognized for the cognitive work we perform, resulting in more adequate reimbursement. If the AMA agrees to incorporate a work value into the RVU for our codes—and this is then adopted by Medicare—it may be reflected in the Medicare Physician Fee Schedules as early as 2008."
Because these fee schedules form the template for most third-party payers, Pessis said the impact of this would have significant global third-party implications. He thanked the Coding and Reimbursement Committee for their work in this area, and Chair Kadyn Williams, AuD, was recognized by Pessis for her work with the AAA President's Distinguished Service Award.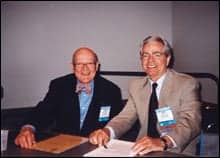 The Marion Downs Lecture in Pediatric Audiology was presented by Walter E. Nance, MD, PhD (left), who spoke on the topic, "How Can Newborn Hearing Screening Be Improved?" Moderating the session was Jerry Northern, PhD (right).
Ethics. The academy's recently revised Code of Ethics has been controversial, with a fair amount of dissent expressed by members in the press and during educational events involving the AAA Ethical Practices Committee. Pessis pointed out that the academy is not alone in arguing about ethical standards: Members of Congress have debated rules surrounding the acceptance of money and gifts such as free air travel, and physicians have recently reviewed the perks they receive from the pharmaceutical industry.
"One of the important charges of the academy's Ethical Practices Committee is educating the membership about ethical guidelines," said Pessis. "This is a very polarizing topic within our academy ranks. There are those who are adamant that any form of a gift is unethical, regardless of its value. In contrast, there are members who feel they should be able to self-regulate what is unethical, and they feel that the academy has no right to determine their ethical practices. To do so, in their opinion, the academy is unjustifiably meddling in business and marketing relationships."
Pessis commended Ethical Practices Committee Chair Jane Kukula, MA, for her leadership and "her calm and reasonable approach in talking with our members" as he presented her with the President's Distinguished Service Award. He added: "Congress and the public have the expectation that a profession should take ownership of its professional practices. If it does not, Congress will ultimately protect the consumer by dictating ethical policy. I thank Jane for being patient with all of us, and for realizing that compromise will ultimately prevail. We need time to allow this topic to evolve before we can reach consensus within our own academy community."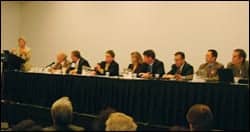 Ruth Bentler, PhD, (at podium) moderated a session that featured some of the hearing industry's most prominent audiologists, who spoke on the subject of evidence-based hearing instrument design. (Left to right) Jerry Yanz, PhD, conference organizer; Thomas Powers, PhD, Siemens Hearing Instrments; Donald Schum, PhD, Oticon; Laurel Christensen, PhD, GN ReSound; Victor Bray, PhD, Sonic Innovations; Timothy Trine, PhD, Starkey Laboratories; Francis Kuk, PhD, Widex Hearing Aid Company; and David Fabry, PhD, Phonak.
Legislative initiatives. Alison Grimes, who as AAA's president-elect has served on the Government Relations Committee for the past 10 months, outlined an ambitious strategic plan of more than 25 items that includes the provision of consumers' direct access to audiology services without the requirement of medical referral, reauthorization of the Early Hearing and Detection Intervention (EHDI) program, a change in the standard occupational classification code for the field of audiology, and redefining audiologists as an "acceptable medical source" relative to Social Security disability. The Audiology Strategic Advocacy Plan (ASAP), says Grimes, "seeks to strengthen the academy's visibility and influence with members of Congress, the executive branch, and state legislators, hearing health and other organizations, and with the private sector; differentiate the academy from other audiology organizations; establish the academy as the leading resource on the practice of audiology; and improve the communications links between academy advocacy efforts and public relations activities."
The "Direct Access" bill, officially known as the Hearing Health Care Enhancement Act of 2007 (HR 1665), was recently introduced by Rep Mike Ross (D-Ark) and 14 cosponsors. A Senate companion bill will be introduced by Sen Tim Johnson (D-SD). The bipartisan measure would allow Medicare beneficiaries the option of going directly to a qualified audiologist for hearing and balance diagnostic tests. Currently, Medicare beneficiaries with hearing loss or balance disorders are required to obtain a physician referral before seeing an audiologist. This bill calls for aligning Medicare "direct access" to programs administered by the Office of Personnel Management and the Department of Veterans Affairs, which allow patients to see an audiologist without a physician referral.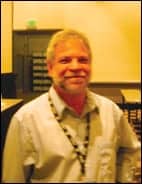 Robert Sweetow, PhD, presented an informative and often humorous 2-hour learning module titled "A Critical Analysis of Tinnitus Management Procedures" on the last day of the convention.
Other legislative activities outlined during the AAA General Assembly included:
The academy's education of Centers for Medicare and Medicaid Services (CMS) regarding the role of audiologists and how the new education credentials and training can benefit consumers who have hearing loss and balance problems. "Meetings in Baltimore with CMS this past fall have gone a long way in educating and advising policy makers about audiology," said Grimes.
The AAA Political Action Committee (PAC), chaired by past president Richard Gans, PhD, continues to provide face-to-face contact and influence with lawmakers, specifically in gaining support for HR 1665. A $100-per-plate PAC luncheon was held on the Saturday of the convention.
The academy maintains its involvement in the Joint Committee on Infant Hearing. Newly adopted wording in the position statement reportedly reflects that "audiologists diagnose and treat hearing impairment in infants," and the document has been endorsed by the American Academy of Otolaryngology-Head and Neck Surgery (AAO-HNS), according to Grimes.
AAA has recently objected to the use of the professional designator "audioprosthologist." "This term, with its suspiciously similar name to "audiologist," is used as an indicator of advanced practice by hearing aid dispensers," said Grimes. A position statement has been generated on the use of the term, and AAA is sending the statement to all state licensing boards and attorneys general about why its use should be prohibited.
Two new ListServes have been established for AAA members: the License-to-Hear and the State Leaders Exchange. Grimes said that these are designed to facilitate the ability of audiologists who "sit on state licensing boards [to] rapidly poll our colleagues to determine how other states have handled issues such as continuing education, writing the AuD into the law, defining accredited programs, and similar challenges."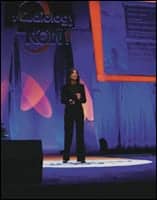 The keynote speaker at this year's General Assembly was Alison Levine, the team captain of the first American Women's Everest Expedition, who compared mountaineering to business and professional decision-making.
AuD externships. How, where, and for what compensation (if any) AuD students can complete their 12-month externships have been hotly debated topics. A subcommittee chaired by Jack Roush, PhD, has recently addressed the complexities associated with placement of students in response to program directors and externship candidates who have voiced a desire for greater uniformity in the application/selection process. Roush and his committee created an externship timeline and a site registry for externships, which were introduced at the convention. The registry will be implemented for a 1-year trial period. For his work, Pessis awarded Roush the President's Distinguished Service Award.
AAA Board of Directors member Craig Newman, PhD, was also presented with the President's Distinguished Service Award for his "one-man show" of conveying strategic documents—including position papers, white papers, and guidelines—to committee chairs, an activity that Pessis likened to creating the "playbook" for the academy.
This year's AAA keynote speaker was Alison Levine, the team captain of the first American Women's Everest Expedition. The expedition was sponsored by Ford during the period that the company launched its Expedition SUV, and Levine joked that she was thankful Chevrolet chose not to sponsor her team while introducing its Avalanche. An avid explorer and adventurer, Levine survived a congenital heart condition that required several surgeries as a child, then weathered subzero temperatures, hurricane-force winds and sudden avalanches, as well as a career on Wall Street. Her presentation "Oxygen Not Included"™ focused on the parallels between staying alive on dangerous peaks and succeeding in a fast-paced business world, and offered a unique perspective on the topics of leadership, teamwork, innovation, and dealing with a changing environment.
AAA Presidents
James Jerger
Fred Bess
Jerry Northern
Linda Hood
Lucille Beck
Robert Keith
Carol Flexer
Barry Freeman
Deborah Hayes
Sharon Fujikawa
Robert Glaser
David Fabry
Angela Lovenbruck
Brad Stach
Richard Gans
Gail Whitelaw
Paul Pessis
Incoming President
Alison Grimes
President-elect
Patrick Feeney
Levine's team was agonizingly close to the summit of Everest when threatening clouds appeared. Although only about 200 feet and 2-3 hours away from the top of the mountain, they were forced to retreat before the blizzard hit them in in an exposed location where they would probably not survive. She used this to illustrate the need to make the right call: "Mount Everest is just a pile of rock and ice," Levine said, "but if you make the wrong decision, it can kill you."
Educational Opportunities
Many excellent feature sessions and educational presentations were offered during the convention. On Thursday, Jos Eggermont, PhD, a leading authority on cortical processing, presented information on the effects of hearing loss on development and maturation of the auditory. On Friday morning, Walter Nance, MD, PhD, delivered the Marion Downs Lecture in Pediatric Audiology, "How Can Newborn Hearing Screening Be Improved?" Nance made the case that universal newborn hearing screening should include universal molecular testing for four important causes of deafness.
On Saturday, a special panel discussion titled "Evidence-Based Hearing Instrument Design" drew a standing-room-only crowd for a 4-hour two-part presentation. Moderated by Ruth Bentler, PhD, of the University of Iowa, and organized by Jerry Yanz, PhD, of Starkey Laboratories, it featured the perspectives of some of the industry's most prominent audiologists. Evidence-based design, like evidence-based practice, relies on solid research results and protocol—as outlined in the Hearing Industries Association guidelines—to help guide manufacturers in developing, producing, and reporting on new products. The wide range of topics discussed by the panel included hearing aid and cell phone compatibility, linear frequency transposition, internal manufacturing benchmarking, algorithm super-positioning and open-ear amplifier gain, target settings, and coupling issues. In the last hour of the program, audience members formed small groups to formulate and pose questions directly to the panel.
| | |
| --- | --- |
| | |
| AAA President-elect Alison Grimes, AuD, spoke on the academy's legislative initiatives for 2006 and beyond. | AAA President Paul Pessis, AuD, discussed the need for professional autonomy, accreditation, and direct access. |
Newly Elected Leaders
The terms of three AAA board members will expire this year: immediate past president Gail Whitelaw, PhD; Craig Newman, PhD; and Helena Solodar, AuD. Current board members include Debra Abel, AuD; Carmen Brewer, PhD; Karen Jacobs, AuD; Therese Walden, AuD; Bopanna Ballachanda, PhD; Kris English, PhD; and incoming AAA President-elect Patrick Feeney, PhD. Feeney joins the executive board with Jacobs; Gary Jacobsen, PhD; and Patricia Kricos, PhD; with Thomas Litman, PhD, completing the 2 remaining years in the seat vacated by Feeney.
Next Year
Next year's AudiologyNOW! convention—the academy's 20th—will be held April 2 to 5, 2008 in Charlotte, NC. For more information, visit www.audiology.org.