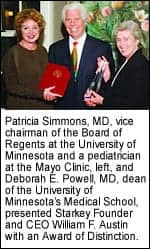 Starkey
William F. Austin, founder and CEO of Starkey Laboratories, Eden Prairie, Minn, received an Award of Distinction from the University of Minnesota in recognition of his many contributions to society and to the University. He received the award September 8, at the University's Eastcliff Administration building.
---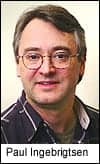 Williams Sound Corp
The Board of Directors at Williams Sound Corp, Eden Prairie, Minn, announces the election of Paul Ingebrigtsen to the position of president and chief executive officer.
Ingebrigtsen has successfully managed the day-to-day operations of Williams Sound as president over the past year, and will now guide the company into the next era with his vision and leadership as CEO.
He is passionately committed to the company mission of "Helping People Hear," and will continue to build on the reputation of service and product quality.
---

Avada
Avada Hearing Care Centers, a subsidiary of Hearing Healthcare Management (HHM), Louisville, Ky, announces three new members to its sales and marketing office.
Mark Jeffiers joins the Avada staff as marketing manager and graphic designer. In this role, he will preside over all graphic design needs within the organization as well as oversee the general operations of the marketing department.


Kim Capps has been promoted as the sales and marketing administrative assistant for Avada Members Group. She has been with the company since 2005. Her duties include a wide variety of aspects for the effective operation of the Avada sales and marketing team. She is in charge of coordinating the Avada Members Group venture, which is a business management and support program designed for nationwide independent hearing instrument dispensers.


Gena Thrailkill recently joined the Avada sales and marketing staff as the marketing assistant. Her range of responsibilities include assisting with the management of marketing projects, ensuring marketing and sales campaigns are released in a timely manner, and designing public relations and communications material for Avada.
---
Sonus
Sonus Corp, Minneapolis, has promoted Jim Buckley from regional manager to senior corporate director, as well as promoted Jim Shafer, AuD, to regional manager for the territory covering Pennsylvania, Maryland, Virginia, New York, New Jersey, and Illinois.
As senior corporate director, Buckley is responsible for the productivity of Sonus Clinics and staff throughout the eastern half of the United States. Buckley has been with Sonus' parent company, Amplifon, since 2000 and has worked as a franchise development manager, along with serving as a regional manager for Amplifon's Miracle-Ear brand and Amplifon Hearing Aid Centers. He has nearly 30 years of professional health care experience.
Shafer, who recently owned and operated Audiologic Consultants Inc, York, Pa, now supervises sales and service for Sonus Clinics throughout a six-state region. As regional manager, Shafer will supervise the daily operation of Sonus Clinics, focusing on enhancing existing operations with employee training, Sonus certification, and continuing education of audiologists to attain their doctoral degrees. Shafer is currently president of the Pennsylvania Academy of Audiology.
---
ASHA
Elizabeth Mundinger has been named director of federal and political advocacy at the American Speech-Language-Hearing Association (ASHA), Rockville, Md, where she will lead the Capitol Hill office.
Previously, Mundinger lobbied Co­ngress and the Administration as director of government relations for Bread for the World. She is a former director and counsel for Democratic staff on the Subcommittee on Energy Policy, Natural Resources, and Regulatory Affairs of the House Committee on Government Reform.
---
National Center on Deafness
Internationally recognized deaf educator and advocate Roslyn "Roz" Rosen has been appointed director of California State University, Northridge's (CSUN) acclaimed National Center on Deafness (NCOD).
Rosen spent 33 years at Gallaudet University, Washington, DC, before retiring in 2003. "CSUN has a proud record as a top-notch university for deaf and hard of hearing students, and I look forward to becoming part of its positive future," Rosen says.